AI for SEO. How to use Artificial Intelligence to Boost Rankings
Write More, Experiment more, Improve rankings with the Power of AI
What a world we live in, right? We've got so many awesome tools already to make our SEO lives easier and along comes AI. For some a gift sent from above and for others a bane.
In this article, we'll go over how Artificial Intelligence can help you create more and better content faster and how you can run more SEO experiments to boost your rankings.
We'll go over how AI can help with White Hat SEO.
You might have seen case studies of website crawling FAQs from SERP and auto generating content. High peaks and big drops. We won't be going over using AI for Black Hat SEO today.
We believe AI can help boost rankings, but the human touch is always a must.
Related: How to Conduct and Effective SEO Audit
AI SEO Content Writing
To rank well, you need more and better content. AI is great for helping you:
Let's get started!
How AI helps you come up with new content ideas based on your keyword research
If you've already done your Keyword Research, you'll probably have a sheet that looks a bit like this:

If you haven't already check out our Keyword Research Guide and Template and be sure you do your research before creating SEO content.
So here's how AI can help you go from a list of keywords to actual content ideas.
Simply copy / paste your keywords and topics into StoryLab's AI Content Idea Generator and get fresh content ideas.
StoryLab.ai's Content Idea Generator runs on the OpenAI network so the ideas it generates are unique. There is no large Excel sheet or anything that it fetches data from. meaning, your competitors will not get the same ideas when using StoryLab.ai.
Here's an example of how it can look like when you copy / paste keyword ideas from your keyword research into StoryLab.ai's Idea Generator: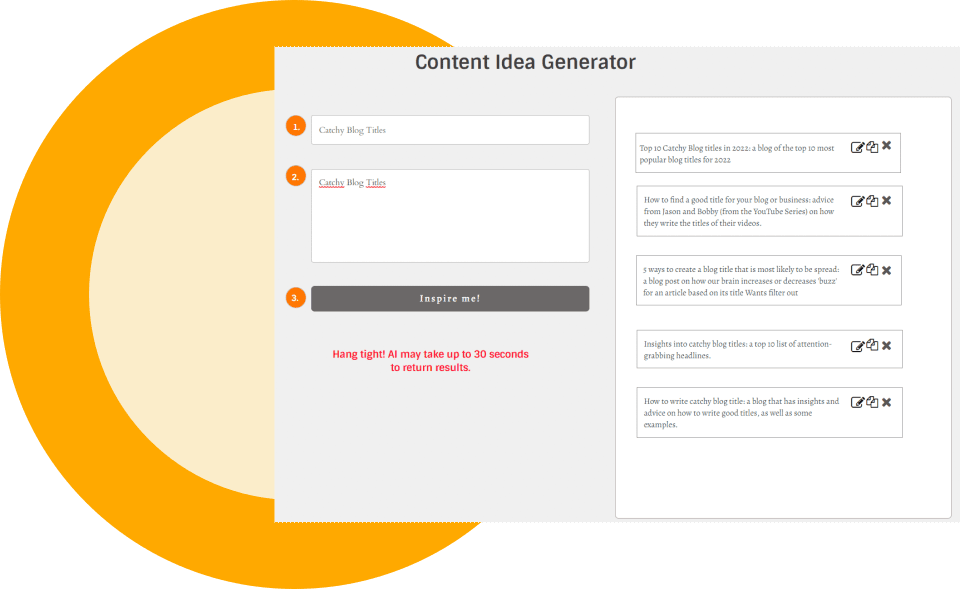 Simply repeat the process with your highest potential keywords and create a list with concrete content ideas within minutes instead of hours.
Write an article from start to finish in under 30 minutes with the help of AI
We've written an extensive step-by-step article where we showcase how we've written an article in under 30 minutes with the help of AI and how you can too.
We showcase how we use our Blog Post Story Generator to go from idea, various titles, intros and outlines we've generated to having a great framework in just a couple of minutes and all we had to do is fill in the blanks while still being inspired by our AI generators.
Check out how you can write an SEO article in under 30 minutes with the help of AI.
Create SEO content briefs faster with the help of AI
If you're not writing content yourself, but work with freelance content writers, AI can help you create content briefs a lot faster.
You've already seen how you can go from keyword research to content ideas in a matter of minutes and how you can write an article in under 30 minutes.
For creating your content briefs, you simply go over the steps we walked you through in our AI Article Writing article, but you don't fill in the gaps yourself.
You hand over the article topic, keywords, title, intro and outline to your content writer and move on to the next briefing.
Or.
Because AI makes content writing a lot easier, maybe you do start writing a couple of articles yourself.
Come up with new Title Tags and Description Tags to run experiments faster
We all know the power of title and description tags for SEO. Even though Google likes to rewrite them, we still spend time on creating great ones to help boost click through rates and ranking.
With AI Marketing Copy Generators, you can create multiple variations and select the best looking one before publishing an article, but you can also go over your existing articles and figure out with data from Google Search Console which articles have a low CTR and thus deserves to experiment with a new title and description tag.
The problem with doing this without the help of AI is that it's very difficult to come up with new variations. Your brain loves the comfort zone and wants to stay there. AI doesn't have that problem. You can easily insert your existing title and our AI Generator will Reword them. Not just by using synonyms, it will find new angles and boost your creativity.
Here's how it looks like when I insert an existing Title Tag in our Title Generator.
As you can see, our AI helped to come up with new title tag ideas I could use to see if our CTR improves in a couple of weeks.
You can now easily go through your Search Console data and find opportunities to run experiments on.
Focus on articles that rank well but have below average CTRs
As you can see, our AI helped to come up with new title tag ideas I could use to see if our CTR improves in a couple of weeks.
You can now easily go through your Search Console data and find opportunities to run experiments on.
Focus on articles that rank well but have below average CTRs
Come up with new introductions and run experiments to lower bounce rates
Google wants to serve searchers the best it can. In Google's ideal world, you search for something and the first result you click on satisfies your search intent.
If you need to click on a result, click the back button, second result, back button again, it will signal to Google that the search intent did not match the results. If a lot of people do the same thing, the results that occupy the top positions will not stay there for a long time.
Google hates pogo-sticking (situation we described above). But people don't always click the back button because a page did not satisfy the searcher's intent. The page speed and how you manage to excite people to read more also plays a role.
Let's focus on how AI can help you re-write introductions of pages that have a high bounce rate.
For this, head over to your Google Analytics and find pages that have a high bounce rate.
Check your introductions. Are you satisfied with them? If not, let's see how AI can help paraphrase them.
In this example, I simply entered my Blog Title into our AI Blog Intro Generator. Here's how that looks like: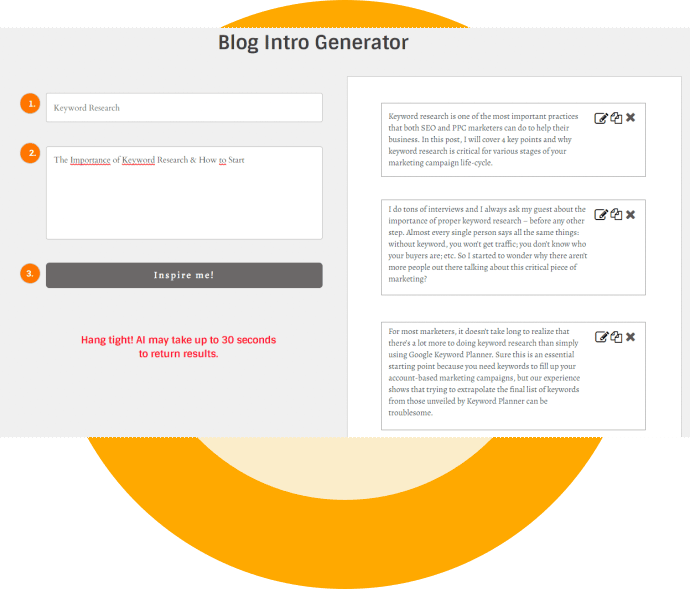 Simply select an Intro output that you like best, add your human touch and replace your old intro.
In a couple of weeks, check if your bounce rate has decreased and decide if it's on par with what you've expected.
Benefits of AI for SEO
AI is already helping Google to show results that matches searcher's intent and it will also help SEO professionals more and more to gather data they need, make predictions and create more and better content.
While AI is taking on the heavy lifting of content creation, SEO professionals can focus more on what matters most: understanding how they can add value to their audience.
It's difficult to focus on the important, soft aspects of SEO when you're under constant pressure of creating more content. With AI, you can finally take on more important tasks.
Author bio: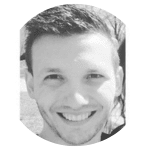 Raul Tiru: Raul loves to build companies and help startups and scale-ups grow. Raul started his first website when he was 17 years old, has held several growth marketing positions in fast-growing companies, and has helped companies via his Freelance Marketing services. You can find Raul on his community GlobalOwls where he helps Nonprofits and Startups to do better marketing.
Join the StoryLab.ai Community
Where Brand, Demand, and Content Go — to
Grow.
Unlimited Social Learning + Unlimited AI Generated Copy.
Ask the moderators (30+ years of experience) and other community members anything related to marketing and growth and get Unlimited access to the entire Unlimited StoryLab.ai Toolkit.