Writing an Article in Under 30 Minutes with the Help of AI
Save Time and Write Better Articles
This Story was written with the help of StoryLab.ai
I'm sure any blogger, marketer, or content creator who has ever had to write anything in a professional capacity, will agree that it is necessary — but also very time-consuming. Businesses may need blog articles for many reasons, such as SEO purposes or to announce information about their products or services.
How can we make this process faster and more effective?
In recent years, artificial intelligence (AI) has been integrated into a myriad of technologies. In the content marketer's arsenal, A.I. is particularly useful because it can produce limitless amounts of data to organize and categorize while automating some repetitive tasks — all while providing a more engaging experience for readers.
Specifically, various online tools now allow you to create content faster with the help of AI.
Using AI to create content and great articles
At StoryLab.ai, our aim is to help you write more and better content faster, with the help of AI. In order to show you exactly what our tools can do, I've created this blog story with the help of our own "Blog Post Story" generator. You can find all of our tools here, on our website — signing up is free and you get 15 runs on the house, to try it out.
Here's what the process looks like (after logging in):
1. Enter your topic and a short description of the article you want to write.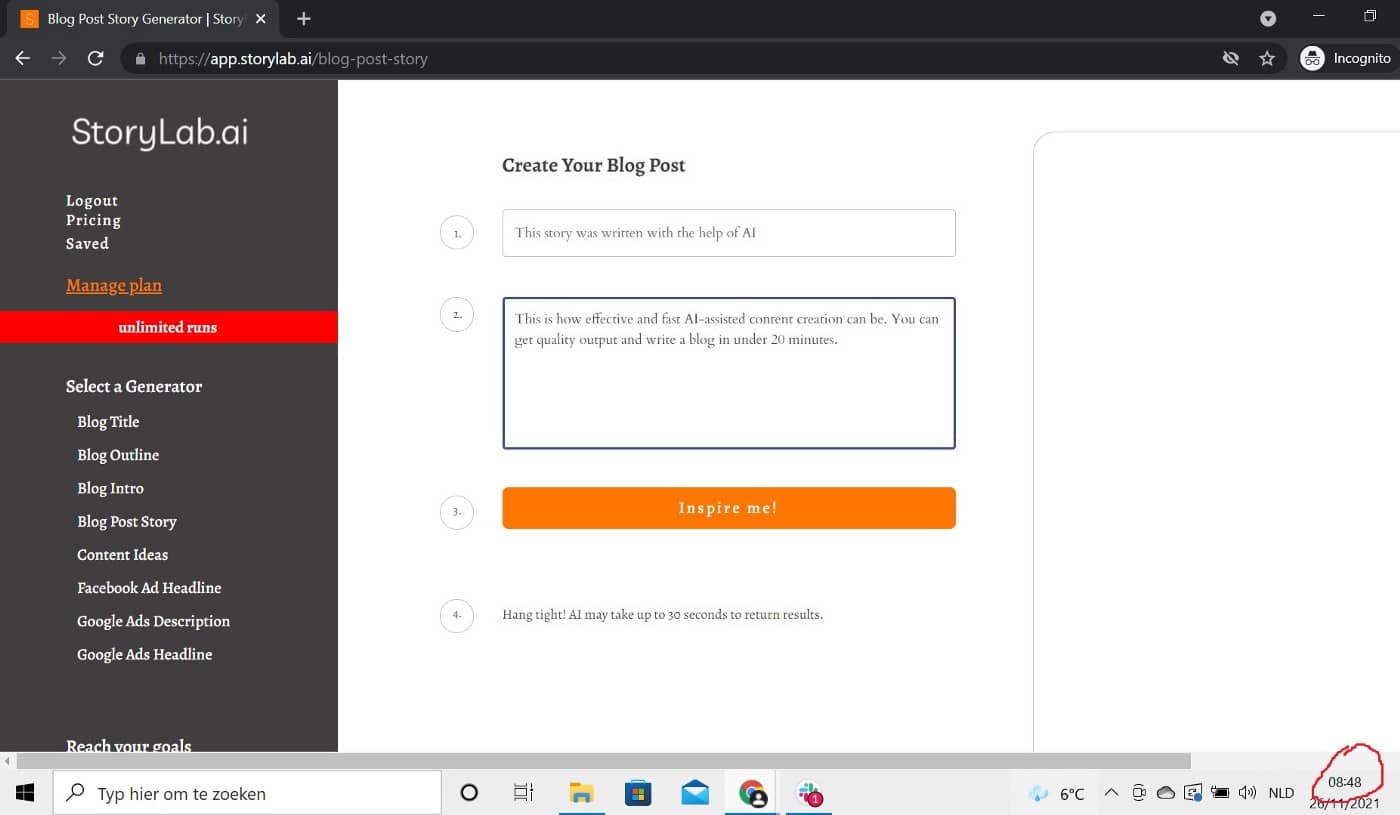 2. Select one of the article titles the AI generates for you, to move onto the next phase.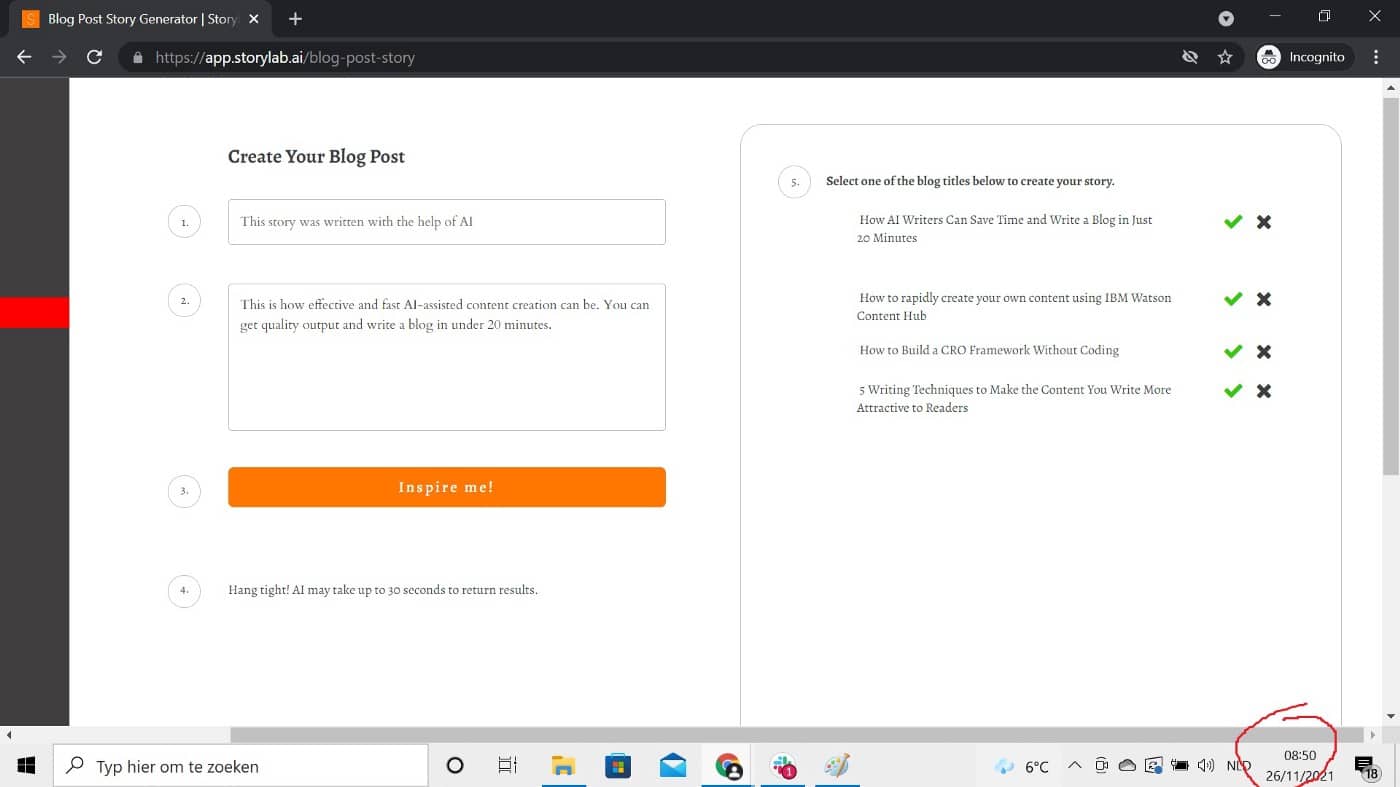 After I selected the option at the top of the output section on the right, this is what the generator gave me, next: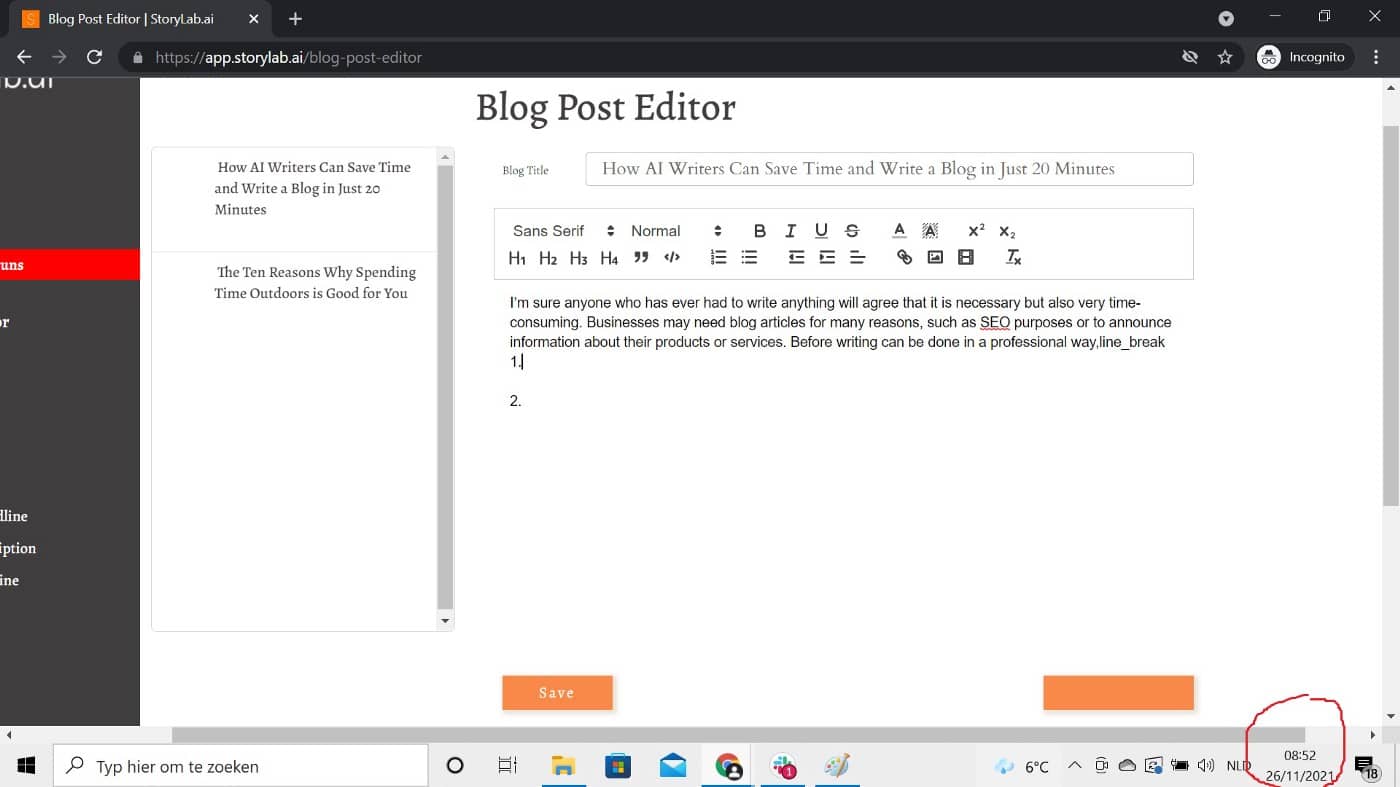 As you can see, after you've selected one of the titles our AI has given you, the tool will automatically generate an intro. It's actually supposed to also give you an outline — sorry, sometimes the tool doesn't work perfectly yet, but here's what I got when I ran it again: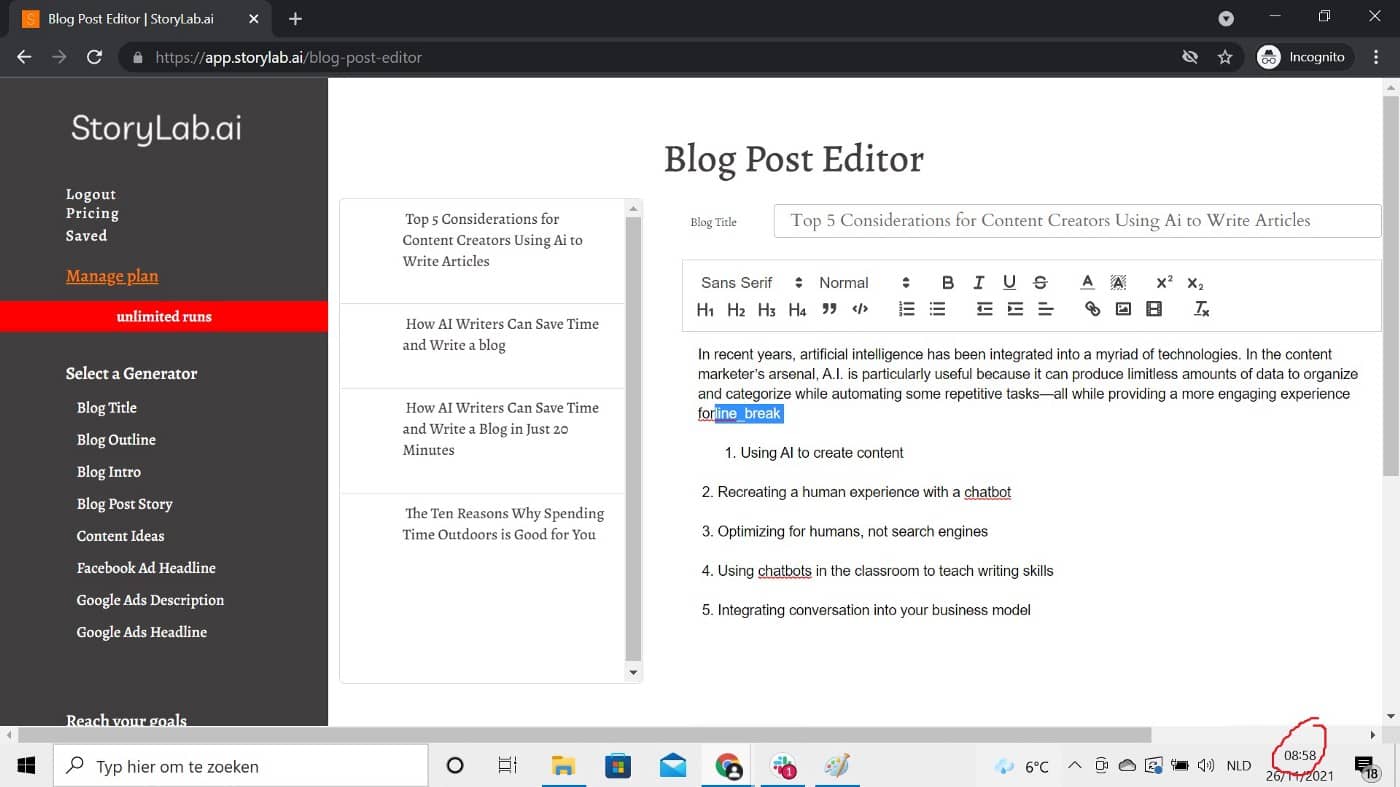 3. Pick and choose from the intro and outline the AI suggests
Awesome! Now, I can easily pick from or even combine both of the intro's I've gotten from the AI, to start writing from there. I can also pick and choose from the sections that the AI suggested to me in the form of the outline (the underlying technology is GPT-3, by the way).
Next, all I had to do was write the above explanation, and leave you with my final thoughts (based on the suggestions from our AI content generator).
So, how can you as content creator get the most out of AI-generated content?
Recreate a human experience with an AI Content Generator: optimize for humans
First, what you want to do — like I've done in this example — is use the AI to give you something to go off. The StoryLab.ai Blog Post Story generator gives you a title, an intro and an outline — which you can all use as drafts and ideas.
Next, you want to think about this a little bit. What do you want to say about the topic you want to write about?
Edit the title, the intro, and so on; add the thoughts and information that you think is most relevant and useful to the audience you have in mind. Be sure to include your own human experience and personality. Humans connect through stories, but mostly; humans connect with humans. In the words of Bruce Lee:
"Take what is useful, disregard what is useless, add what is essentially your own."
Get yourself ready for the future of content creation with the help of AI
As a content creator, you really should start getting ready for the future. That future of content creation is driven by AI, and it's coming faster than you might think. A large study and forecast by Fortune Business Insights predicted that already by 2022 30% of digital content will be generated with the help of AI-based technology.
If you hadn't already, you want to make sure you as a content creator have at least sampled what working with AI can mean for your content creation process.
How do you do that?
By starting out writing with any of the existing AI content creation tools in the market. If you want to get started with one of the best AI marketing copy generators geared towards copywriting in the market for free, why not start using StoryLab.ai? For instance:
See how you can write a blog in under 30 minutes using our blog story generator. Just like I've done, with the story you're reading right now.
The future of content creation and storytelling is here. Come help us build it, and set yourself up with the skills of the future.
P.s.: Here's proof that I really finished writing this in 30 (OK, 33) minutes: