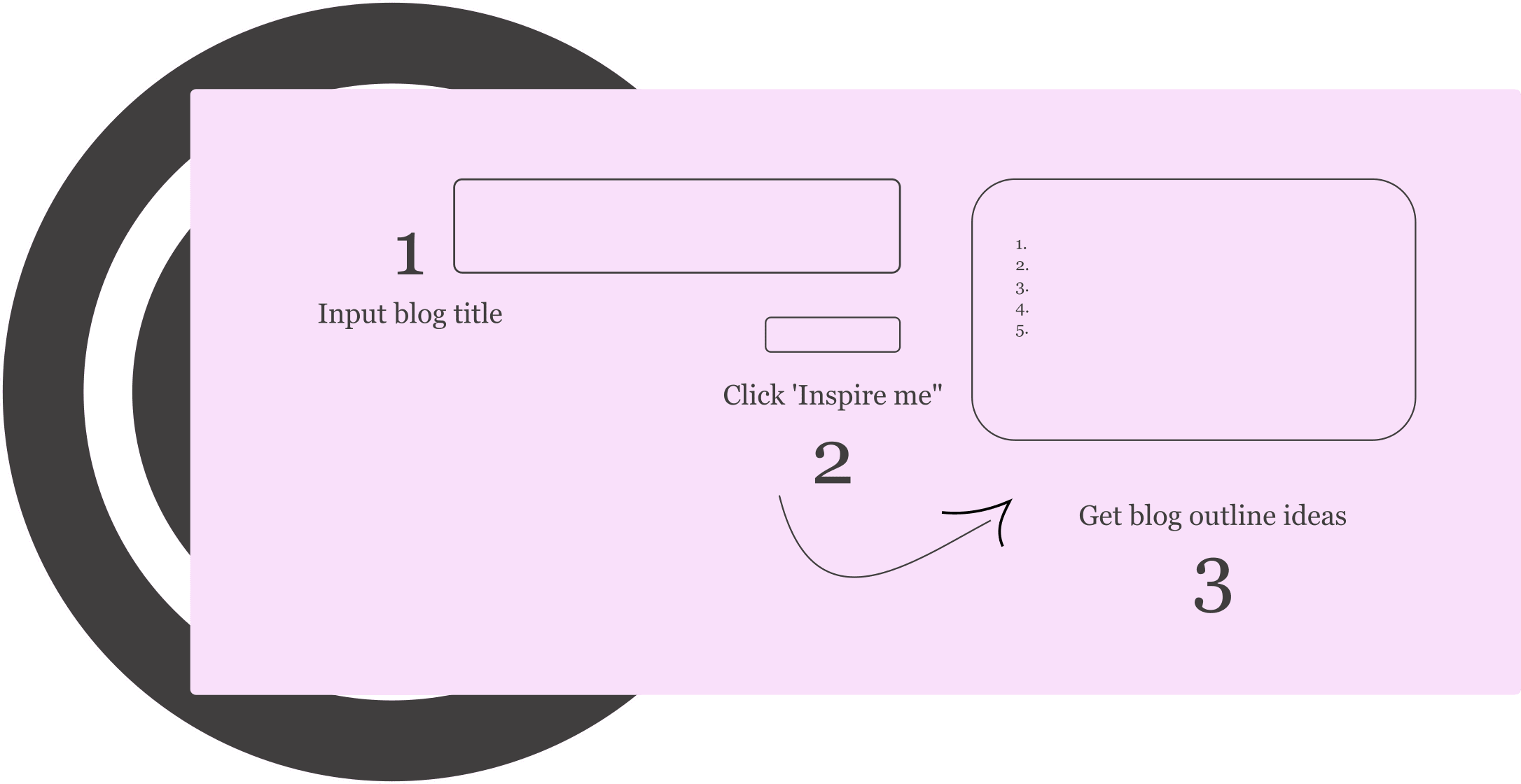 What is StoryLab.ai's Blog Outline Generator?
StoryLab.ai is an online tool that generates content ideas for you.
Are you struggling to find the perfect Blog Outline for your next article? We got you covered!
Simply enter your topic or company name (optional), describe your product and hit the 'Inspire me' button.
Our A.I. generator will give you inspirational examples to add to your list of potential Blog Post Outlines.
Run the tool as often as you need to create your perfect next article(s).
Why you should invest time in creating great Blog Post Outlines
When writing an article, we're often explaining something that is familiar to ourselves, to someone that wants to learn more about that subject.
However, as a person reading an article, there is nothing more exhausting than a writer who's all over the place.
'Let me tell you about that day at the park. Susan was there. And actually, it was not a park but a forest and Susan came later'.
Hold on, where is this going?
Please, dear writer, for the love of all that is holy— connect a structure to your creativity. Deciding on a Great Blog Post Outline before writing your article, helps a ton. For the ease with which you write, as well as for the quality of your writing.
Here are three ways to create an outline for your next story:
Three simple ways to structure your blog and to create an outline
At StoryLab.ai, we see three general ways of structuring your post and creating an outline — aside from using our Blog Outline Generator, of course.
Here are three ways to structure your blog and create your outline, ordered from beginner level, to intermediate to expert level content writer.
Pick, choose, and use to your advantage:
1. Basic level: One topic, three thoughts, logical order
This structure is perfectly suited for beginning writers. And for speed.
First, choose the topic you want to write about. Next, decide on three things you would want to say about that topic. Write down a draft title and three draft subheadings. Finally, make sure the three thoughts you want to express are in a logical following order.
Here's what a basic One Topic, Three Thoughts structure should look like:
[Topic & Title: ]
[Thought 1]
[Thought 2]
[Thought 3]
After you've mapped out your structure, start writing. You'll notice that even while writing you'll have a much easier time connecting the dots and following a logical flow.
Read more about the One Topic, Three Thoughs structure (and the 3 x 5 lines format), here.
2. Intermediate level: The Need, Solution, Result structure
The Need, Solution, Result Structure is actually a layer that you can put on top of the above One Topic, Three Thoughts, structure.
In its essence, the "Need, Solution, Result" structure is the basis of a story, with a built-in tension arc. It's also at the core of what is known as the archetypal human storytelling structure, the 'Hero's Journey'.
Here's the anatomy of the "Need, Solution, Result" structure, and how it works:
1. Problem or Need
What is the situation you want to address? What is the problem, pain or the need? And why is it so important to you and especially to your readers/audience/main character?
2. Change or Solution
How does the original problem get solved? What are the steps, what is the product or service that you're offering that can help? How did the person you're talking about solve their needs?
3. Result and/or Proof
How does it end? How much better is the situation at the end? Is the pain truly resolved?
The Need, Solution, Result structure is the one that not only helps you really draw the reader into your story, but also the one that makes it that much easier to convince someone. This makes this structure extremely well suited to business writing.
Read more about the Need, Solution, Result structure and how to use it, here.
3. Advanced level: The Seven-point Strategic Storytelling Structure
The Seven-point Strategic Storytelling Structure is the most advanced structure for setting up a blog post that I know. It helps you connect to your strategic goals — overall as well as for the particular piece you're sitting down to write — and it helps you prepare and outline a story in ten minutes.
It also helps you set-up an outline in such a way that you can then knock out an awesome blog article in as little as 20 minutes.
This is the Seven-point Strategic Storytelling Structure:
What is the subject I'm writing about?
What is the purpose of this story and how does it connect to my higher purpose/goals and the goals of my audience? Did I ask them? [No more than 1–2 lines preferably.]
What is the main thought I want to share about the subject, and what's the connected emotion?[-> Summarize this as the first draft for your title. Your title should tell people What this is about, Who this is for, and what you're Promising]
What is my 'hook' or intro?
A 'hook' in storytelling is one to five lines with a new fact, a short story or anecdote; something that connects to the emotions you want to tap in to.
What are my three supporting thoughts? [Summarize these as draft sub-headers, like in the One Topic, Three thoughts and in the Need, Solution, Result structures] What three points do I want to make to support my main argument/thought? What is a logical following order that builds your argument, and builds toward your goal of;
Conclusion and Call-to-action (CTA).[If it makes sense or seems necessary; summarize your main thought and how you arrived at it, and:] literally tell the reader or listener what it is they can do if they are inspired.
[Short summary, for publishing, Search Engine Optimization and social sharing purposes]
That's it. Points 1 and 2 you only need to answer for yourself. From point 3 onward, is where you actually write your outline, starting with the title and so on.
Read more about the Seven-point Strategic Storytelling Structure, here.
Easier still: have AI suggest ideas for your Blog Post outline
Finally, regardless if you want to use one or more of the above story structures to compose your own outlines, you still have to come up with the topic as well as the thoughts about the topic that you want to write about. And the following order.
For those that are struggling to come up with ideas for a great outline, we've got you covered.
With StoryLab.ai, you can Generate your Blog Post Outline based on your Blog Post Title and Blog Post Intro. Let our AI outline generator come up with suggestions, then pick, choose, reorganize and edit as you see fit. Never stare at a blank page again! See how AI Marketing can help you reach your goals faster.
Write great Blog Post Outlines in half the time
There is nothing worst than staring at a blank piece of paper. StoryLab.ai's Blog Outline Generator helps you to get new ideas and even complete copy with a click of a button.
Get inspired by how many different ways there are to set up your Blog Outline. Next to generating new ideas and creating new copy, you can reword existing marketing copy with our paraphrase generator.
Our Marketing Copy Generators run on GPT-3. Trained, as the largest and qualitatively best Natural Language Processing model. Check out our resource hub and see how AI Marketing and SEO can help you reach your goals faster. The time to start using this new technology is now.
Get started for free.