Digital Marketing Challenges, Goals, Statistics, and Strategies
What are the biggest Digital Marketing Challenges? Which Goals are Digital Marketers trying to achieve?
Find out in this article.
Get Statistics to Benchmark your performance and Strategies to improve.
Let's get into it.
Top Digital Marketing Challenges
We've compiled a list of top Digital Marketing challenges we found from talking with our customers, marketers and reading digital marketing researches.
Are you having the same challenges? If so, stick around till the end of the articles where we share strategies to help you reach your goals.
Learning about cutomers;
Keeping up with changes in Social Media Platforms and SEO;
Telling great stories;
Scaling Quality Content Creation;

Complying With Privacy and Data-Sharing Regulations;

Strategizing Mobile-First;

Establishing an Omnichannel Marketing Strategy;

Choosing the right marketing channels;
Keeping up with new skillsets that are needed;
Measuring results properly;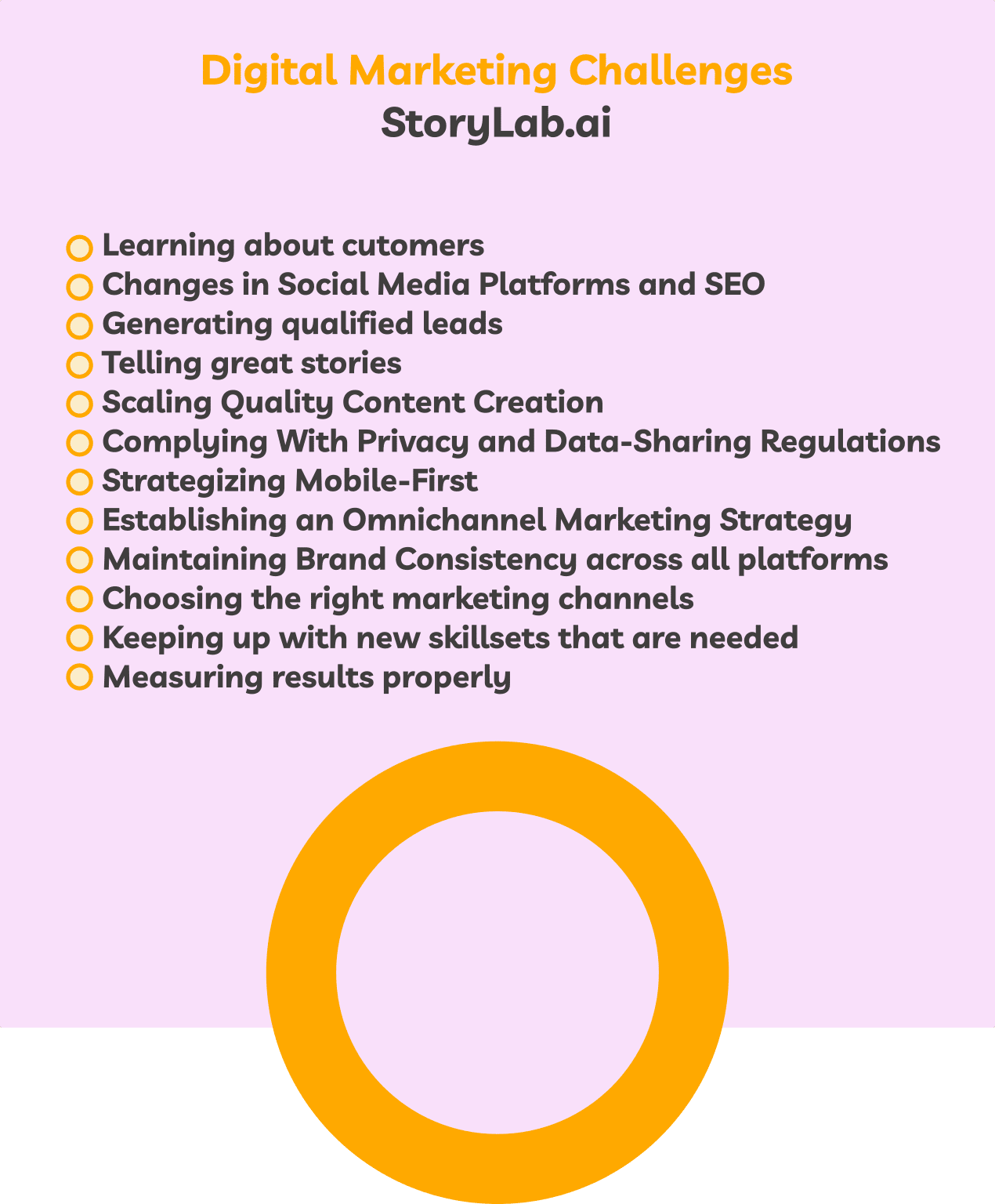 Get more specific
Check out our researches on more specific Digital Marketing areas:
Digital Marketing Goals
Second, let's take a look at the most common Digital Marketing Goals and KPIs that are being set up by marketers. Are you overlooking goals that make sense for you? You can always add them to your dashboard.
Check out this free resource if you need help with setting up goals and KPIs.
Create x number of articles per month;
Create x number of educational content;
Improve ROI by x %;
Improve ROAS by x %;
Grow domain authority by % points;
Grow brand awareness by x %;
Grow Social Media followers by x %;
Grow organic traffic by x %;
Improve Lead to MQL ratio by x %;
Improve MQL to SQL ratio by x %;
Acquire x % new customers per month;
Retain x % of existing customers.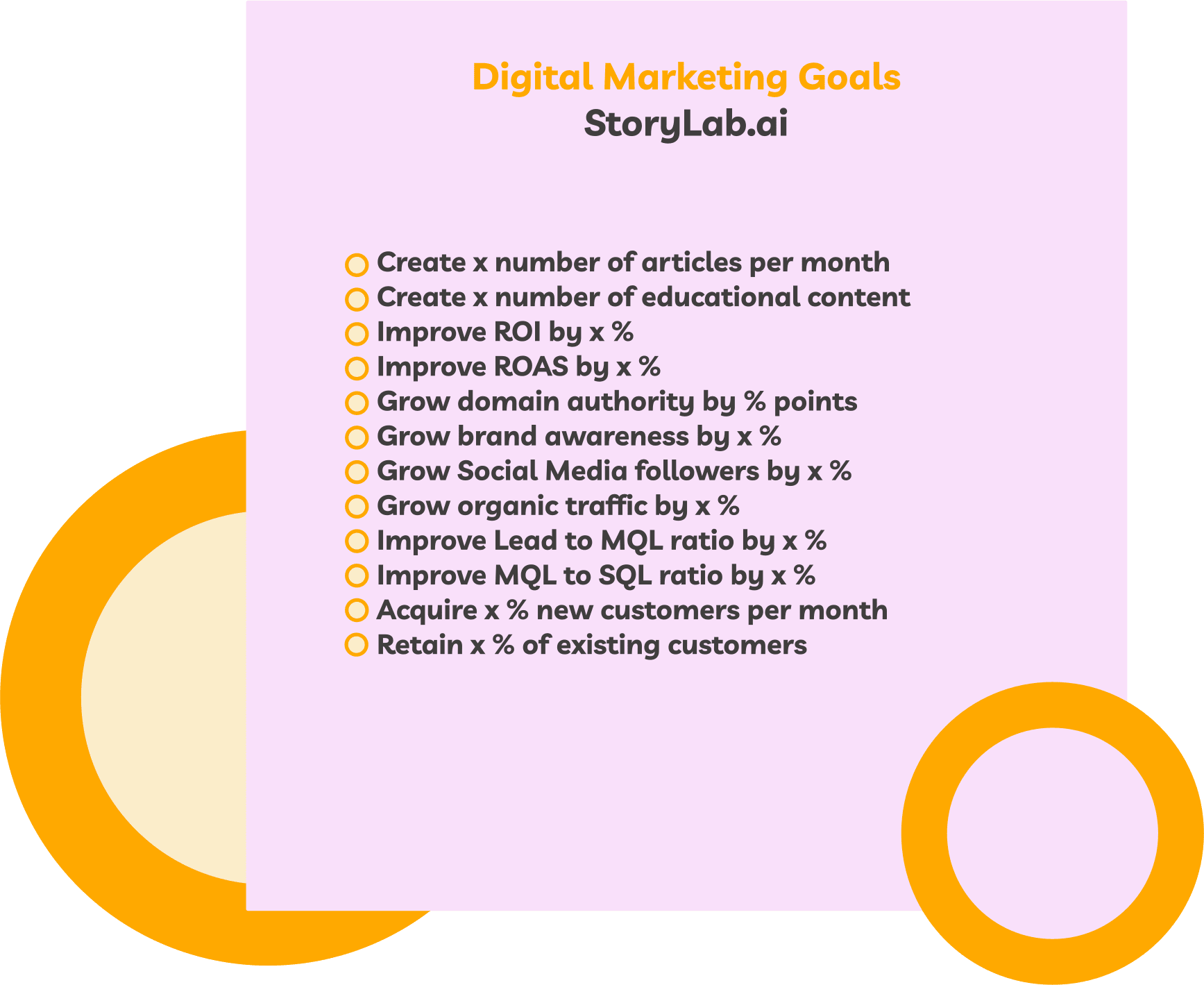 Digital Marketing Statistics
Let's proceed by checking out some Digital Marketing Statistics so you can see how trends are evolving, how you stack up against others and which next steps you might want to take.
33% of marketers who don't use automation or artificial intelligence (AI) plan to in 2022 (source);
46% of businesses reported they want to increase their content creation spending in 2022 (source);
45% of marketers plan to invest in social responsibility campaigns (source);
42% of marketers plan to increase budget in virtual reality (VR) and augmented reality (AR) (source);
The top three roles marketing leaders will prioritize hiring are content creators, content marketing managers and content strategists
(source);
People have twice as many interactions with brands on mobile than anywhere else (source);
57% of users report they wouldn't recommend a business with a poorly designed mobile site (source);
63% of content marketers use their content strategy to build loyalty with their existing clients (source);
An estimated 120 million people listen to podcasts each month (source);
17% of marketers plan to incorporate podcasts into their content marketing strategy (source);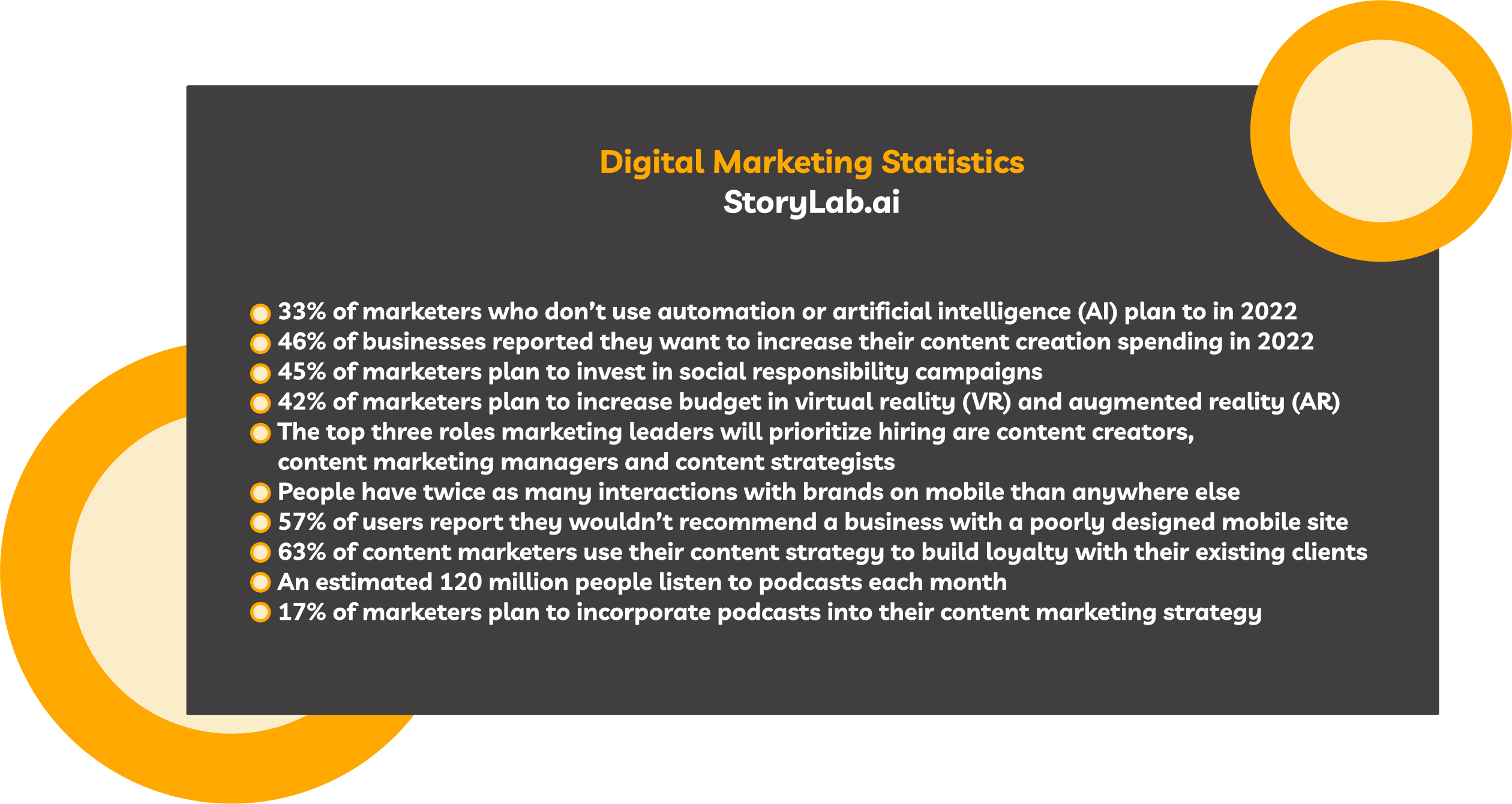 Digital Marketing Strategies
Now that we've had a look at Digital Marketing challenges, goals, and statistics, let's see how you can tackle a couple of these challenges and reach your goals faster.
We will go over:
Digital Marketing Tools
How many tools do you have in your tech stack? Quite a lot, right? That's probably for good reasons. Without the right marketing tools, we're lost.
If you want to reach your Digital Marketing Goals, you need to use the right tools. Not just the right tools, but also understanding how they should work together, what you need before using the tools, and more.
We won't go over all the Digital Marketing tools you could use. It's up to you to check your goals, do a Google search and find which tools could help you best.
Think about areas that you're struggling with and do your research. You will be surprised by how many solutions exist that you never knew existed.
Do you have ambitious goals to get more leads? Check ABM tools, Automation Tools, AI Tools, etc. Are you struggling with Google ads? Check out which tools are out there to help you get more data and improve.
It takes some time to find the right ones, schedule demos, makeing desicions, but in the long run, having the right tools by your side is going to help a lot.
Start with AI Marketing
Have you started using the power of AI to help reach your goals? And I mean, really tried it. Not just used an AI tool once, did not get out of it what you might expected (probably because like any other tool, you really need to understand how to use it properly), and called it a day. No I mean did you really give AI Marketing a fair chance?
AI Marketing is like the video shorts in Social Media. It's here to stay and the sooner you jump on that bandwagon, the easier it will be to stay ahead of the curve.
To help you out, we've created an AI Marketing Resource Hub with trends, ethics and step-by-step guides. Guides include:
And more. Be sure to check it and and see how you can make good use of this superpower.
Start with AI Marketing Copy Generators
Scaling content creation is much easier if you have a pocket buddy 24/7 that can help you with coming up with content ideas, takes your keywords and gives you new copy ideas for your articles, social media captions, emails, and more.
End writer's block and cut content creation time in half.
Check out in the image below how easy it is to get marketing copy inspiration.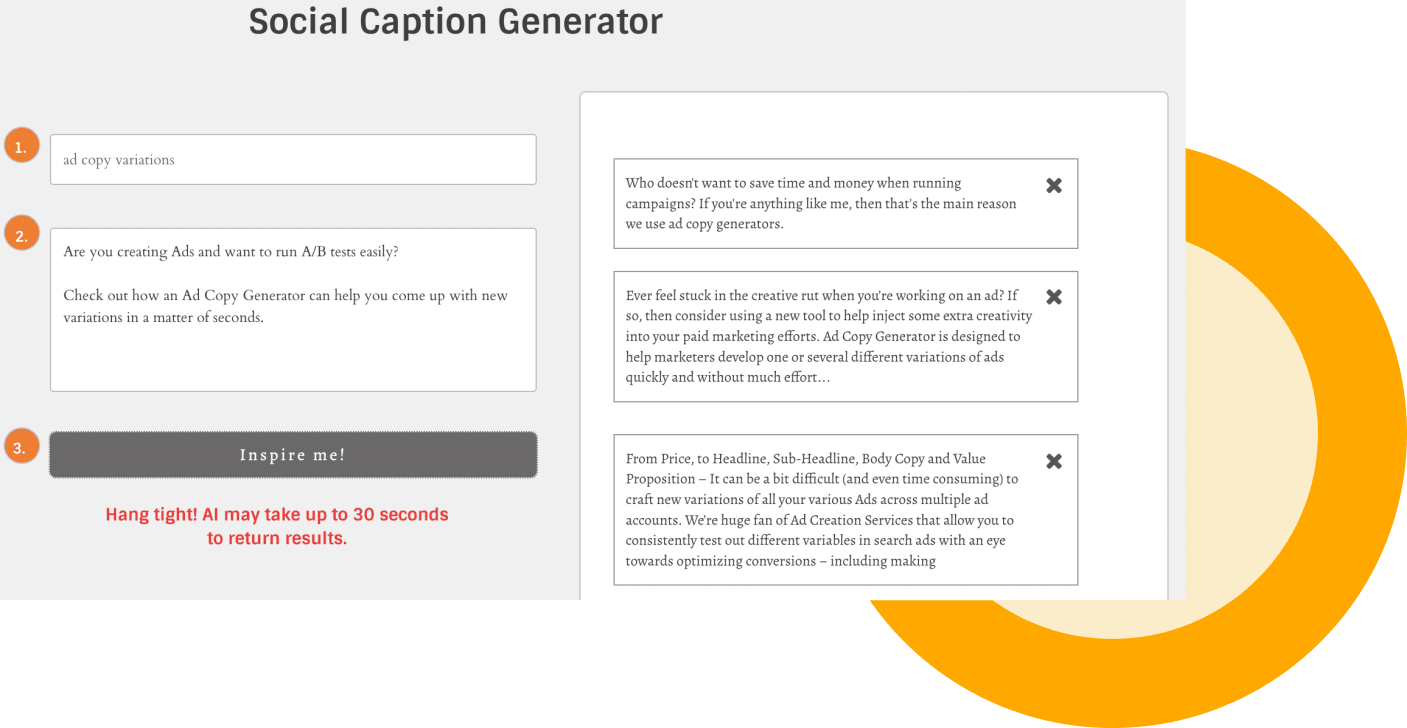 Growth Storytelling
Take a holistic view to Digital Marketing. Become a Growth Storyteller.
Growth Storytelling focuses on telling the stories that we know will connect with our intended audience, because we've done our research and — shockingly — we've asked them, and actually listened to them.
Growth Storytelling takes audience insights in the form of quantitive and wherever possible, qualitative data, combines them with marketing and business goals, and places that front and center in:
How we construct and evolve our Brand Story and Brand Identity;

How we construct and evolve our product, business strategy, and marketing goals;

How we construct and evolve our marketing strategy and tactics;

And how we create, review, distribute and measure our individual content pieces.
Here is how the Growth Storytelling Model looks like: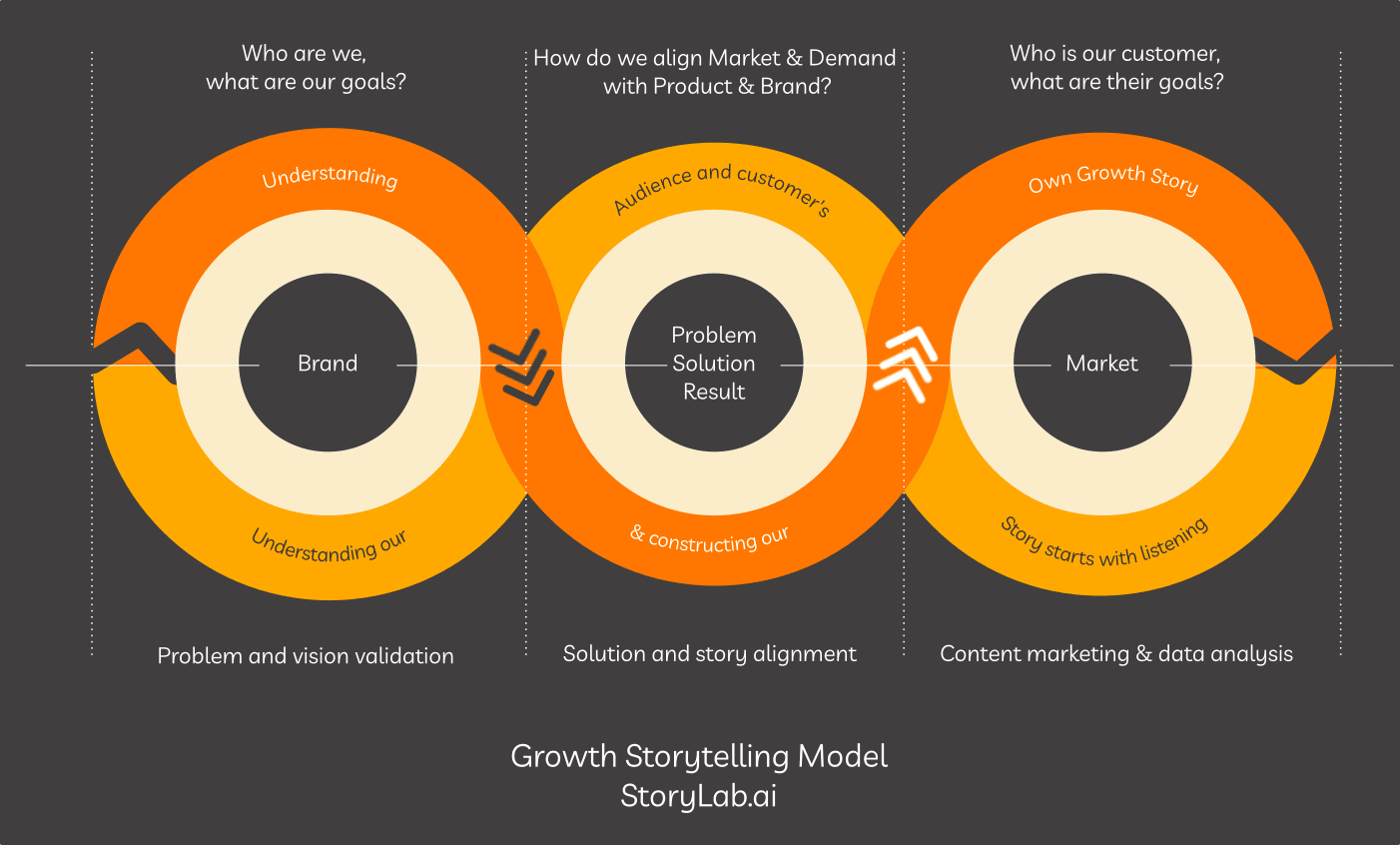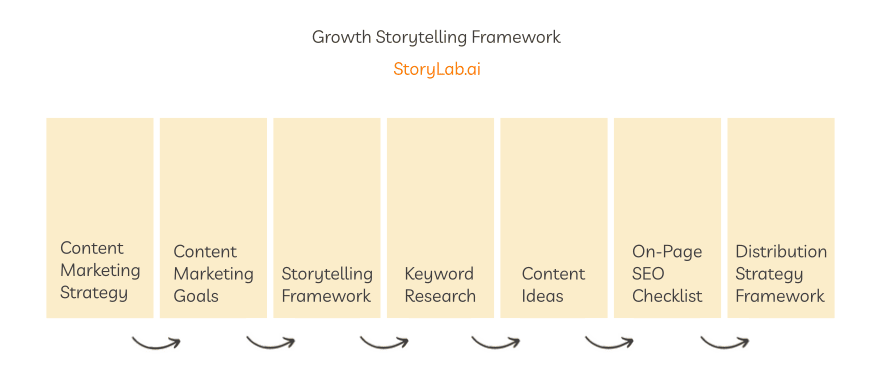 Author bio: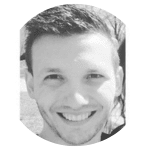 Raul Tiru: Raul loves to build companies and help startups and scale-ups grow. Raul started his first website when he was 17 years old, has held several growth marketing positions in fast-growing companies, and has helped companies via his Freelance Marketing services. You can find Raul on his community GlobalOwls where he helps Nonprofits and Startups to do better marketing.
Join the StoryLab.ai Community
Where Brand, Demand, and Content Go — to
Grow.
Unlimited Social Learning + Unlimited AI Generated Copy.
Ask the moderators (30+ years of experience) and other community members anything related to marketing and growth and get Unlimited access to the entire Unlimited StoryLab.ai Toolkit.