Come Up With Effective Content Ideas With the Help of AI
Template and Tool included
Creating content is not the most difficult part of running a profitable website or business.
Neither is coming up with content marketing ideas.
The difficult part is understanding your audience and their needs and making sure the content you create is effective and helps you reach your content marketing goals.
In this article, we'll go over how to come up with effective content marketing ideas with the help of AI.
We'll share strategies, tactics, and free templates and resources.
Gone are the days that create a random piece of content because you saw or read something.
It's time to set up your Content / Inbound Marketing Strategy, do your Keywords Research and come up with new content ideas based on that.
Thought leadership vs SEO content ideas
First of all, let's get one thing out of the way.
Not all your content ideas need to tie into your keyword research (what we will get into in a bit). Sometimes you need to create content to educate your audience even though (almost) no one searches for that piece of content.
Maybe you want to be the first to cover that topic, maybe you've received feedback from your Customer Support or Sales team that people have a need for a specific piece of content.
Of course, you should go ahead and plan those pieces of content in your content calendar.
The point is though that when coming up with new content ideas, they should either be to:
Help you be a thought leader;
Support you Customer Success or Sales department;
A combination of the three.
A big no-no are content ideas based on: 'I saw or read a similar piece and.. why not?'
Start with your Content Marketing Strategy 
If you want to be effective with your content, you need a strategy.
We've set up a simple and short step-by-step guide to help you set up your Content Marketing Strategy and we've created a Growth Storytelling Framework with different strategic and tactical templates to help you achieve your goals.
It includes the Content Marketing Strategy, Keyword research, Content Idea Template, and more.
You can access it here for free.
No email signup is needed.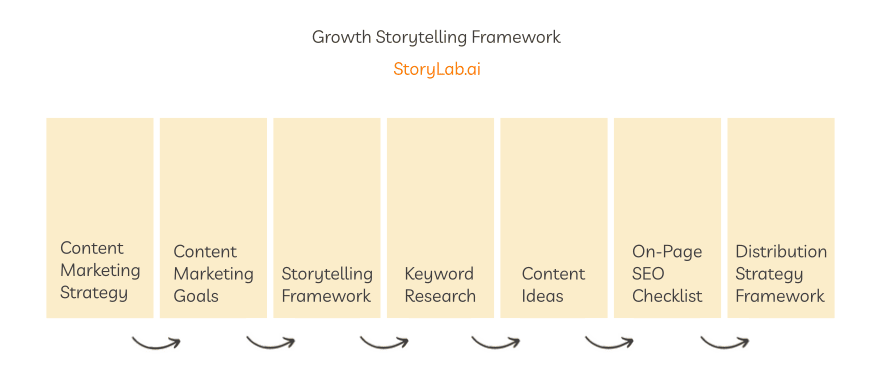 Growth Storytelling Framework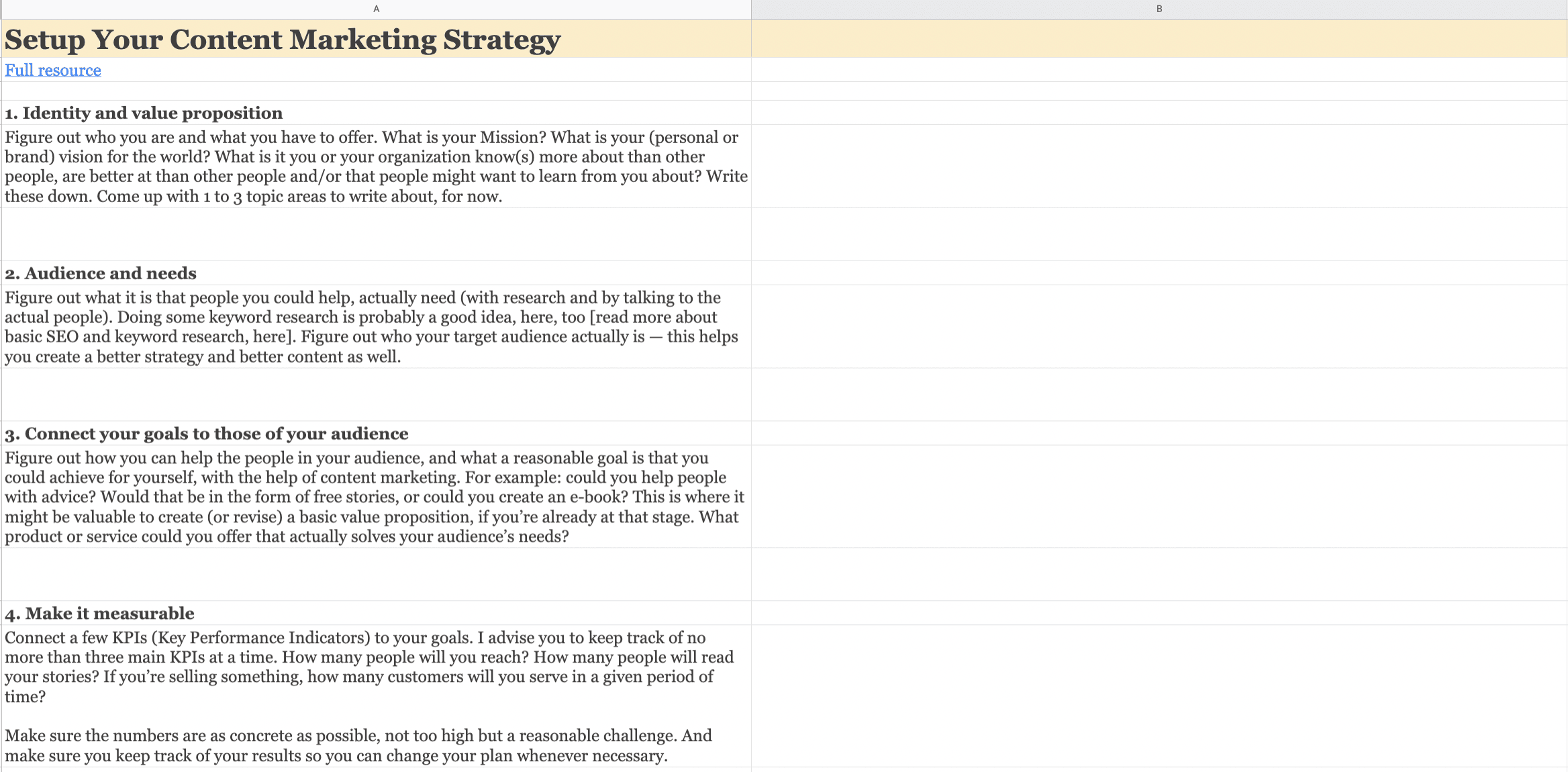 Content Strategy Template within the Framework
Coming up with content ideas based on content topics from your keywords research
After you've set up your Content Marketing Strategy, we advise doing your Keyword Research (full guide and template).
During your research, you can find new content topic opportunities based on what people actually search for and how competitive keywords / topics are.

After you've identified content topics you want to start creating content around, you can simply copy / paste your keywords and topics into StoryLab's AI Content Idea Generator and get fresh content ideas.
StoryLab.ai's Content Idea Generator runs on the OpenAI network so the ideas it generates are unique. There is no large Excel sheet or anything that it fetches data from. meaning, your competitors will not get the same ideas when using StoryLab.ai.
Here's an example of how it can look like when you copy / paste keyword ideas from your keyword research into StoryLab.ai:

The initial results can already help you come up with new content ideas.
Though, the better your input, the better the output.
Just like Google or any other sophisticated tool. The more you help it understand what you need, the better it performs.
If you would search for 'blog title examples' in Google. You would not simply enter 'blog' and hope it can read your mind.
After you've run the AI Content Idea Generator a couple of times, simply copy / paste your best results into your Content Idea sheet.

Select the content idea you like best and explore new angles
The cool thing about StoryLab.ai's AI Content idea generator is that you received ideas from many different angles that you might not have thought about yourself.
After you've completed your list of ideas based on copy / pasting the keywords from your keyword research, select one idea and re-run the AI generator.
I took this idea I've received earlier: "10 headline tips: a blog with 10 headline writing tips from some of the most successful writers of today.", changed '10 headline' to 'blog title': 

I re-ran the AI generator and got the following new ideas:

In short
Creating content just because you feel like it is a big no-no.
Invest some time in setting up your strategy, doing your keywords research, and make use of great tools to help you come up with great new content stories and ideas.
Check out our Content Idea Template here and ask us any questions in our LinkedIn Group here.
Related articles
Author bio: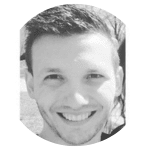 Raul Tiru: Raul loves to build companies and help startups and scale-ups grow. Raul started his first website when he was 17 years old, has held several growth marketing positions in fast-growing companies, and has helped companies via his Freelance Marketing services. You can find Raul on his community GlobalOwls where he helps Nonprofits and Startups to do better marketing.
Join the StoryLab.ai Community
Where Brand, Demand, and Content Go — to
Grow.
Unlimited Social Learning + Unlimited AI Generated Copy.
Ask the moderators (30+ years of experience) and other community members anything related to marketing and growth and get Unlimited access to the entire Unlimited StoryLab.ai Toolkit.