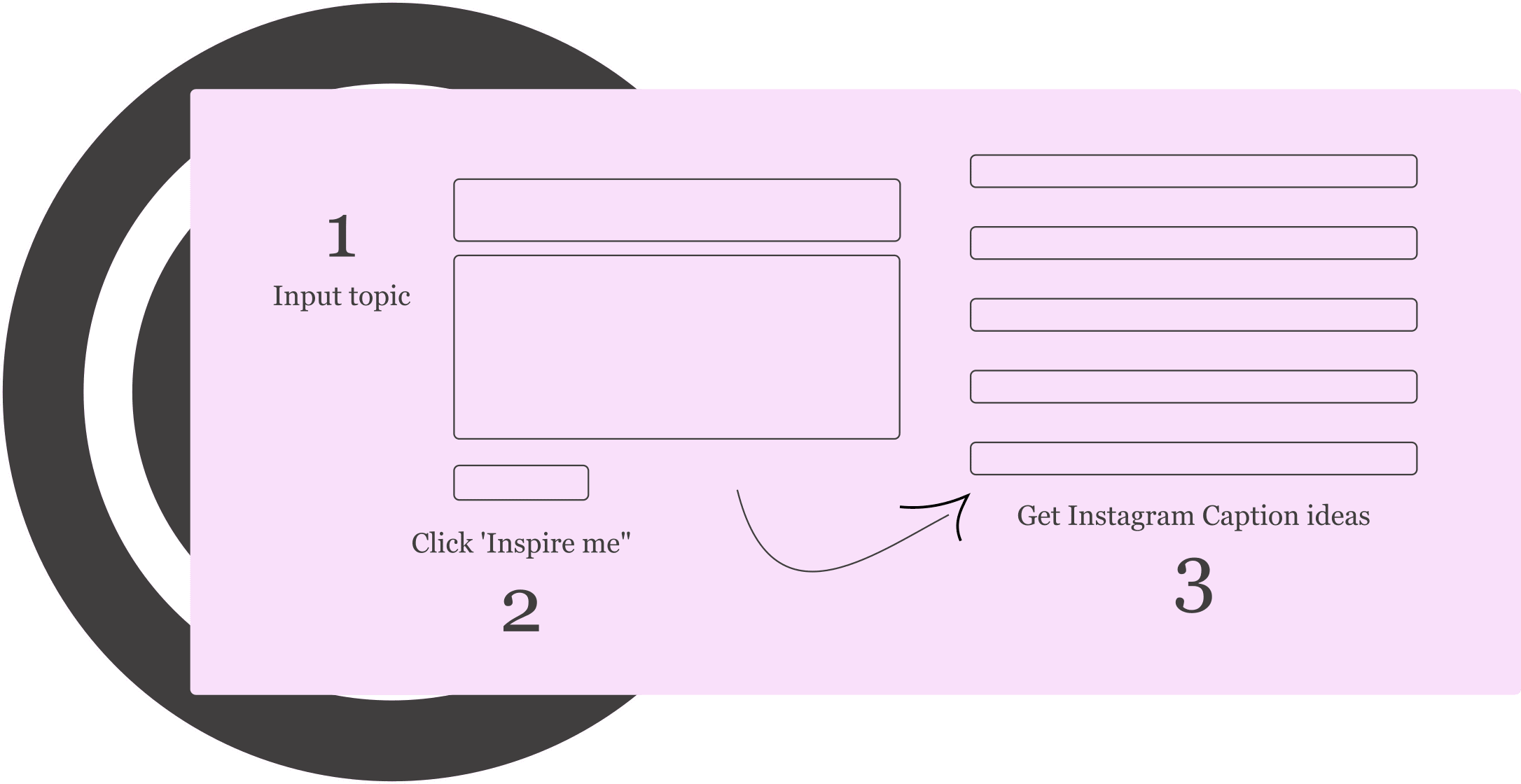 What is StoryLab.ai's Instagram Caption Generator?
StoryLab.ai is an online tool that generates content ideas for you.
Is creating your Instagram Captions taking you too much time? We got you covered!
Simply describe what you would like to post about and hit the 'Inspire me" button.
Our A.I. generator will give you inspirational examples to add to your list of potential Instagram Captions.
Run the tool as often as you need to create your perfect next Insta posts.
Why you should invest time in creating great Instagram Captions
You are either just getting started with a fresh Instagram account or you have worked hard to get a following on the platform.
In whichever stage of the journey you are, creating great Instagram Captions, paired with beautiful images or videos is key to any Social Media success.
Next to creating quality posts, you also need to scale your content creation and posting cadence. You can't simply post once a week and hope that your audience stays engaged and grows.
So how do you create great quality content AND lots of it?
AI can be of help.
How StoryLab.ai's Instagram Caption Generator works
Step 1. Select the Instagram Caption Generator from our app page
At StoryLab.ai, we help content creators with creating various marketing copy. Varying from Blog Titles to Ad copy, Content Ideas, Rewording existing copy, and more.
So first of all, make sure that you have selected the right generator.
Select our Social Media Caption Generator from the left side bar (see image below).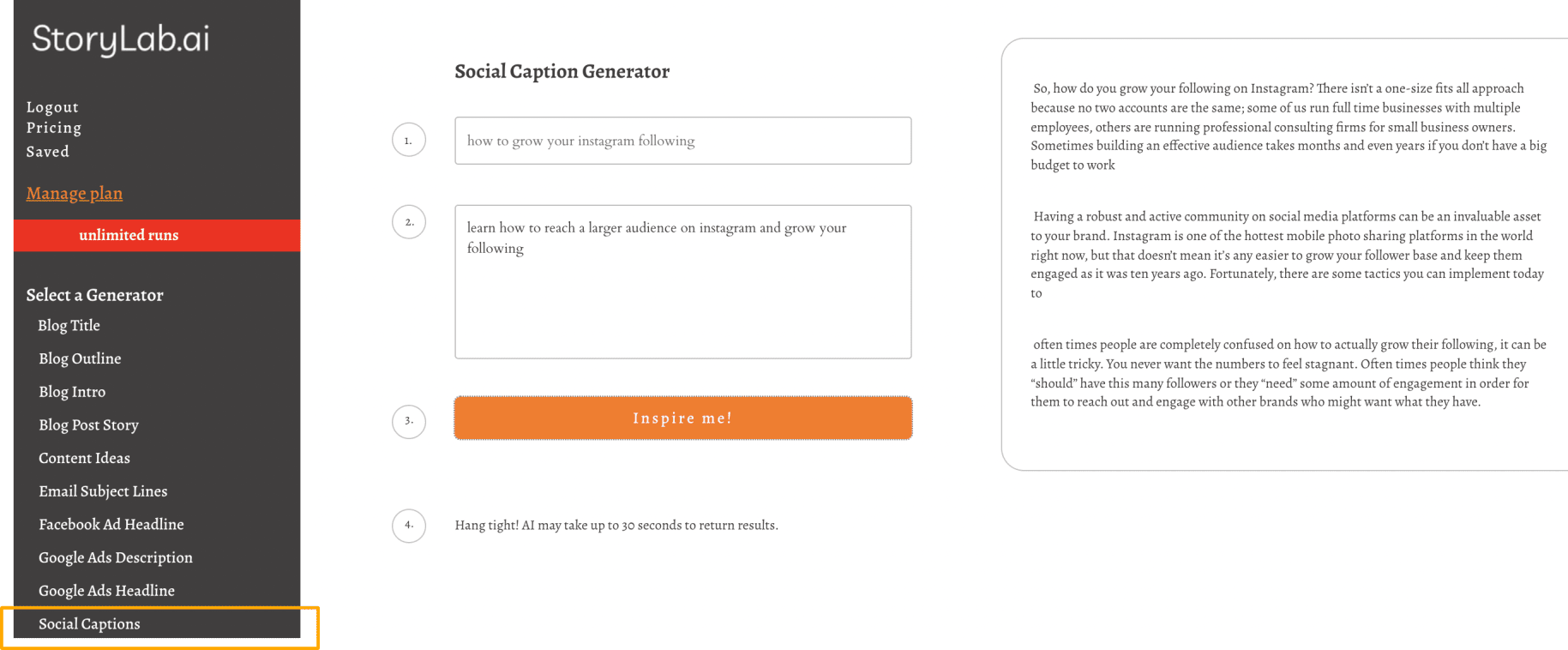 Step 2. Describe your Insta post and get great caption inspirations
To generate the best and most relevant captions for your Instagram posts, you need to make sure you've described what your post is about the best you can.
See it as this:
If you're searching in Google for 'how to grow your Instagram following' and your input is just 'Instagram', chances are you won't find what you're looking for that easily.
The quality of your input determines the quality of your outputs.
After you're done with describing your post, you can go ahead and click the 'inspire me' button.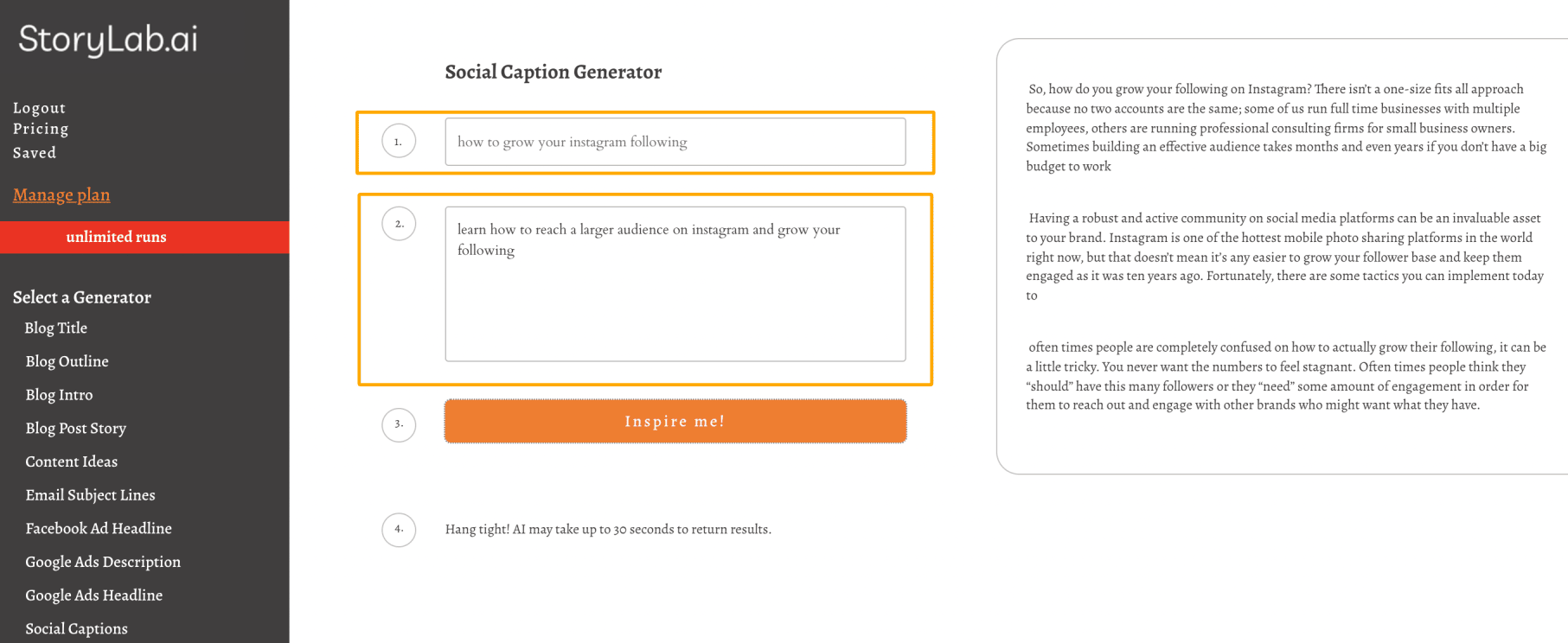 Step 3. Re-run, adjust inputs and add human touch
Great! You can now see how your first outputs look like. Re-run the generator a couple of times up until you find a couple of Instagram Captions that you want to work with and if you see that you're outputs are not on par with what you're looking for, adjust your inputs and check again.
After you've selected a couple of potential Instagram Captions, it's time to add your human touch and perfect them. Check out our tips below on the anatomy of great Instagram Posts.
How to create great Instagram Posts
1. Be relevant. Set up your Content Marketing Strategy
You can create the most beautiful Instagram post, but if it does not appeal to the needs of your audience, it won't evoke an emotion and it will probably not drive engagement and interactions. Before you post, you need to understand your audience and create content tailored to their needs.
Check out our simple guide on how to set up your Content Marketing Strategy here and how to create your Social Media Marketing Strategy here.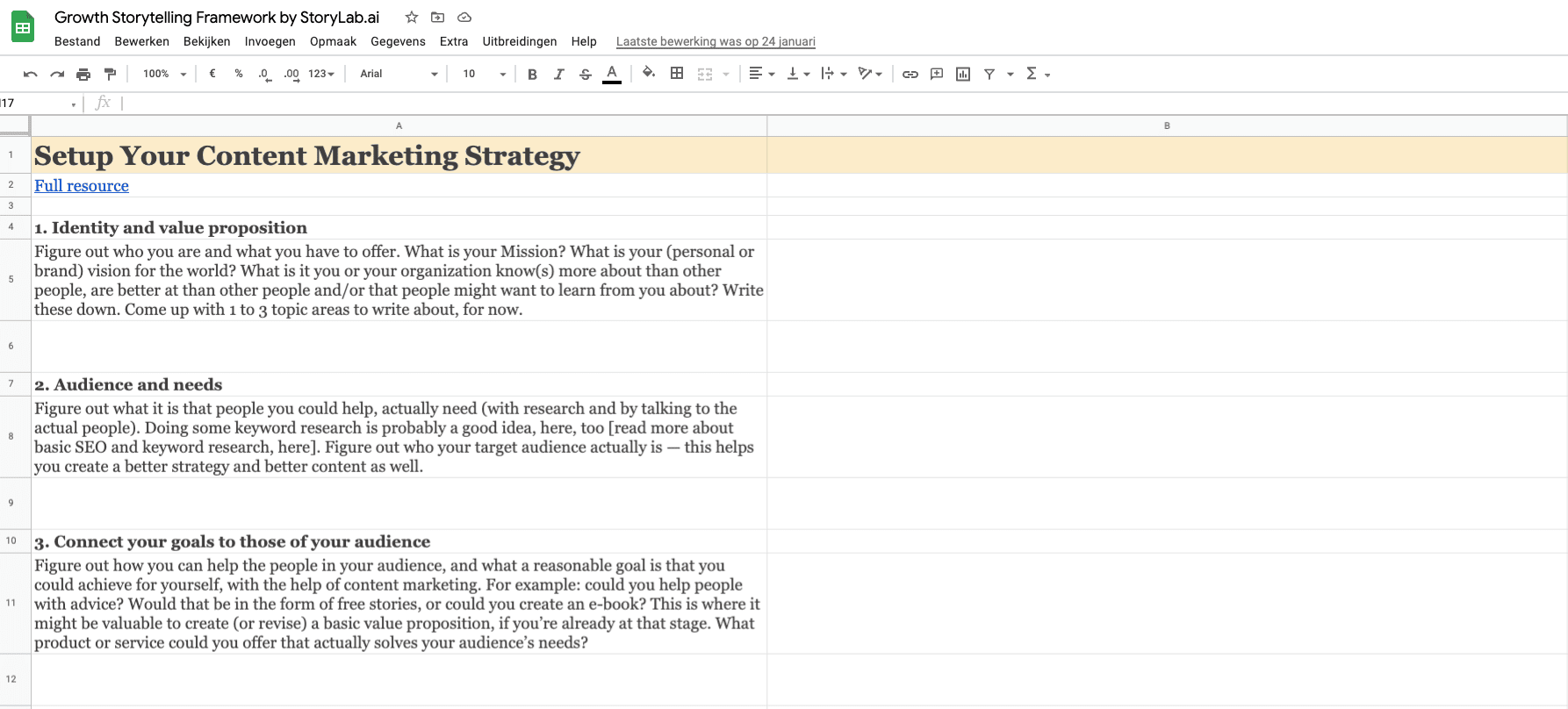 2. Make it visual and draw attention to your Instagram post
You don't want to create a post that people easily scroll past. You want to stop people in their tracks and visuals can help with just that. It's not just about the image or video but emojis can also help. So don't forget to implement a couple of those in the mix. Check out this article to find which Instagram Tools can help you create great visuals. We rely on Canva for most of the visuals you see on our website and social media accounts.

3. Tell a story with your Instagram Caption
Now that you've drawn people's attention, it's time to add depth to your post. Here's where our Instagram Caption Generator can help the most. It's an idea sparring partner to find new angles and tell your story in a unique way.
Check out the different ways our generator describes one post (image below). Imagine running our Instagram Caption Generator a couple of times. I bet you'll have enough inspiration to write up a great story. Or several great stories.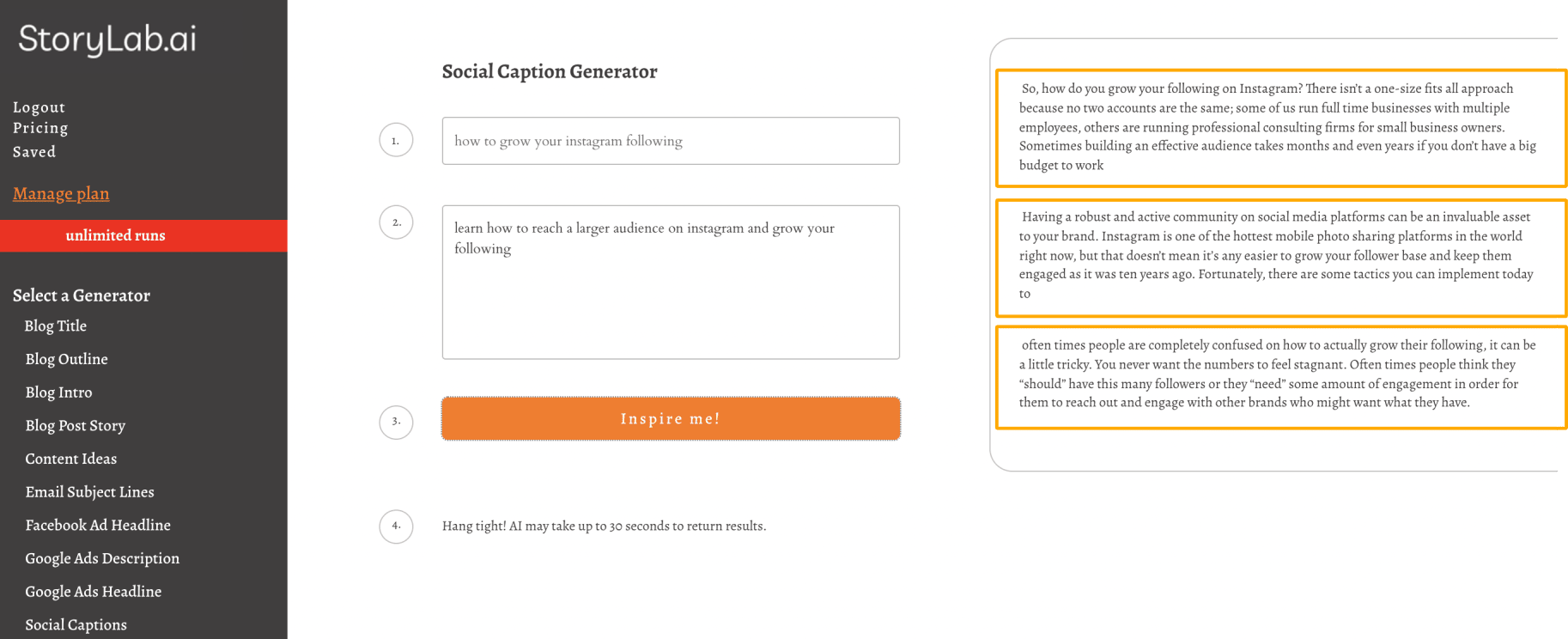 4. Reach a broader audience by using the right hashtags
Hashtags are one of the ways Social Media Platforms understand what a post is about. People also follow hashtags, meaning that using the right ones can help you reach a broader audience. We've created a guide on how to find the right hashtags per social channel and how to create a perfect mix of popular and less competitive hashtags. See how to find the best Hashtags for Instagram.
Instagram Caption Generator Pricing
StoryLab.ai's Instagram Caption Generator (and other generators) runs on GPT-3. Trained, as the largest and qualitatively best Natural Language Processing model. This means that every output you receive is unique. There is no template, so running the generator with the exact same inputs will not give you the same outputs. All outputs are unique. Many other Instagram caption generators on the web rely on templates and inserting keywords in certain sections of the post.
Our pricing is set up as followed:
Free – get 15 runs a month to try our tools out for free;
Starter – $7 a month – 100 runs a month;
Pro – $20 a month – 300 runs a month;
Unlimited – $27 a month – unlimited runs a month;
You can also opt-in for the yearly membership and receive a price reduction.
You can check out our full pricing here.
Write great Instagram Captions in half the time
There is nothing worst than staring at a blank piece of paper. StoryLab.ai's Instagram Caption Generator helps you to get new ideas and even complete copy with a click of a button.
Get inspired by how many different ways there are to describe your Instagram Captions. Next to generating new ideas and creating new copy, you can reword existing Instagram Captions with our paraphrase generator.
Our Marketing Copy Generators run on GPT-3. Trained, as the largest and qualitatively best Natural Language Processing model. Check out our resource hub and see how AI Marketing can help you reach your goals faster. The time to start using this new technology is now.
Get started for free.
FAQs
How do you create a great IG caption?
Be relevant and understand your audience;
Tell a story;
Don't oversell / spam;
Create multiple captions before selecting the best one;
Add emojis and hashtags when relevant.
What is the best Instagram Caption generator?
The best Instagram caption generator allows you to come up with unique Insta captions. Most caption generators are based on a pre-set database. StoryLab.ai's Insta Caption Generator is powered by AI and all outputs are therefore unique.
How do you make an Instagram caption?
Dare to be unique;
Understand your audience;
Ask for feedback from your audience;
Tell a story;
Create multiple IG captions before selecting the most fun one.
What is the purpose of an Instagram Caption?
The purpose of an Instagram caption is to go more in-depth about your post. Your image draws your audience's attention and the caption helps you to tell a story.