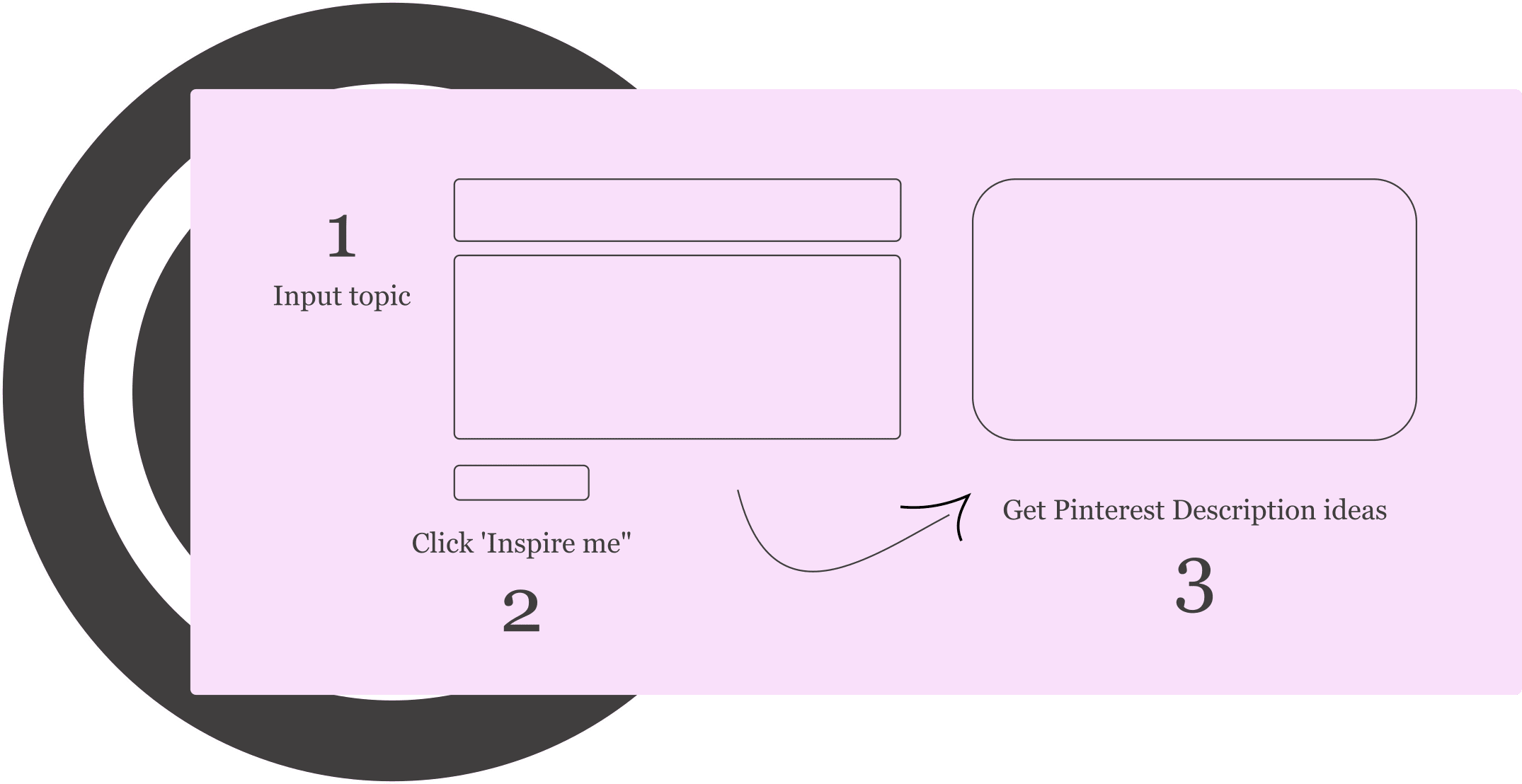 What is StoryLab.ai's Pinterest Description Generator?
StoryLab.ai is an online tool that generates content ideas and marketing copy for you.
Is creating your Pinterest Descriptions taking you too much time? We got you covered!
Simply describe what you would like to post about and hit the 'Inspire me" button.
Our A.I. generator will give you inspirational examples to add to your list of potential Pin Descriptions.
Run the tool as often as you need to create your perfect next Pinterest posts.
Why you should invest time in creating great Pinterest Descriptions
Pinterest is a special Social Media platform as it is also a search engine where great pins can be found for months and even years after they've been published. Many other Social channels value freshness. Meaning, social posts either get traction fast, or they disappear from the algorithm.
Creating a great Pin that does well in Pinterest's algorithm takes a great visual, title, and description. We understand that creating great Pin Descriptions at scale can be tough. That's why we're thrilled to share with your our AI Generator.
Simply create a free account and start creating Pinterest Description ideas with a click of a button.
Make small adjustments where needed. and you're good to go!
It's time to get some great traction from your Pinterest marketing efforts!
Write great Pinterest Descriptions in half the time
There is nothing worst than staring at a blank piece of paper. StoryLab.ai's Pinterest Description Generator helps you to get new ideas and even complete copy with a click of a button.
Get inspired by how many different ways there are to describe your Pinterest Descriptions. Next to generating new ideas and creating new copy, you can reword existing Pinterest Descriptions with our paraphrase generator.
Our Marketing Copy Generators run on GPT-3. Trained, as the largest and qualitatively best Natural Language Processing model. Check out our resource hub and see how AI Marketing can help you reach your goals faster. The time to start using this new technology is now.
Get started for free.
| | |
| --- | --- |
|   😉AI modes |   13 writing styles |
|   ✍️Improves |   Pin descriptions, creativity, and more |
|   📖Support |   17+ Languages |
|   💲 Price |   Free and Premium |
How StoryLab.ai's Pinterest Description Generator works
Step 1. Select the Pinterest Description Generator from our app page
At StoryLab.ai, we help content creators with creating various marketing copy. Varying from Blog Content, to Ad copy, Content Ideas, Email copy, and more.
So first of all, make sure that you have selected the right generator.
Select our Social Media Caption Generator from the left sidebar (see the image below).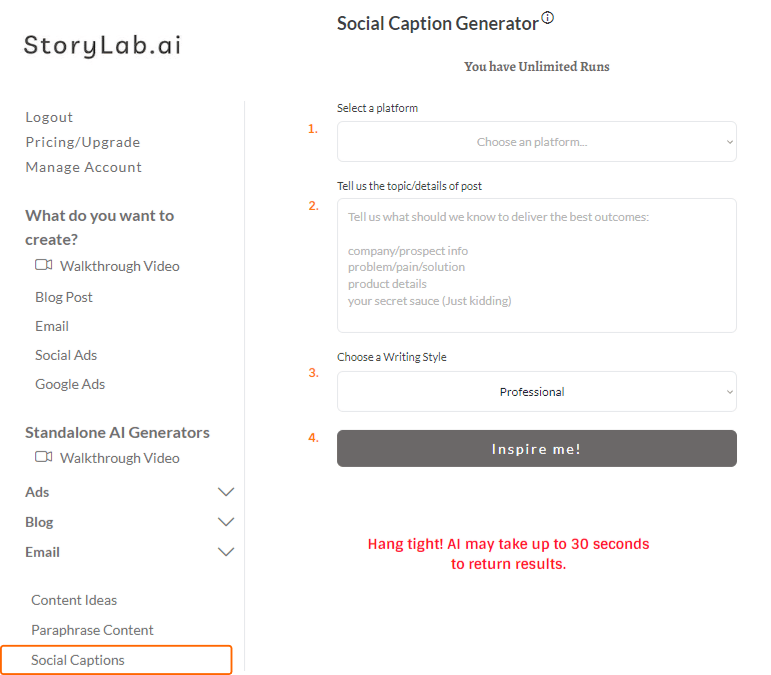 Step 2. Select Pinterest from the platform dropdown
Select for which platform you would like to create Pin Description Ideas. At the moment we have dedicated AI Generators for creating social media copy for:
If your platform is not on the list, you can simply choose a platform that is closely related to yous and still get great social post ideas.
Step 3. Describe your Pin and get great Description inspirations
To generate the best and most relevant Descriptions for your Pins, you need to make sure you've described what your Pin is about the best you can.
See it as this:
If you're searching in Google for 'How to get more Pinterest followers' and your input is just 'Pinterest', chances are you won't find what you're looking for that easily.
The quality of your input determines the quality of your outputs.
Step 4. Choose a writing style
Optionally, choose what writing style our Pinterest Description Writer should use to create your description ideas.
After you're done, you can go ahead and click the 'inspire me' button.
AI Pinterest Description Generator Examples
All right. Let's put it all together and run the AI Pinterest Description Creator with an example. For this example we're using the input:
"How to get more Pinterest followers"
Here's what the AI Tool wrote for us: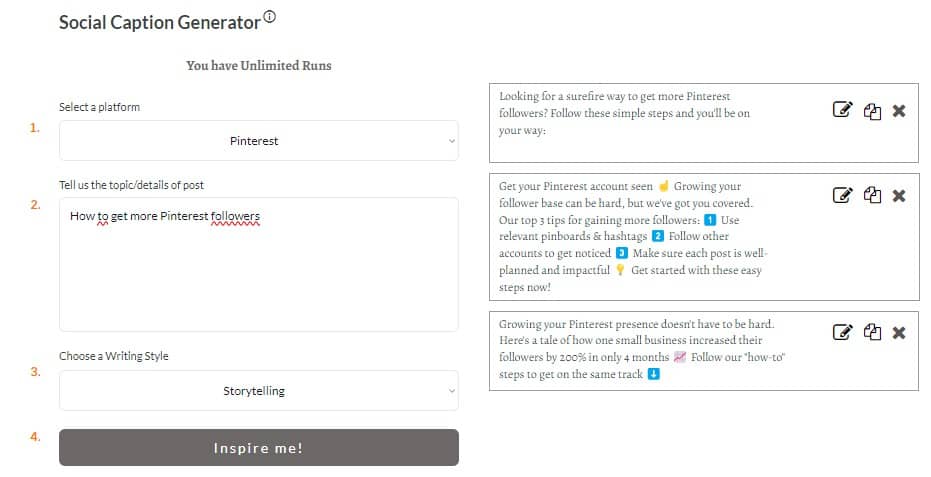 Output examples
Here are the Pin Descriptions we've received on the first run:
Looking for a surefire way to get more Pinterest followers? Follow these simple steps and you'll be on your way:
Get your Pinterest account seen ☝️ Growing your follower base can be hard, but we've got you covered. Our top 3 tips for gaining more followers: 1️⃣ Use relevant pinboards & hashtags 2️⃣ Follow other accounts to get noticed 3️⃣ Make sure each post is well-planned and impactful 💡 Get started with these easy steps now!
Growing your Pinterest presence doesn't have to be hard. Here's a tale of how one small business increased their followers by 200% in only 4 months 📈 Follow our "how-to" steps to get on the same track ⬇️
Pretty cool, right?
Using an AI Tool like this one helps to get the creative juices flowing. Many people don't write Pinterst Descriptions because it takes too much time. With an AI Pin Description Creator like this one, writing descriptions is a breeze.
Step 5. Re-run, adjust inputs and add a human touch
I can now choose to:
Re-run the AI Pin Description Creator with the same inputs;
Re-run the tool with slight changes to the inputs;
Take one of the generated examples, add my unique human touch to perfect it, and post it on Pinterest.
Pinterest Description Generator Pricing
StoryLab.ai's Pinterest Description Generator (and other generators) runs on GPT-3. Trained, as the largest and qualitatively best Natural Language Processing model.
Our pricing is set up as followed:
Free – get 3 runs a month to try our tools out for free;
Starter – $5 a month – 25 runs a month;
Pro – $15 a month – 100 runs a month;
Unlimited – $19 a month – unlimited runs a month;
You can also opt-in for the yearly membership and receive a 20% price reduction.
You can check out our full pricing here.
How to Boost your Pinterest Rankings
So you want to get more out of your Pinterest Marketing efforts. Right?
Let's go over a couple of simple steps you can take to increase your impressions, following, and clicks.
1. Scale your Content Creation
In order to be seen on any platform, you need to create content that is tailored to your audience's needs.
Check out our Content Creation Guide and the 10 Guides and Templates to set up an awesome content creation machine.
The more content you create, the more you have to share on Pinterest.
Think about your blog posts, videos, social posts, etc.
2. Scale your Pinterest Content Creation and Curation
For every blog post or video, you can create multiple Pins.
It can be hard to come up with new visuals, Pin Titles, and Descriptions, but luckily there are tools that can help:
Next to your own blog posts and videos, you can also simply share your thoughts or content you find on the web that is related to what your audience loves.
3. Set up specific boards
Don't Pin all your content on one board. Pinterest's algorithm checks the board name, description, and content to identify for which keyword a Pin should rank and be displayed. Take the time to come up with descriptive board names and descriptions and Pin them to the most relevant boards.
Example:
Your Marketing board can become:
Content Marketing
Pinterest Marketing
Twitter Marketing
SEO
etc.
4. Pin often
Creating new content on Pinterest is important. Check out how AI and Social Media Marketing work hand in hand if you're having trouble coming up with enough ideas or having difficulty creating social posts.
After you've learned who your audience is and what they love to consume, don't overthink it. Create content and see what resonates best on the platform.
5. Add call to actions in your images and descriptions
If you want people to take action, let them know. Add 'click here', 'learn more', 'get free checklist', or whatever you offer in the image and description and get people to your website or wherever you want the value exchange to happen.
Start with our AI-Powered Content Creation Platform
StoryLab.ai is more than just a Pinterest Description Generator. It's an AI-Powered Content Creation Platform that helps you create more and better marketing copy faster than ever before. Check out the quick video walkthrough below.