What is StoryLab.ai's LinkedIn Caption Generator?
Our AI-Powered LinkedIn Caption Generator helps you create great LI Captions. Fast!
Simply describe what you would like to post about and let AI do the heavy lifting. You can get started for free. No credit card is required.
For the Pros
Copy/paste a section of your blog post and get 25 LinkedIn Captions within seconds. Promote your content not just once but over a longer period of time and really engage your audience on LinkedIn. This option is only available for Unlimited users but well worth it. Check out the video to see how it works.
Why you should invest time in creating great LinkedIn captions
LinkedIn is becoming a Content Powerhouse.
Gone are the days that you would only log in to check updates from (former) colleagues or see what new job opportunities are on the horizon.
Individual content contributors and companies are seeing a vast increase in impressions, engagement, clicks, and conversions from the LinkedIn platform. Creating great LinkedIn posts is a must if you want to tap into the large audience that is on the platform.
Our LinkedIn Caption Generator can help you come up with new ideas and inspire you to create awesome LinkedIn posts.
Set up your LinkedIn Marketing Strategy and become an industry leader. StoryLab.ai helps you to tell great (micro) stories. After publishing an article, note down the challenges, solutions, and promised lands that you have discussed, head over to our LinkedIn caption generator and create 10+ stories (LinkedIn posts) that will truly inspire your audience to take action.
Everybody reacts to a different story. Don't just post 'check out our new article' on LinkedIn. Guide them through all the goodies that you've been researching and discussing.
Write great LinkedIn Captions in half the time
There is nothing worst than staring at a blank piece of paper. StoryLab.ai's LinkedIn Caption Generator helps you to get new ideas and even complete copy with a click of a button.
Get inspired by how many different ways there are to describe your LinkedIn Captions. Next to generating new ideas and creating new copy, you can reword existing LinkedIn Captions with our paraphrase generator.
Our Marketing Copy Generators run on GPT-3. Trained, as the largest and qualitatively best Natural Language Processing model. Check out our resource hub and see how AI Marketing can help you reach your goals faster. The time to start using this new technology is now.
Get started for free.
| | |
| --- | --- |
|   😉AI modes |   13 writing styles |
|   ✍️Improves |   Social Media Copy and more |
|   📖Support |   17+ Languages |
|   💲 Price |   Free and Premium |
How StoryLab.ai's LinkedIn Caption Generator works
Step 1. Select the LinkedIn Caption Generator from our app page
At StoryLab.ai, we help content creators with creating various marketing copy. Varying from Blog Titles to Ad copy, Content Ideas, Paraphrasing existing copy, and more.
So first of all, make sure that you have selected the right generator.
Select our Social Media Caption Generator from the left sidebar (see the image below).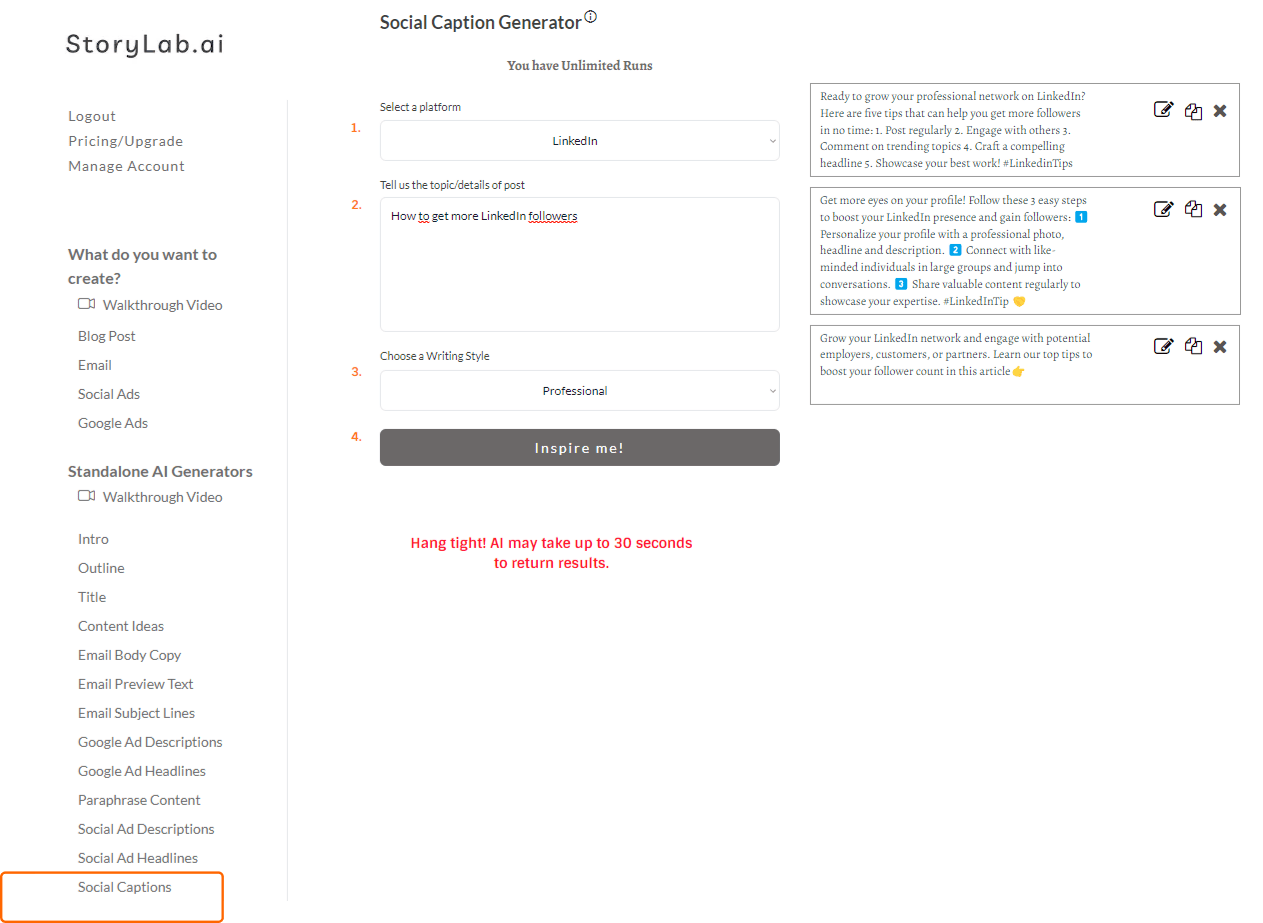 Step 2. Select LinkedIn from the Social Media drop down
Now that you've selected our Social Media Caption Generator, go ahead and select LinkedIn from the drop-down menu.
Step 3. Describe your LinkedIn post and get great caption ideas
To generate the best and most relevant captions for your LinkedIn posts, you need to make sure you've described what your post is about the best you can.
See it as this:
If you're searching in Google for 'how to get more LinkedIn followers' and your input is just 'Linked', chances are you won't find what you're looking for that easily.
The quality of your input determines the quality of your outputs.
After you're done describing your post, you can go ahead and click the 'inspire me' button.
Step 3. Select your writing style
Do you want to write a professional LinkedIn caption? Do you want to create a listicle? Maybe you would like to tell a story. Select a writing style or leave it as default.
Step 4. Click that 'Inspire me' button!
You're now ready to run the generator and receive some cool LinkedIn caption ideas.
Here's what steps 2 to 4 look like and what the tool has generated for us on the first run: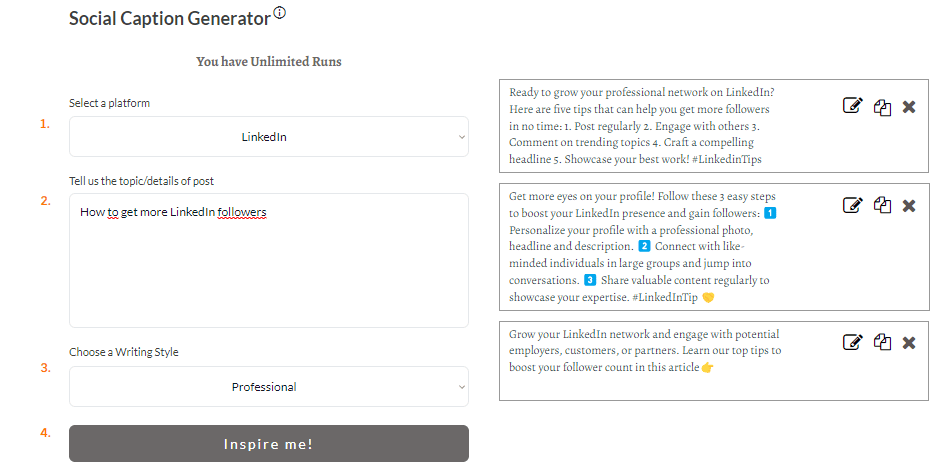 Step 5. Re-run, adjust inputs, and / or add your human touch
Alright! You've now received your LinkedIn caption ideas. It's now up to you if you want to re-run the AI Tool (with or without input edits) or if you want to take one of the ideas and perfect it before you publish it on LinkedIn.
How to create great LinkedIn Posts
1. Be relevant. Set up your Content Marketing Strategy
LinkedIn used to be mainly for B2B companies. Not anymore! B2C and even Nonprofit organizations are seeing great success on LinkedIn. The organic reach is great on this platform (who knows for how long).
Let's start with your strategy
You can create the most beautiful LinkedIn post, but if it does not appeal to the needs of your audience, it won't evoke an emotion and it will probably not drive engagement and interactions. Before you post, you need to understand your audience and create content tailored to their needs.
Check out our simple guide on how to set up your LinkedIn Marketing Strategy or how to create your Social Media Marketing Strategy here.
2. Make it visual and draw attention to your LinkedIn post
You don't want to create a post that people easily scroll past. You want to stop people in their tracks and visuals can help with just that. It's not just about the image or video but emojis can also help. So don't forget to implement a couple of those in the mix.  We rely on Canva for most of the visuals you see on our website and social media accounts.
3. Reach a broader audience by using the right hashtags
Hashtags are one of the ways Social Media Platforms understand what a post is about. People also follow hashtags, meaning that using the right ones can help you reach a broader audience. We've created a guide on how to find the right hashtags per social channel and how to create a perfect mix of popular and less competitive hashtags. See how to find the best Hashtags for LinkedIn.
LinkedIn encourages the usage of hashtags. You can see it by the way LinkedIn actively are showing hashtag ideas you can use for your post.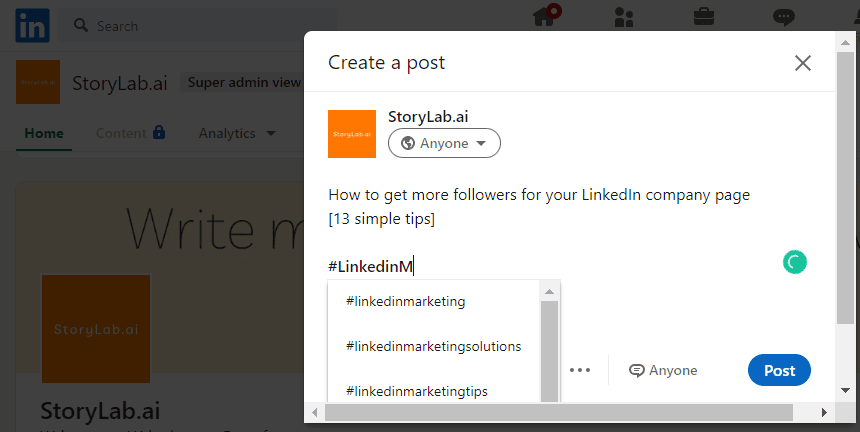 LinkedIn Caption Generator Pricing
StoryLab.ai's LinkedIn Caption Generator (and other generators) runs on GPT-3. Trained, as the largest and qualitatively best Natural Language Processing model.
Our pricing is set up as followed:
Free – get 3 runs a month to try our tools out for free;
Pro – $15 a month – 100 runs a month;
Unlimited – $19 a month – unlimited runs a month;
You can also opt-in for the yearly membership and receive a 20% price reduction.
You can check out our full pricing here.
Start with our AI-Powered Content Creation Platform
StoryLab.ai is more than just a LinkedIn Caption Generator. It's an AI-Powered Content Creation Platform that helps you create more and better marketing copy faster than ever before. Check out the quick video walkthrough below.