YouTube Video Shorts Statistics You Need to Know in 2023
YouTube Shorts are gaining popularity fast. Here's what you need to know.
YouTube shorts are not only fun to watch, they can also be a powerful marketing channel as short-form content is becoming more dominant.
In this article
What are YouTube Shorts
In September of 2020, YouTube announced that it was offering a short-form video feature, called YouTube shorts.
YouTube released YouTube Shorts in India before rolling it out to America and 26 other countries by March 2021.
You can find this feature in the 'shorts' tab on the YouTube app on your mobile. On Desktop, you will see a shorts section on the homepage and on the navigation on the left: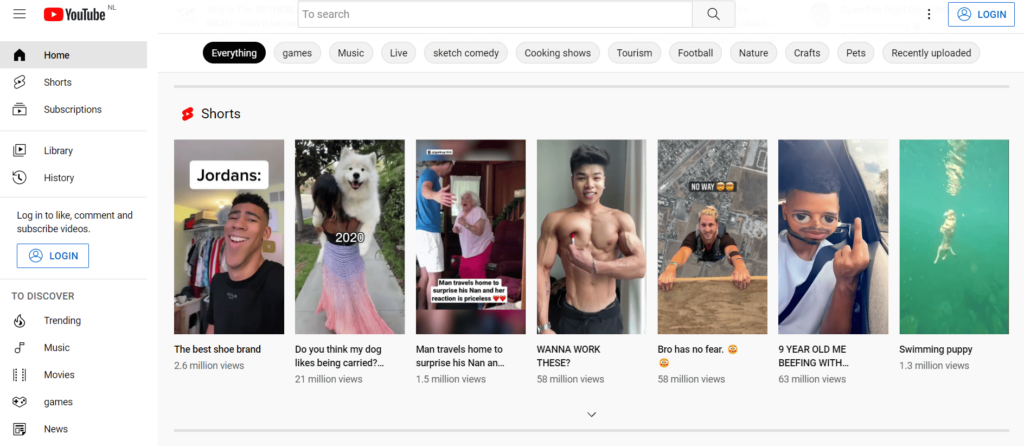 On the YouTube Search Results page, YouTube Shorts and long-form videos are shown together.
Here's one of our YouTube shorts video ranking #1 for the term 'Social Media Marketing Statistics' (under the two ads).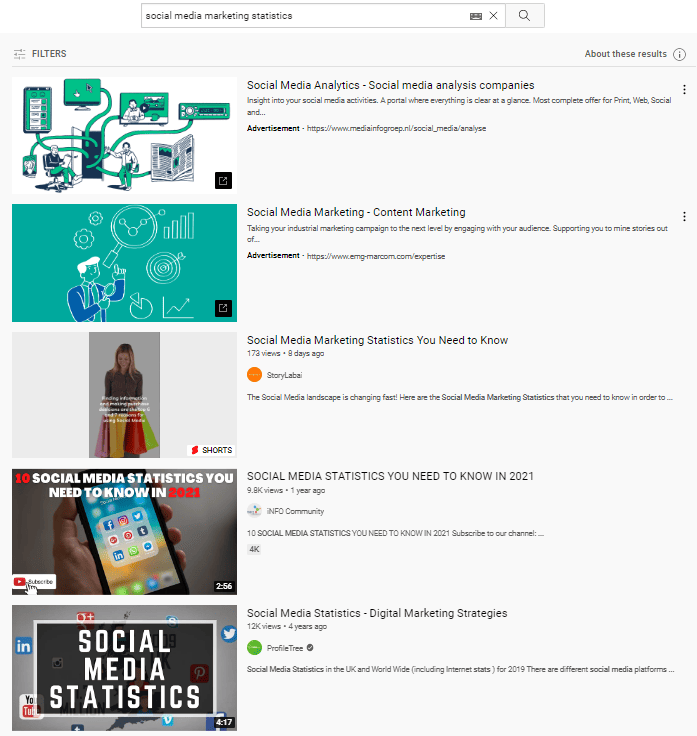 And here's where you can find YouTube Shorts on a channel page: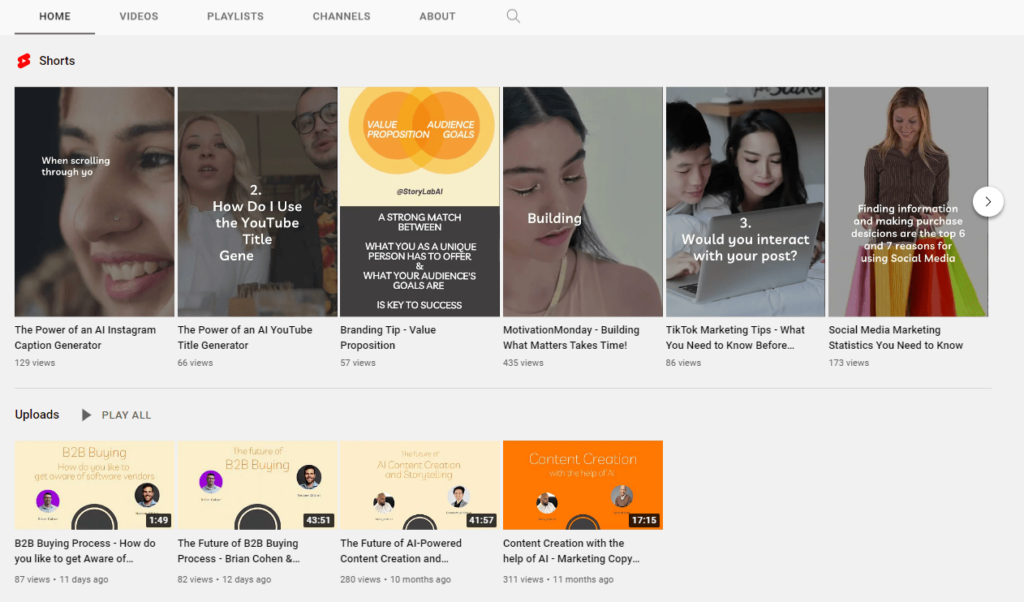 YouTube Shorts Statistics
Alright. Now let's have a look at a couple of YouTube Shorts statistics worth knowing:
YouTube gets about 25 percent of the global mobile traffic;
YouTube is used by 1/4th of the world population;
More than 2.3 billion subscribers regularly visit YouTube every month;
YouTube Shorts got 3.5 billion daily views in 2020;
$100 million in funding on YouTube Shorts went live in 2021 to encourage content creators on the platform;
About 25.6% of YouTube Shorts originated from India, and 23.4% from the United States;

More than 70% of YouTube Watch Time Is on Mobile;

More than 70% of YouTube Shorts Are Longer than 15 Seconds, but Have a 60 Second Time Limit;

74% of Adults in America Use YouTube;

16.4% of YouTube's Site Traffic Comes from America;
More than 26.7M people have a YouTube Premium account in 2023;
About 72 Percent Of YouTube Shorts Are Over 16 Seconds Long;
One YouTube Subscriber Is Worth 25 TikTok Followers;
YouTube generated 19.7B in revenue (ads + premium subscriptions) in 2020;
YouTube Shorts Are Growing 135 Percent Year Over Year And Have Over 1.5 Billion Monthly Users;
YouTube Shorts demand is outpacing supply (see image below);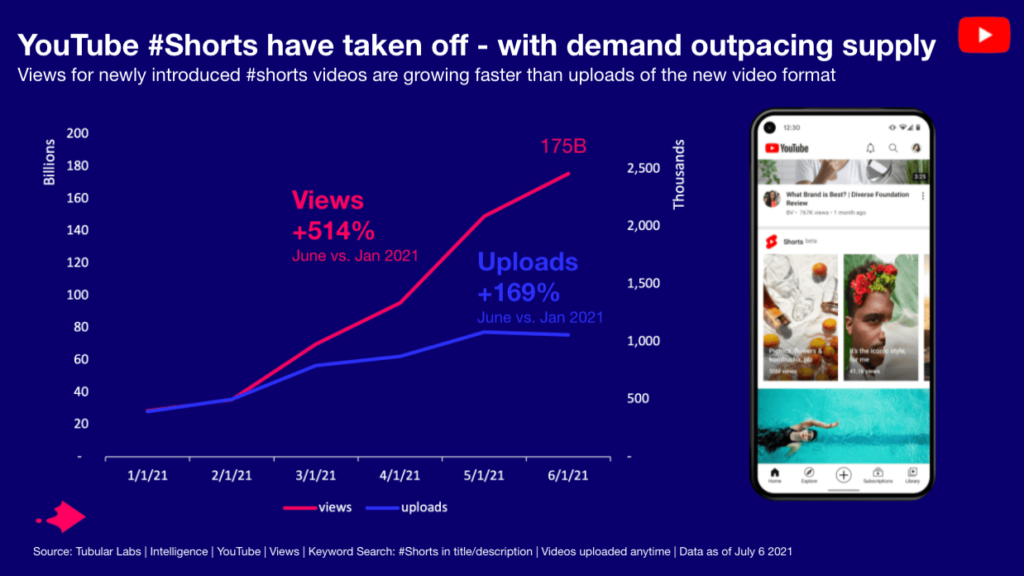 The Future of YouTube Shorts
Short-form content like Google Web Stories, YouTube Shorts, Idea Pins, Instagram Reels, TikTok videos, etc. are an exciting new form of content consumers seem to be enjoying.
Marketers will need to adapt and add short-form content to their Content and Social Media Marketing Strategy.
We are experimenting and documenting and we will keep you updated on our learnings.
Easy way to create YouTube Shorts
Any video you upload to YouTube which is shorter than one minute will be marked as YouTube Short. Therefore, simply talking into your camera in portrait mode and uploading that video seems to be the easiest way to create Shorts.
But!
It´s not the ideal way.
You might want to add two layers on top of your recorded video:
Optimizing the video for SEO;
Adding captions to your video for people that have their sound off;
Adding music to your video to spice it up.
Optimizing your YouTube Shorts for SEO
YouTube shorts can rank on YouTube and Google just as well as longer-form videos do. Therefore, we would advise uploading your video to your laptop so you can easily add some essential SEO elements. We've written an extensive article on doing a YouTube Audit where we discuss it in length, but here are a couple of basics.
Understand your main keyword. Talk about it in your video, add it to your file name, title, and description;
Create a catchy YouTube title and add your main keyword at the start of the title;
Add your main keyword at the start of your description and mention it a couple of times throughout your description. Also, add secondary keywords;
Add 3 hashtags to your YouTube Shorts in the description.
Create catchy YouTube Titles with a YouTube Title Generator
Your video titles are important to get people to click on your video and to rank better on YouTube and Google. Don't settle for the first title you come up with. Let AI help you come up with multiple ideas in seconds and select the best one.
Here's how it works.
For this example, we want to create catchy YouTube titles for our video on the importance of YouTube shorts. Our input was:
"Why marketers should pay attention to YouTube Shorts"
Here are a couple of YouTube title ideas the Generator provided us: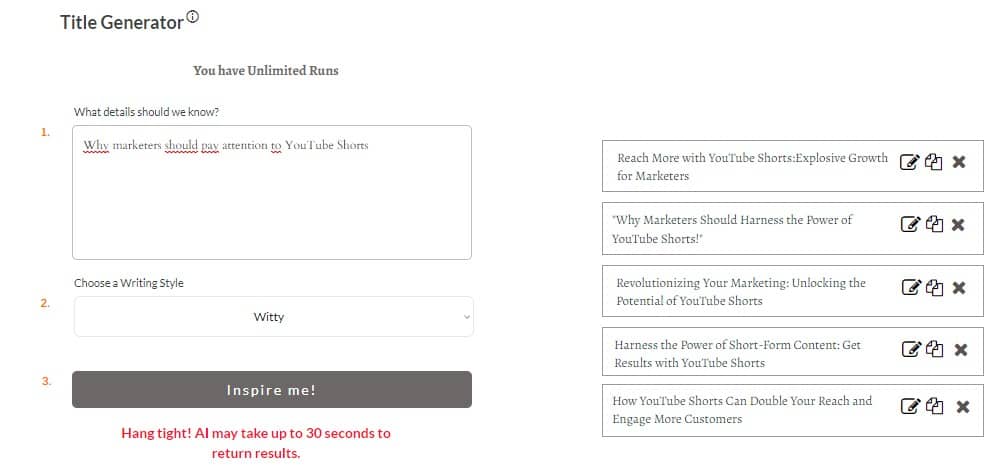 YouTube shorts title ideas generated by AI:
Reach More with YouTube Shorts: Explosive Growth for Marketers
Why Marketers Should Harness the Power of YouTube Shorts!
Revolutionizing Your Marketing: Unlocking the Potential of YouTube Shorts
Harness the Power of Short-Form Content: Get Results with YouTube Shorts
How YouTube Shorts Can Double Your Reach and Engage More Customers
We don't want to stop with just a short list of video title ideas, so we ran the generator again and got the following suggestions:
 Unlocking the Potential of YouTube Shorts for Marketers
How YouTube Shorts could Help to Triple Your Reach & Engagement
From Zero to Hero: How YouTube Shorts Can Help Your Brand Take Off
Grow Your Business with YouTube Shorts: A Marketer's Guide
Unlocking the Power of YouTube Shorts: A Marketers Must-Do
Now we have enough ideas to help us come up with a really nice SEO-optimized and catchy YouTube Shorts Title.
For this example, we've decided to create the following headline (putting our main keyword at the start of the title):
"YouTube Shorts – Grow your Brand from Zero to Hero"
Create SEO-Optimized YouTube Descriptions with a YouTube Description Generator
If you want your videos to rank well on YouTube and Google, you need to provide the platforms with as much information as possible. The YouTube description section is perfect for adding your most important keywords and getting people to take action.
AI can help you do the heavy lifting in creating well-optimized Descriptions. For this, we'll be using our YouTube Description Generator.
Here's how it works.
Our input was the title that we created in the example above:
"YouTube Shorts – Grow your Brand from Zero to Hero"
Here are a couple of description ideas the generator provided us: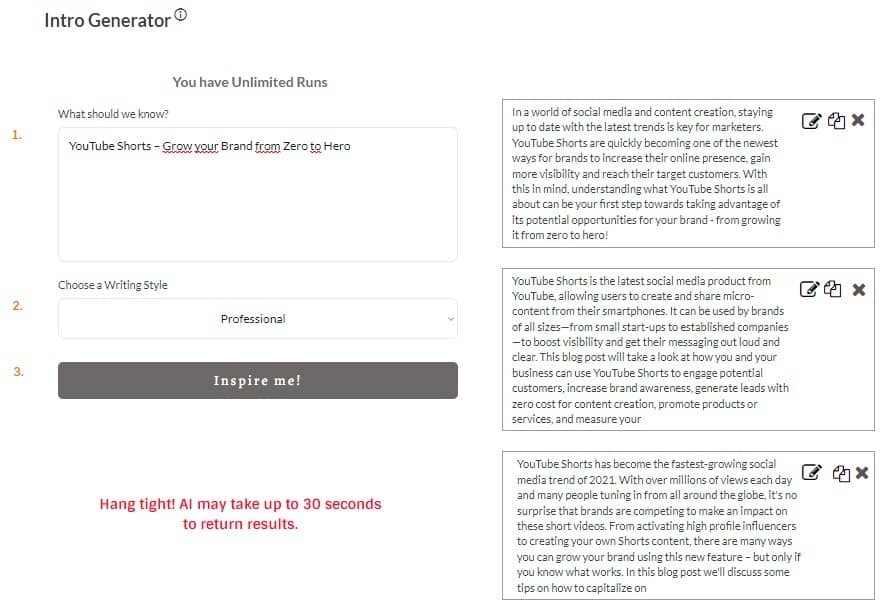 YouTube shorts description ideas generated by AI:
In a world of social media and content creation, staying up to date with the latest trends is key for marketers. YouTube Shorts are quickly becoming one of the newest ways for brands to increase their online presence, gain more visibility and reach their target customers. With this in mind, understanding what YouTube Shorts is all about can be your first step towards taking advantage of its potential opportunities for your brand – from growing it from zero to hero!
YouTube Shorts is the latest social media product from YouTube, allowing users to create and share micro-content from their smartphones. It can be used by brands of all sizes—from small start-ups to established companies—to boost visibility and get their messaging out loud and clear. This blog post will take a look at how you and your business can use YouTube Shorts to engage potential customers, increase brand awareness, generate leads with zero cost for content creation, promote products or services, and measure your
YouTube Shorts has become the fastest-growing social media trend of 2021. With over millions of views each day and many people tuning in from all around the globe, it's no surprise that brands are competing to make an impact on these short videos. From activating high-profile influencers to creating your own Shorts content, there are many ways you can grow your brand using this new feature – but only if you know what works. In this blog post, we'll discuss some tips on how to capitalize on
We can re-run the generator or take one of these ideas, add our unique human touch, perfect them, and add them to your YouTube Shorts Description.
Make your YouTube Short More Engaging
In this day and age, we need to capture people's attention within seconds. That's especially the case for short-form formats like YouTube Shorts, TikToks, Instagram Reels, etc.
In order to do that, we turn to Canva Pro.
We either add engaging layers to the YouTube Shorts we've recorded or create entire Shorts using video and sound elements within Canva pro.
Canva is a very intuitive Design Tool and very affordable, so perfect for content creators to create some awesome content.
Here's an example of a YouTube Short where we added:
An intro;
Music background;
Captions;
Outro with a CTA.
Using Canva Pro.
And here's an example of a YouTube short we created entirely in Canva Pro:
Start Creating Great YouTube Shorts
I hope this resource has helped you understand the power of YouTube shorts and short-form content and gives you some guidance on how to get started and be successful.
There is more to your story. Let's get it out!
Sources:
https://techcrunch.com/2021/08/03/youtubes-100-million-shorts-fund-to-challenge-tiktok-goes-live/
https://rootnote.co/youtube-shorts-stats-and-what-they-might-mean/
https://www.adweek.com/adweek-wire/short-form-videos-continue-to-grow-viewership-on-youtube-according-to-tubular-labs/
https://www.cnbc.com/select/karat-black-card-the-credit-card-for-social-media-influencers/
https://www.statista.com/statistics/1261865/youtube-premium-subscribers/
https://www.businessofapps.com/data/youtube-statistics/