What is StoryLab.ai's Blog Introduction Generator?
StoryLab.ai is an online tool that generates content ideas for you.
Write Stunning Blog Intros with a Powerful AI Blog Introduction Generator.
Engage your audience to read your entire blog post instead of hitting the 'back' button with the help of AI.
Start for free.
Why you should invest time in creating great Blog Post Introductions
How can we as writers draw our reader in, when we all know that time is precious and that there is an abundance of content for our readers to choose from?
Writers and their articles have only seconds to grab online readers' attention. Next to your Post title, the intro or 'hook' of your story is the second most important factor determining the success of your writing.
Let's say I clicked on your Social Media post or I found a result in Google and clicked on it. Next to the Blog Post Title, I want to know as soon as possible what the article I landed on has to offer me.
Is this article really for me? Why is it worth my time to keep on reading?
Great Blog Post Intros excite the reader to read on.
What a Great Blog Post Intro does for you and your reader
What a great blog post intro or hook does, essentially, is filter your audience. Along with the title — and, if you're using that, the subtitle — the intro tells the reader a few things about your post, to help them decide if this is for them:
Is the frame of reference that this piece is using relatable for me? Are you using examples that your intended audience can relate to?
Is the problem this piece can help me solve something that I recognize or that interests me?
Is the writing style a fit for me?
And, by extension —are the personality of this writer and this piece a fit for me?
These questions, which the reader is subconsciously asking herself and which your intro answers, decide if they will read on or not. That means that if you're using your intro right, you're selecting the exact right reader and drawing them deeper into your story.
So, how do you do that?
How you can write great story intros and hooks
In "The Art and Business of Online Writing", writing guru Nicolas Cole advises that your introduction should preferably begin with one simple, strong sentence. I couldn't agree more.
Now, what is a strong sentence?
This is a sentence that elicits an emotional response, and/or creates some tension for your reader. Play with the tension between your title and this first line, to get a feel for this. You can also decide to take up a strong position in your first line, which might get your reader's attention. For example, at the beginning of this piece I might have said:
"Your writing doesn't excite your readers half as much as you would want. Here's why."
That would have caught your attention, now wouldn't it? Be careful, it's easy to veer too much to the harsh side.
Here are a few additional tips to creating a great blog post intro:
Next to feelings, use words that elicit an image in the reader's mind. Like 'reader'. 'Draw'. 'Sunlight'. Images — and sounds, and smells — are the closest indirect route to your reader's emotional brain.
Try using a question sometimes, because questions automatically create tension: we want to know what the answer is going to be. Don't we?
If you have it in you to be funny sometimes — be funny sometimes. There's hardly a better way to open someone's mind up to your ideas than getting them to laugh or even smile, before you start talking.
So what does that mean for you?
Write better blog post intros with the help of AI
Well, my friend — this probably means that you might want to invest a little more time and effort into your blog intros. Or, it simply means that you should not be satisfied with the first blog post intro that you write.
Or, in your future writing, how about this? Write the article, look back at your intro, and then use StoryLab.ai's Blog Post Intro Generator to come up with multiple ideas for your hook — and pick the best one. The time to get started with AI Marketing is now.
We wish you happy writing!
Blog Introduction Benefits
| | |
| --- | --- |
|  🤖 AI modes |  13 writing styles |
|  ✍️ Improves |  Intros, creativity, and more |
|  📖 Support |  17+ Languages |
|  💲Price |  Free and Premium |
Write great Blog Intros in half the time
There is nothing worse than staring at a blank piece of paper. StoryLab.ai's Blog Intro Generator helps you to get new ideas and even complete copy with a click of a button.
Get inspired by how many different ways there are to describe your Blog Intro. Next to generating new ideas and creating new copy, you can reword existing Blog Intros with our paraphrase generator.
Our Marketing Copy Generators run on GPT-4. Trained, as the largest and qualitatively best Natural Language Processing model. Check out our resource hub and see how AI Marketing for SEO can help you reach your goals faster. The time to start using this new technology is now.
Get started for free.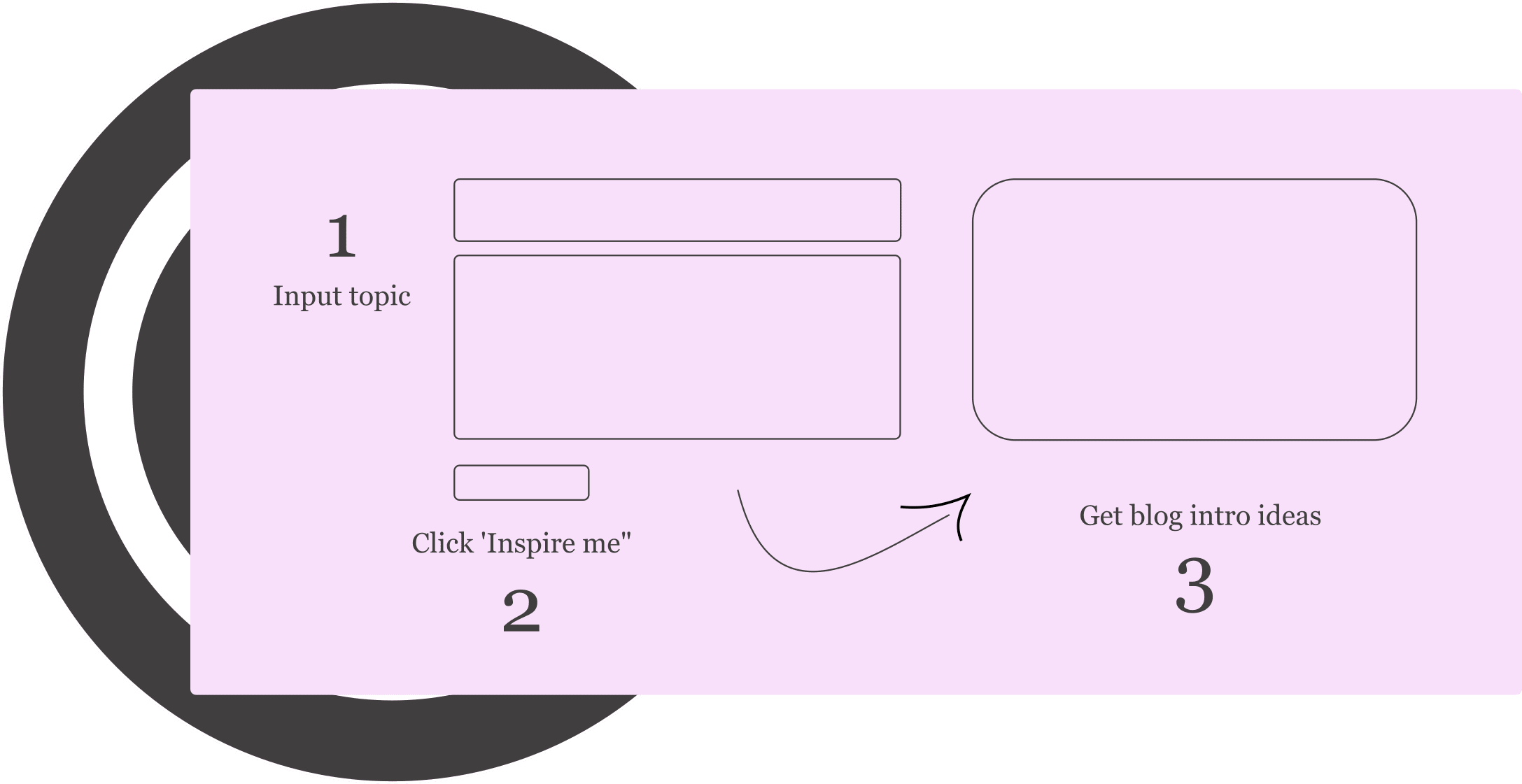 How StoryLab.ai's Blog Intro Generator works
Step 1. Select the Blog Intro Generator from our app page
At StoryLab.ai, we help content creators with creating various marketing copy. Varying from Blog Content, to Ad copy, Content Ideas, Email copy, and more.
So first of all, make sure that you have selected the right generator.
Select our Blog Intro Generator from the left sidebar (see the image below).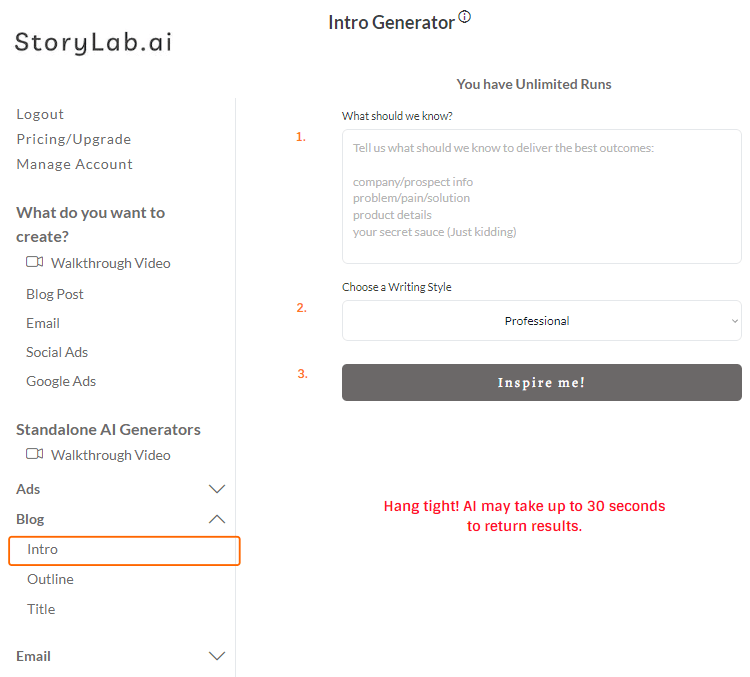 Step 2. Describe your blog post and get great introduction ideas
To generate the best and most relevant introductions for your blog post, article, white paper, etc. you need to make sure you've described what your content is about the best you can.
See it as this:
If you're searching in Google for 'how to write a great article' and your input is just 'article', chances are you won't find what you're looking for that easily.
The quality of your input determines the quality of your outputs.
Step 3. Choose a writing style
Optionally, choose what writing style our Blog Intro Writer should use to create your Introduction.
After you're done, you can go ahead and click the 'inspire me' button.
AI Intro Generator Examples
All right. Let's put it all together and run the AI Intro Creator with an example. For this example we're using the input:
"How to write a great article"
Here's what the AI Tool wrote for us: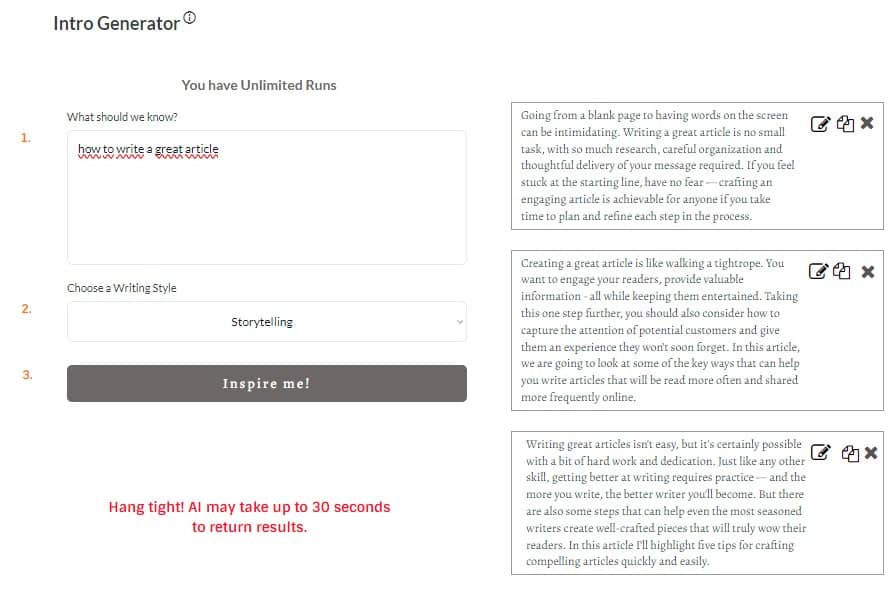 Output examples
Here are the introduction ideas we've received on the first run:
Going from a blank page to having words on the screen can be intimidating. Writing a great article is no small task, with so much research, careful organization and thoughtful delivery of your message required. If you feel stuck at the starting line, have no fear — crafting an engaging article is achievable for anyone if you take time to plan and refine each step in the process.
Creating a great article is like walking a tightrope. You want to engage your readers, provide valuable information – all while keeping them entertained. Taking this one step further, you should also consider how to capture the attention of potential customers and give them an experience they won't soon forget. In this article, we are going to look at some of the key ways that can help you write articles that will be read more often and shared more frequently online.
Writing great articles isn't easy, but it's certainly possible with a bit of hard work and dedication. Just like any other skill, getting better at writing requires practice — and the more you write, the better writer you'll become. But there are also some steps that can help even the most seasoned writers create well-crafted pieces that will truly wow their readers. In this article I'll highlight five tips for crafting compelling articles quickly and easily.
Pretty cool right? These examples can get me going to write a nice article.
Step 4. Re-run, adjust inputs and add a human touch
I can now choose to:
Re-run the AI Blog Intro Creator with the same inputs;
Re-run the tool with slight changes to the inputs;
Take one of the generated examples, add my unique human touch to perfect it, and publish your article.
Blog Post Introduction Generator Pricing
StoryLab.ai's Blog Post Intro Generator (and other generators) runs on GPT-4. Trained, as the largest and qualitatively best Natural Language Processing model.
Here's what our pricing looks like:
Free – get 3 runs a month to try our standalone AI Generators for free;
Pro – $15 a month – 100 runs a month on our standalone AI Generators;
Unlimited – $19 a month – unlimited runs a month plus extras like access to our community and courses;
You can also opt-in for the yearly membership and receive a 20% price reduction.
You can check out our full pricing here.
Start with our AI-Powered Content Creation Platform
StoryLab.ai is more than just a Blog Intro Generator. It's an AI-Powered Content Creation Platform that helps you create more and better marketing copy faster than ever before. Check out the quick video walkthrough below and see how you can write better blog posts faster with the help of AI.