Creating a Content Distribution Strategy in 2023 [Work Sheet Included]
Content is King – Distribution is Queen
I bet you've heard the phrase:
"Content is king!"
Have you also heard the phrase:
"Content is king – Distribution is Queen!"
Also.
How much time do you spend on creating new content and how much time do you spend on distributing new AND older content?
I've always been big on Content Distribution. I've also always been amazed by how little time people spend on distributing content and I've often received questions around how I got such a large following, engagement, and traffic from multiple platforms. Even from teams with a strong Inbound Marketing Strategy in place.
For me. The answer is easy.
I follow a Content Distribution Framework that I created over many years.
Every time I start at a new company, I copy / paste this framework, personalize it a bit, and rock it.
In this post, I'll be sharing that exact framework, give you guidance on how to personalize it to your needs and how to achieve your Content Marketing Goals a little bit easier.
But first, Let's start with a couple of basics to make sure we're all on the same page.
In this article
What is Content Distribution?
Content Distribution is promoting new and existing content over multiple channels and platforms over time.
The importance Content Distribution?
Promoting your content is a must. Without content distribution, you're basically publishing and praying.
What I've noticed is not that people don't promote their content, it's that they don't do it enough.
Here's how most Content Distribution Plans look like:
Publish new content.
Share it on Social Media once (sometimes schedule a couple of posts).
Up to creating the next piece of content.
Not looking into promoting it on multiple platforms / channels like Reddit, Quora, Medium, etc. No re-distributing older content.
The main focus on is creating.
If that's the case for you too, you're missing out on growing a following, growing your E-mail list, building your SEO authority and overall bottom line.
Proper Content Distribution is important!
Setting up a Content Distribution Strategy
A well-designed Content Distribution Strategy is more than simply adding new channels or going back and promoting older content.
Content Distribution takes a lot of time. How do you make sure you invest your time in what gives the best returns?
Before we hand you the Content Distribution Framework in a Google Sheet, we're going to explain how all elements work together so you can make decisions on what is most valuable to you and what you should add to make it even better.
1. How to select the right channels to distribute your content
If you've already used our Content Marketing Strategy framework, you should already have a good idea of the channels that work best for you.
Find out where your audience listens and reads for the subject matter and type of story you're sharing. What platforms are your audience or potential customers active on? Do your research, talk to people, and test the response you get on various channels.
Your distribution channels are going to be on the X-axis of your Google Sheet.
The channels that have the biggest impact or potential to have the biggest impact should be on the left and the ones that have the least impact, but maybe are easy to plug your content into, go on the right side.
You will see a vizualisation of the importance of this later in this guide. 
So to recap, for selecting the right channels it's important to:
Select channels your audience is active on
Select channels that give you the best return on time investment or the potential to give you the best return. (Chances are that there are platforms you're not utilizing yet and thus, starting out will give you poor results at first, but the potential can be big.)
Put your most important channels on the left in descending order (don't worry about being perfect).
This list will be evolving over time. You should add, delete, and move channels around as you see fit.
Examples of possible distribution channels
Social Media Platforms
Your e-mail list
Google WebStories
Medium
SubStack
Quora
SubReddits
Refind
LinkedIn and Facebook groups
HackerNews
IndieHacker.com
Flipboard
GrowthHackers.com
Etc.
2. Which articles, videos, ideas do you spend most the time on
After you've figured out which channels you'll be using as a starting point, it's time to prioritize which articles, videos, ideas you want to promote first and most often.
The same principle applies here.
Which piece of content / idea will give you the best bang for your buck if it attracts 100 more visitors?
If this is too simplistic, maybe the following guidelines can help:
Which pieces of content have attracted the most subscribers, buyers, etc.?
Which pieces of content already rank well in Google and need a little boost?
 Which pieces of content have the highest potential to rank well in Google?
What types of content have helped build a Social Following – which new ideas deserve more priority?
Your most important pieces of content go on the first rows in descending order.
Here's how the sheet should look like: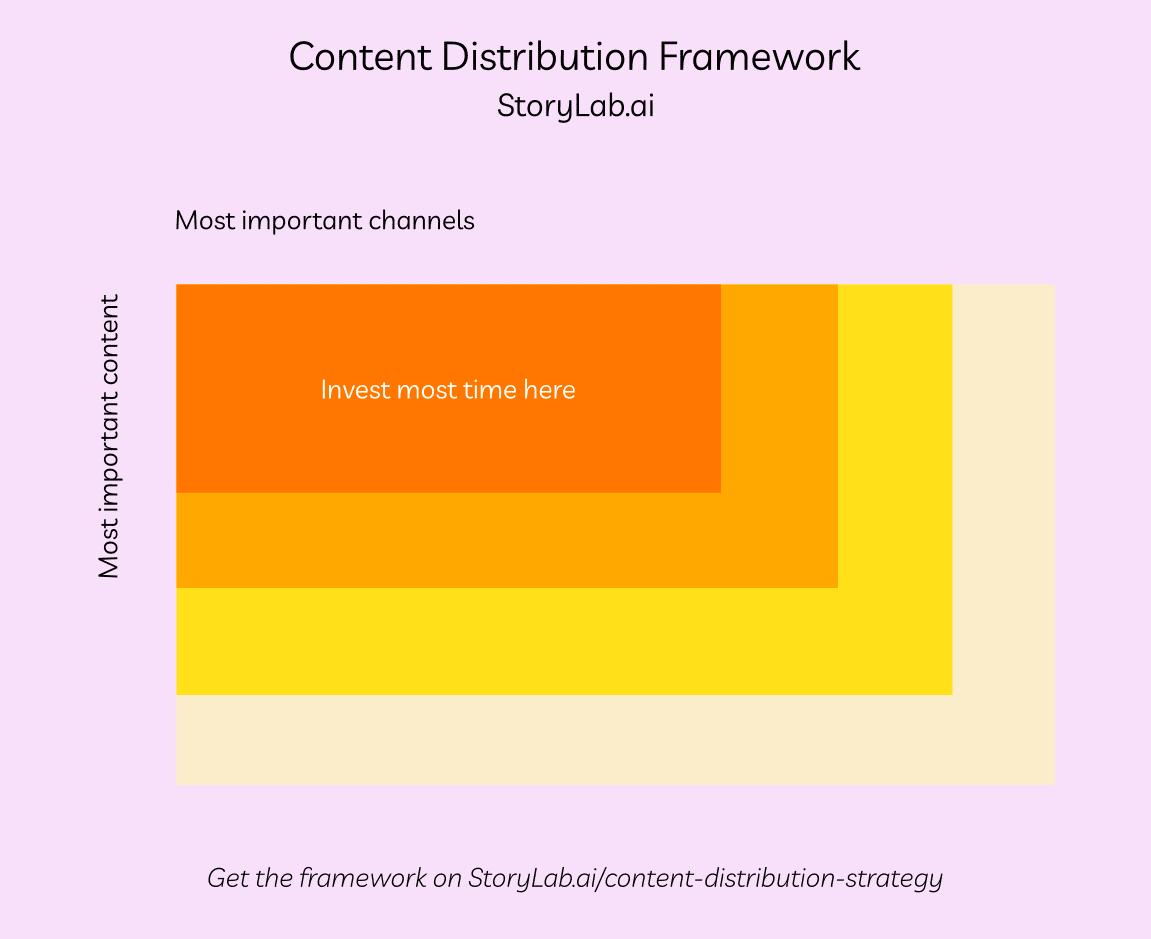 It can be that you have 10,000 pieces of content and ideas or that you have 100.
It doesn't matter.
You now have a framework / process for spending time in terms of content distribution on what matters most.
You can now work your way from the top left to the bottom right.
Continually distributing your content
It is not possible to work through the dark orange (most important) quadrant first, and then light orange, etc.
Let's say your top distribution channels are:
You can check off sending an e-mail to your subscribers but you might want to create 6 Tweets that go out over the course of a couple of weeks, you might want to create 2 Google Web Stories, write 3 Medium posts and share them on 4 relevant LinkedIn groups you're active in.
You should not do all of that promotion the day you publish your piece of content.
So you will have gaps in your most important quadrant.
That's ok.
It's a work sheet.
You can fill in the gaps when the time is right.
This helps you to not just have a big distribution plan on day one, but also to continually promote a piece of content.
I'm mentioning it because a friend of mine started using this content distribution framework and… did send out 6 Tweets in a week, shared it on 4 LinkedIn groups in a day, etc.  
You'll get the most out of the framework by understanding the principles mentioned above in the strategy and making this framework your own.
This is what gaps can look like in your sheet:

That's ok.
I now know that I have opportunities to Tweet more about it over time and that I have room to promote it in more LinkedIn groups.
BTW. On my sheet and it also should be on yours, I don't have LinkedIn group 1, 2, 3. I have stated the name of the groups and a direct link to them. More on practicalities later. 
Daily Content Distribution routine
How much time you spend on creating new content and how much you spend on content distribution is entirely up to you.
This framework will most likely showcase your habits.
Are you constantly adding new pieces of content and only sending out one Tweet?
Are you filling in all the blanks and hardly ever creating new pieces of content?
Or is there a nice balance?
I notice that I spend about 50/50 on Content Creation / Content Distribution. But I've been running this framework for years. You might need some time to get a feeling for it.
What I advise is to:
Always add an article or content idea to the list when an article has been published or idea is mentioned.
After an article is published, promote it. Fill in the sheet and visualize what you have done so far. (same day)
Take time to fill in the gaps in the most important quadrants. (daily)
Take time to check your data. Are the articles / ideas ranked on top still worth being on top? (quarterly)
Check if the channels you find most impactful are still driving results or show potential. (quarterly)
Find new channels. (quarterly)
Find ways to work more effectively (Content Creation and Content Distribution). (quarterly)
Practicalities for using this Content Distribution Framework
Invest time in understanding the core principles and make it your own.
Name and link to your Distribution Channels in the sheet. So no LinkedIn group 1 but LinkedIn group – Entrepreneurs, for instance with a direct link to that group.
When possible, add a link to posted content. For instance, if you have written a short article on Medium for your article On-Page SEO Checklist, don't just add an 'X' in that cell (done), but add the link to that Medium article.
Add dates when it makes sense. Usually when you don't want to flood your audience. For instance when you sent out an email, published on Twitter, or group, etc.
Write multiple Social Media Captions in one go and mark the captions you have not used yet with a different color (I use light grey). It's just easier to write them all at once, while you're still in the flow of the article. Be sure to use StoryLab.ai's Social Media Caption Generator to inspire you.
You can add anything that you find helpful. I always add 'topic' and number of internal keywords to filter easily and know which articles deserve some more internal links.
Start simple and add as you go. It's ok to just add a couple of articles and channels and get a feel for it without getting overwhelmed.
Never spam!
You will receive a link to the sheet, make a copy and start working.
Getting the most out of your Content Marketing Efforts
Content Creation and Content Distribution is just one piece of the entire Content Marketing puzzle.
For instance, you can write a great piece of content and distribute it far and wide, but if it's not tailored to your audience and not matching a keyword that people search for, it will never be as effective as it could be.
Our Content Distribution Framework sits within a Growth Storytelling Framework. You can access it for free here. No signup needed.
Go forth and create the best possible content and tell your best stories.
We will be here to support you however we can. Join our LinkedIn group to ask us any question.