Content Creation Challenges, Goals, Statistics, and Strategies
Create more and better content
What are the biggest Content Creation Challenges? Which Goals are Content Creators trying to achieve?
Find out in this article.
Get Statistics to Benchmark your performance and Strategies to improve.
Let's get into it.
Top Content Creation Challenges
We've compiled a list of top content creation challenges we found from talking with our customers, marketers and reading content creation researches.
Are you having the same challenges? If so, stick around till the end of the articles where we share strategies to help you reach your goals.
Keeping up with content creation demands from managers and colleagues (scaling content creation);
Keeping up with changes in Social Media Platforms and creating content in new formats;
Coming up with new and engaging content ideas;
Telling great stories;
Taking a stance and creating unique content;
Finding creative freedom;
Brand Consistency across all platforms;
Keeping up with new skillsets that are needed (SEO, Technical, Copywriting, Visual, Video, etc.);
Choosing the right channels;
Creating Content that generates quality leads;
Speeding up approval processes;
Not seeing results fast enough and quiting.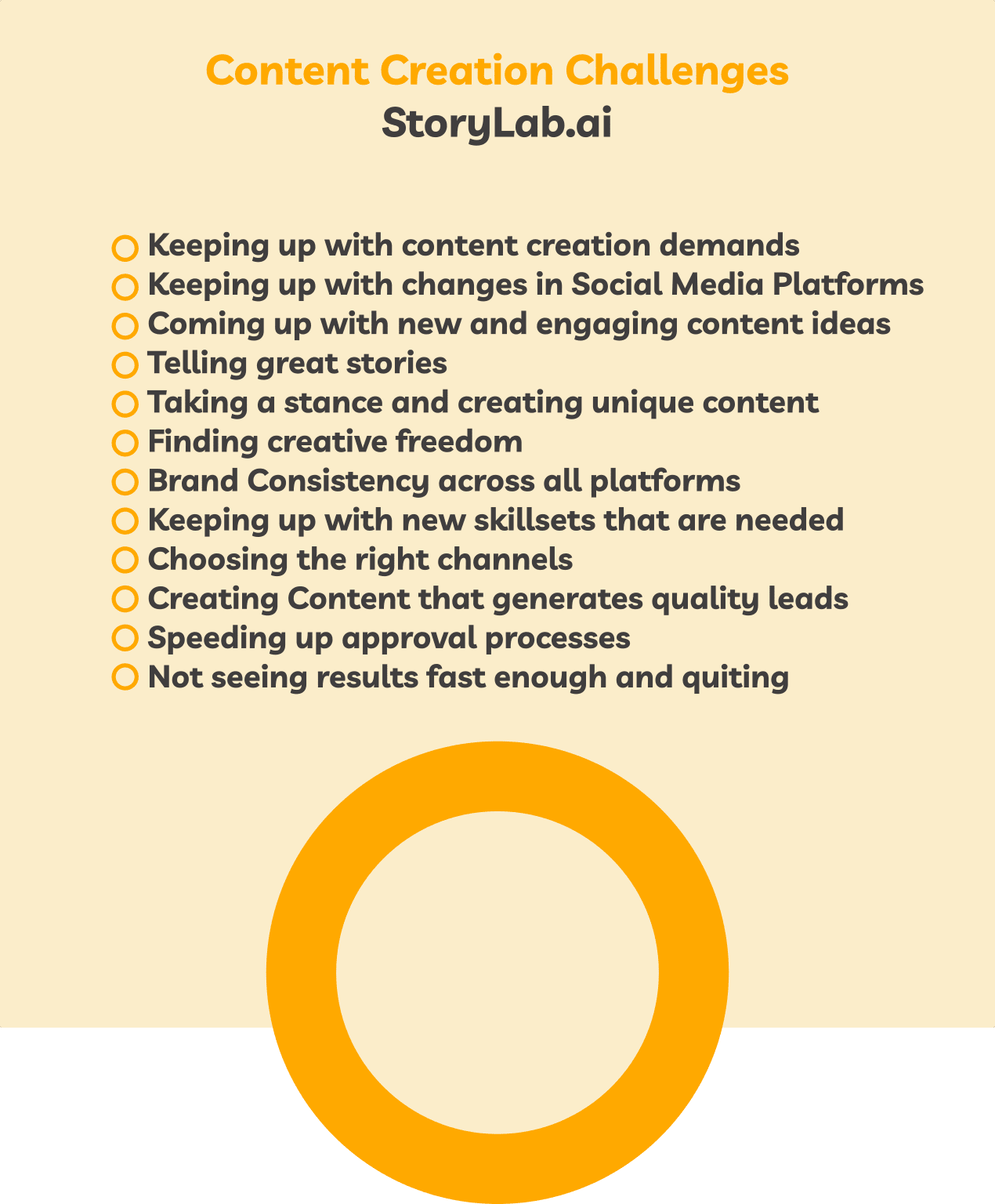 Other challenges, goals and statistics
Are you looking to get insights into other departments? Check out other researches:
Content Creation Goals
Second, let's take a look at the most common Content Creation Goals and KPIs that are being set up by marketers. Are you overlooking goals that make sense for you? You can always add them to your dashboard.
Check out this free resource if you need help with setting up goals and KPIs.
Create x number of blog posts per month;
Create x number of educational content;
Create x number of new ads;
Create x number of new nurture emails;
Create x number of social media posts;
Grow domain authority by % points;
Grow Social Media impressions by x %;
Grow organic traffic by x %;
Grow social media following by x %;
Grow number of leads generated by blog posts;
Grow number of leads generated from Twitter;
Hit x number of webinar subscribers;
Grow mailing list by x %.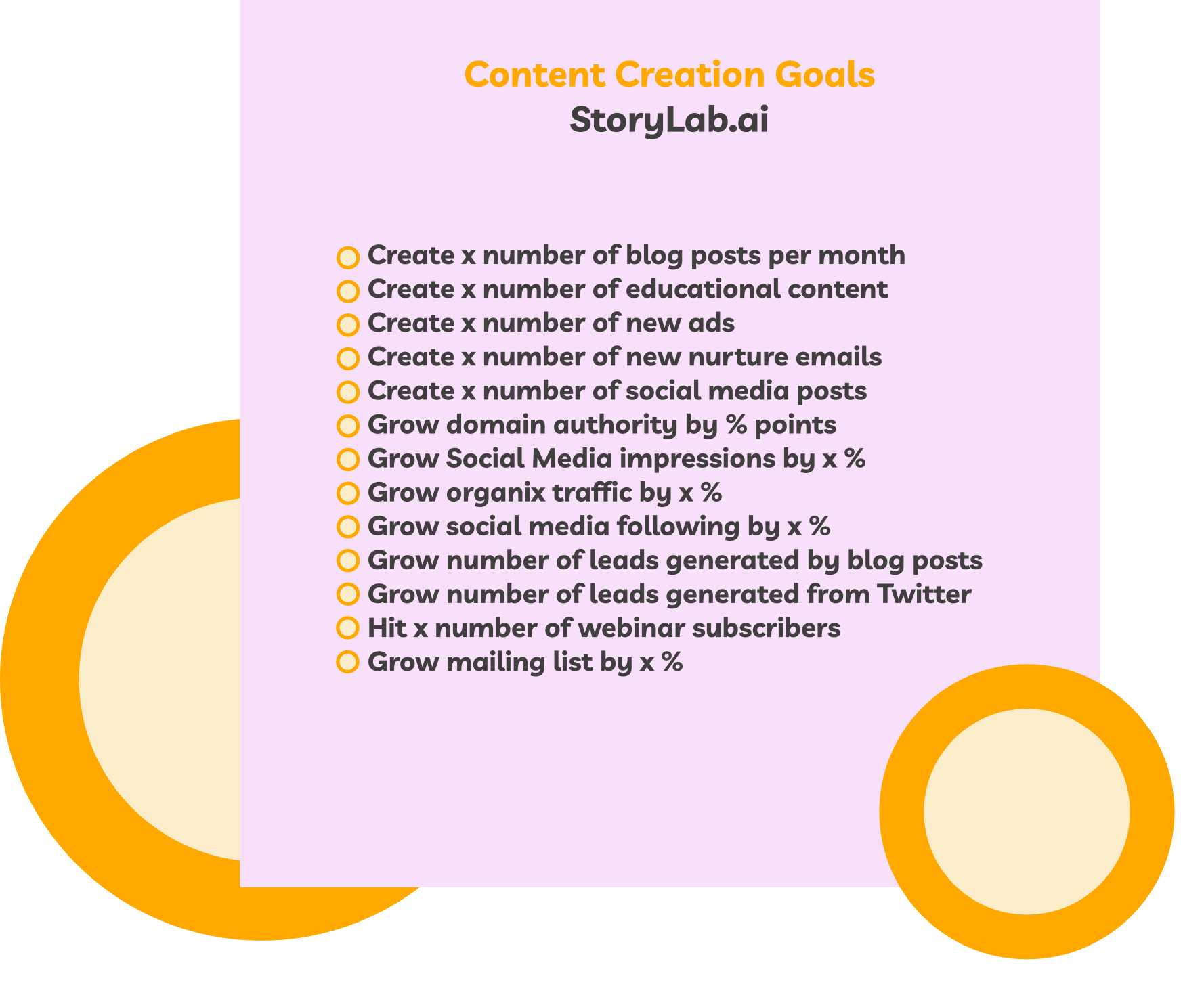 Content Creation Statistics
Let's proceed by checking out some Content Creation Statistics so you can see how trends are evolving, how you stack up against others and which next steps you might want to take.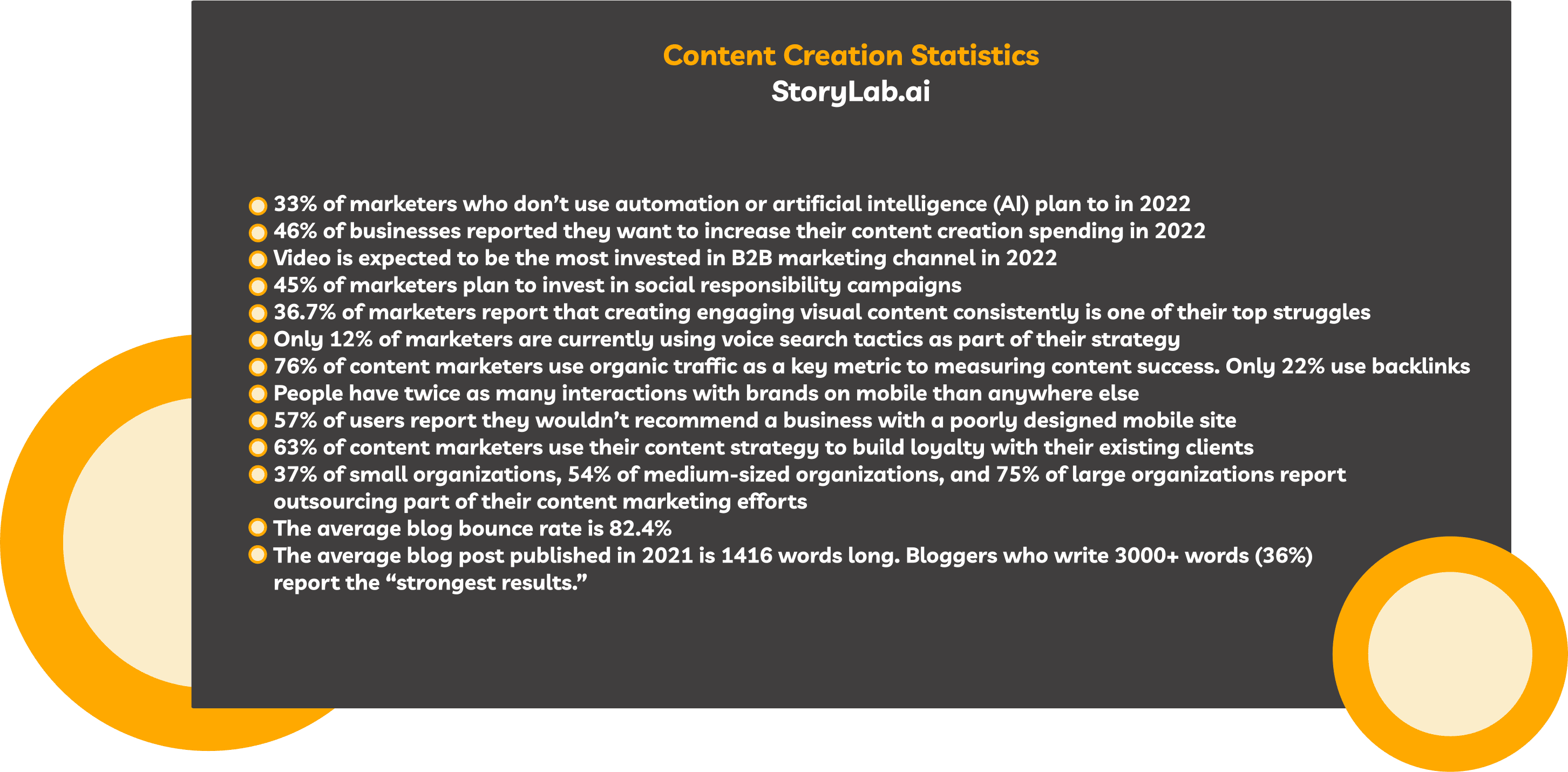 Content Creation Strategies
Now that we've had a look at Content Creation challenges, goals, and statistics, let's see how you can tackle a couple of these challenges and reach your goals faster.
We will go over:
Content Creation Tools
Tools are how we have advanced our lives and everything we have around us.
If you want to reach your Content Creation goals, you need to right tools. Not just the right tools, but also understanding how they should work together, what you need before using the tools, and more.
We won't go over all the content creation tools you could use. It's up to you to check your goals, do a Google search and find which tools could help you best.
Think about areas that you're struggling with and do your research you would be surprised by how many solutions exist that you never knew existed.
Scaling Content Creation
Creating more and better content consistently, across multiple platforms is a constant challenge.
To tackle this problem we advise to:
How to use AI Marketing Copy Generators
The time to start with AI Marketing is now.
Scaling content creation is much easier if you have a pocket buddy 24/7 that can help you with coming up with content ideas, takes your keywords and gives you new copy ideas for your articles, social media captions, emails, and more.
End writer's block and cut content creation time in half.
Check out in the image below how easy it is to get marketing copy inspiration.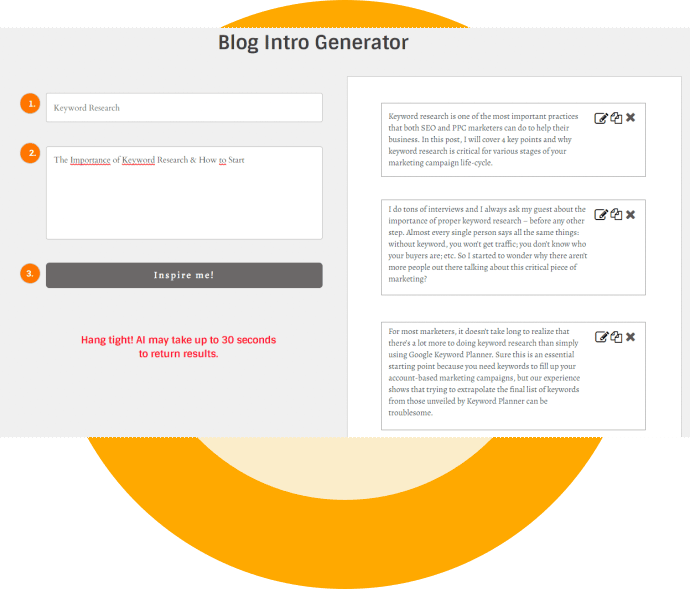 Growth Storytelling
Take a holistic view to Content Creation. Become a Growth Storyteller.
Growth Storytelling focuses on telling the stories that we know will connect with our intended audience, because we've done our research and — shockingly — we've asked them, and actually listened to them.
Growth Storytelling takes audience insights in the form of quantitive and wherever possible, qualitative data, combines them with marketing and business goals, and places that front and center in:
How we construct and evolve our Brand Story and Brand Identity;

How we construct and evolve our product, business strategy, and marketing goals;

How we construct and evolve our marketing strategy and tactics;

And how we create, review, distribute and measure our individual content pieces.
How the Growth Storytelling Model looks like: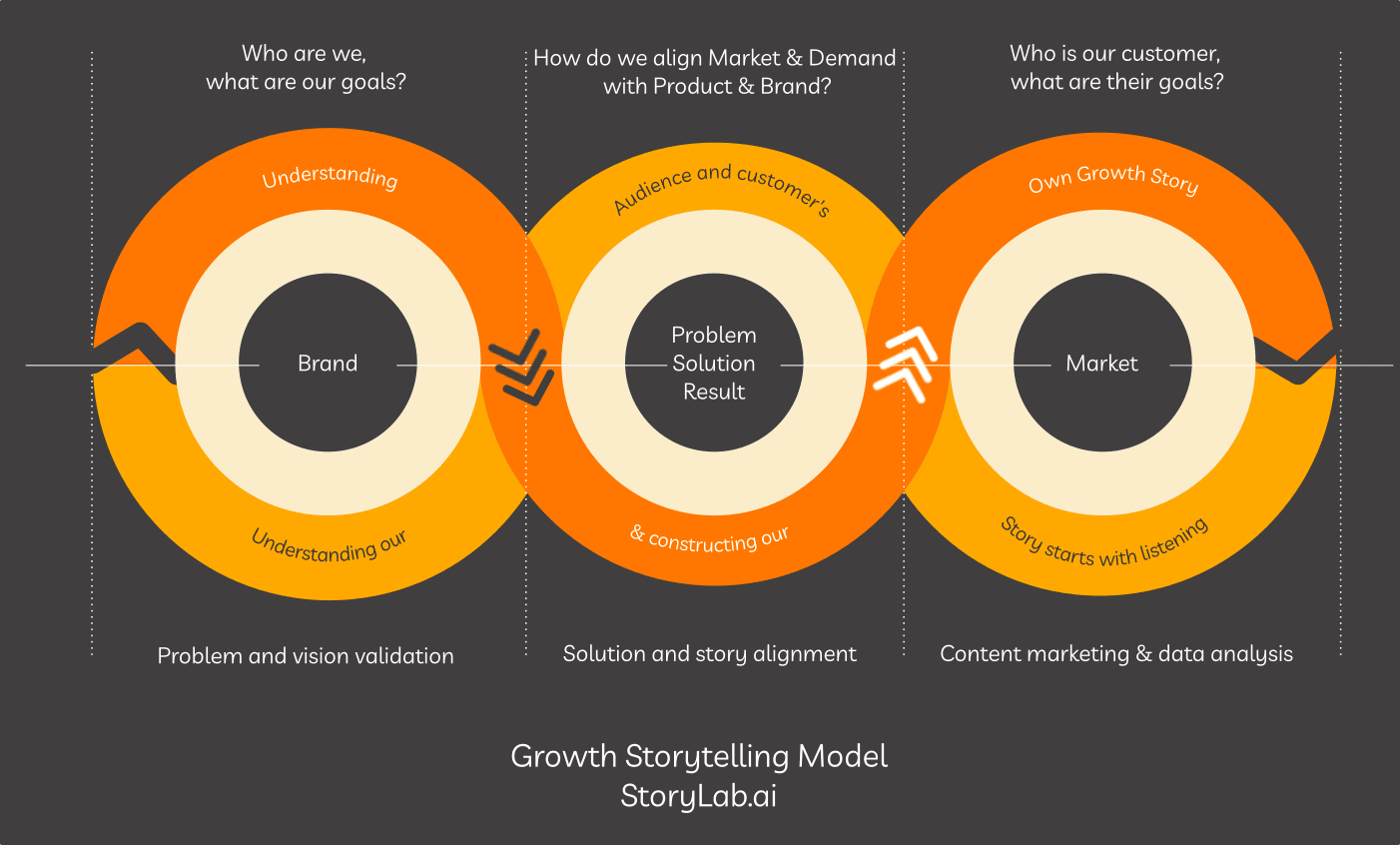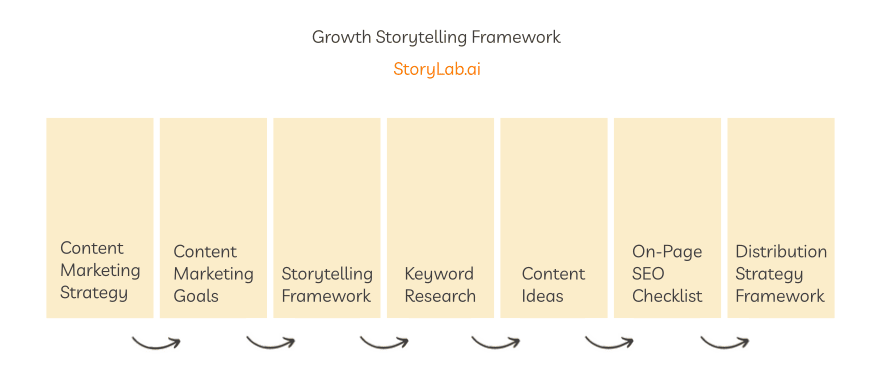 Author bio: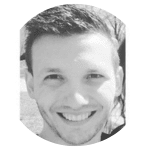 Raul Tiru: Raul loves to build companies and help startups and scale-ups grow. Raul started his first website when he was 17 years old, has held several growth marketing positions in fast-growing companies, and has helped companies via his Freelance Marketing services. You can find Raul on his community GlobalOwls where he helps Nonprofits and Startups to do better marketing.
Join the StoryLab.ai Community
Where Brand, Demand, and Content Go — to
Grow.
Unlimited Social Learning + Unlimited AI Generated Copy.
Ask the moderators (30+ years of experience) and other community members anything related to marketing and growth and get Unlimited access to the entire Unlimited StoryLab.ai Toolkit.