A/B Test Linkedin Ads With Artificial Intelligence (AI)
Let AI help you Improve your ROI
Creating good Ad copy can be a hassle. Regardless if you're a seasoned copywriter or not a copywriter at all; producing good, sticky, punchy copy from a variety of angles and en masse, can get pretty exhausting.
Especially if it's not just the one Ad campaign you're running.
There's gotta be a better way to come up with ideas, or to create variations based on what you've already identified as a (potential) winner
Why not let AI help you?
How AI helps you create great LinkedIn Ads A/B Tests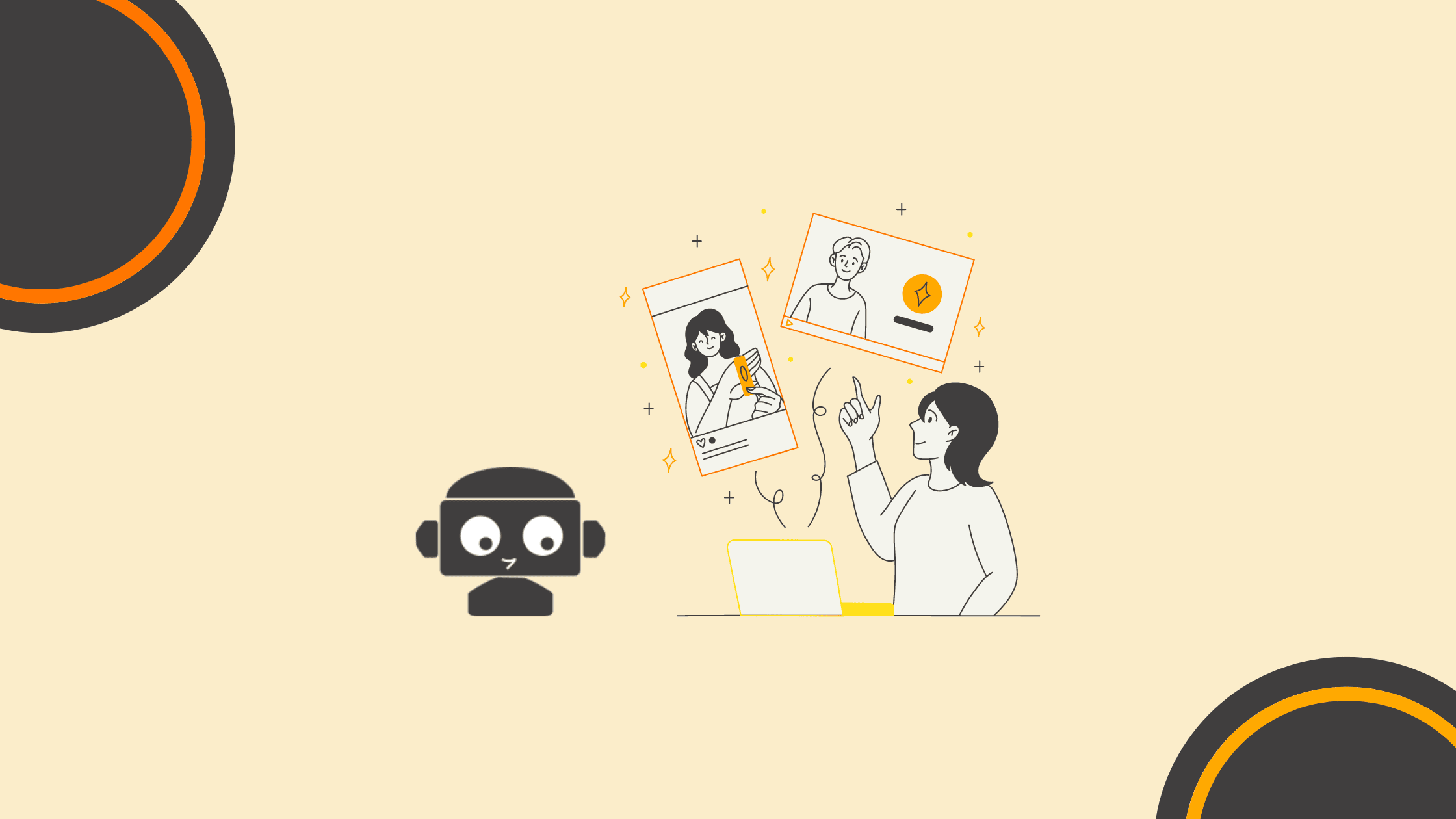 Let's assume you've already been running LinkedIn ads for some time.
You've gathered your data and know which ads have been performing best.
Now. It's time to test new variations. Here's where the problem comes in. How do you step outside of 'the known' and create new variations?
Let's see how an AI-Powered Paraphrase Generator can help.
For this exercise, we want to A/B test the Intro Text.
To add some spice to this exercise, let's take an existing LinkedIn ad HubSpot created.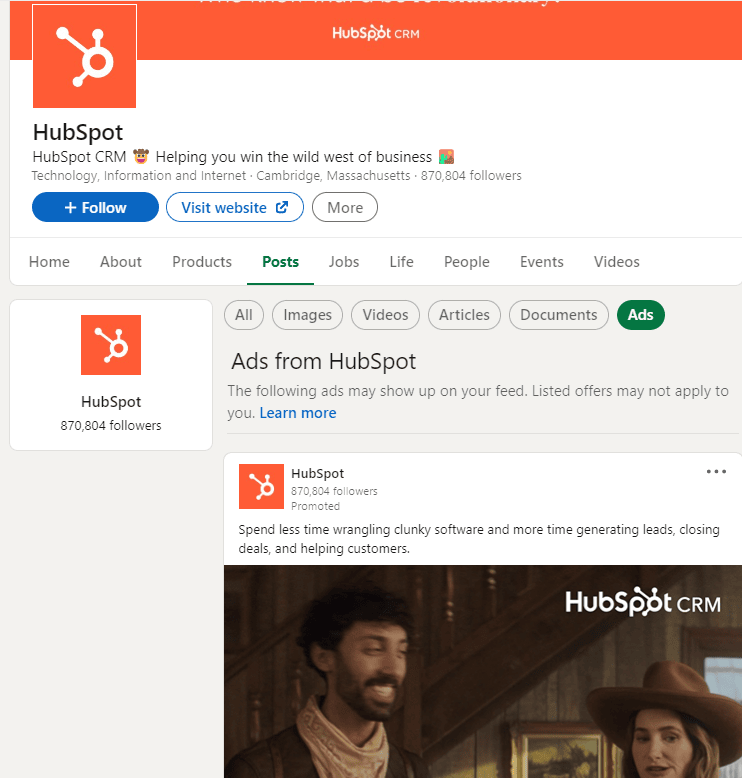 The text we're going to be creating an A/B test for is as follows:
Spend less time wrangling clunky software and more time generating leads, closing deals, and helping customers.
Here are variations AI has provided us by simply entering that ad copy in the Paraphrase Generator:
Cut the amount of time you spend using complex software and use that time to increase leads, close deals, and provide assistance to clients.
Use up less of your valuable time wrangling obtrusive software, and more of it making connections, sealing the deal and aiding customers.
Instead of wasting time trying to navigate complicated software, you can invest more energy generating leads, negotiating contracts and aiding customers.
Free up your time from inefficient software and use it to generate leads, seal deals, and assist customers.

Create bolder LinkedIn ad A/B tests
The examples above were slight variations of the original LinkedIn ad. The more you change the input or the larger the copy, the more variation you'll get.
But let's say you want to create bolder A/B tests. Let's say you want to go with the same angle 'generating leads' + 'not wasting time' but want to explore the fields a bit.
Enter our Social Media Ad Copy Generators.
This time, I've used one of the paraphrased examples:
Free up your time from inefficient software and use it to generate leads, seal deals, and assist customers
Here are the outputs I've received:
Are you spending countless hours on tedious software? Free up time in your day, and increase efficiency by generating leads quickly with our easy-to-use
Put in the hard work without wasting time on inefficient software. Take advantage of our lead generation features, which will help you get the most out of your
Streamline your bussiness operations and free up valuable time to generate leads, seal deals, and build relationships with customers. Automate tedious tasks with
Unlock the power of efficient lead generation software and free up your time for what's important. Find more leads, close bigger deals and serve customer needs
Are you struggling to find the time to take on new leads and close deals? Our lead generation software can do that for you. Let us free up
As you can see, the AI is now free to find new angles like 'Streamline your business operations', 'Unlock the power of efficient lead generation', etc.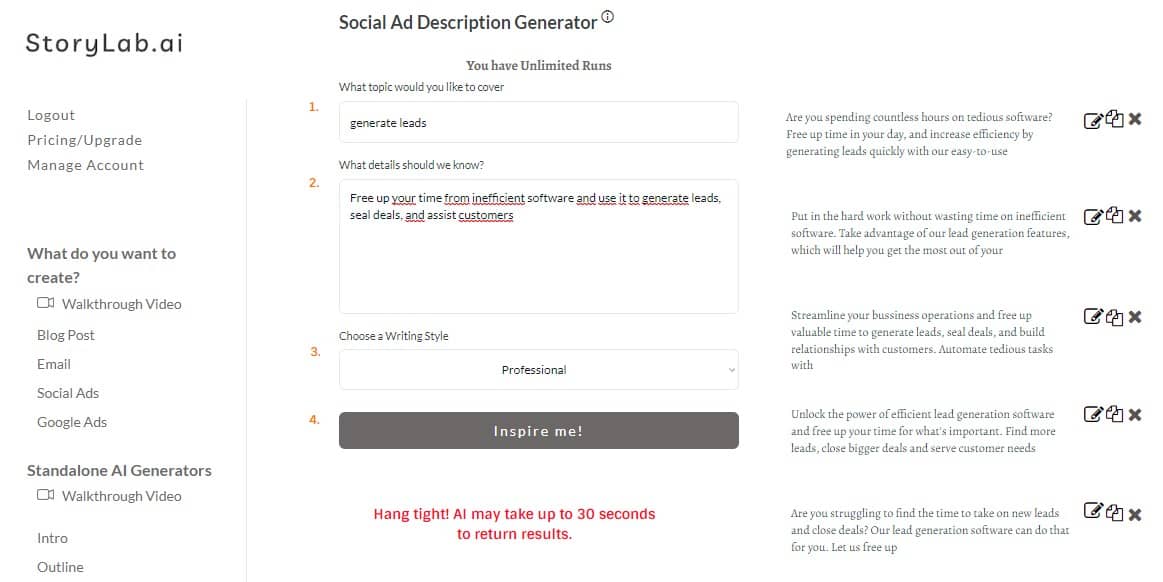 Perfect your A/B test by adding your human touch
We don't advise using outputs generated by AI without adding your unique human touch. As you can see, AI helped us find new variations within two clicks of a button which sparks creativity. It's up to you to perfect your ad copy and run awesome LinkedIn ads.
Author bio: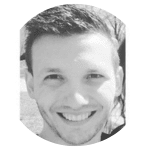 Raul Tiru: Raul loves to build companies and help startups and scale-ups grow. Raul started his first website when he was 17 years old, has held several growth marketing positions in fast-growing companies, and has helped companies via his Freelance Marketing services. You can find Raul on his community GlobalOwls where he helps Nonprofits and Startups to do better marketing.
Join the StoryLab.ai Community
Where Brand, Demand, and Content Go — to
Grow.
Unlimited Social Learning + Unlimited AI Generated Copy.
Ask the moderators (30+ years of experience) and other community members anything related to marketing and growth and get Unlimited access to the entire Unlimited StoryLab.ai Toolkit.