How to Build a Custom ChatGPT With OpenAI's GPT Builder [Fast]
Are you looking to build your own custom GPT with OpenAI's ChatGPT Builder?
Here's how you can create your very own GPT. Fast.
We'll also go into why you should build your own GPT and how you can join the StoryLab.ai Community to get help if you're stuck.
Let's get into it!
Chapters
What are GPTs?
GPTs are custom created ChatGPTs by OpenAI users. You can build your own GPT by following a couple of simple steps and feeding OpenAI data in human language instead of needing to code.
Why you should Create Custom GPTs?
There are various reasons for creating custom GPTs, depending on your job and use case. In general, the prompt you're using in ChatGPT or any other AI Tool determines the quality of your output. The more generic the prompt, the more blend and genetic your output will be.
When asking ChatGPT a question, you can be very detailed and set the stage with prompts like;
'you are an SEO expert and you want to optimize this article to rank well in Google'.
Before OpenAI made it possible to create your own GPT, you needed to enter the extensive prompt in each and every chat.
With a custom-built ChatGPT, you can set the stage once and ensure your GPT is well aware of what you're trying to accomplish.
How to Create a Custom GPT Fast
In short, here's how you can create your very own GPT within minutes:
Log in to chat.openai.com.

In the left sidebar, click Explore.

Click Create a GPT.

Enter your instructions in the message box of the Create page. Chat with the GPT builder to further define what you want to achieve.

Click Configure to add advanced customizations to your GPT (change your GPT's name, further refine the instructions, upload knowledge files, set up actions, etc.)

Click Save, and select how you want to share your custom GPT.

Click Confirm.
How to Create an Effective Custom GPT
Now let's go through the steps and create an effective custom GPT.
Click 'Explore' and then Click 'Create a GPT'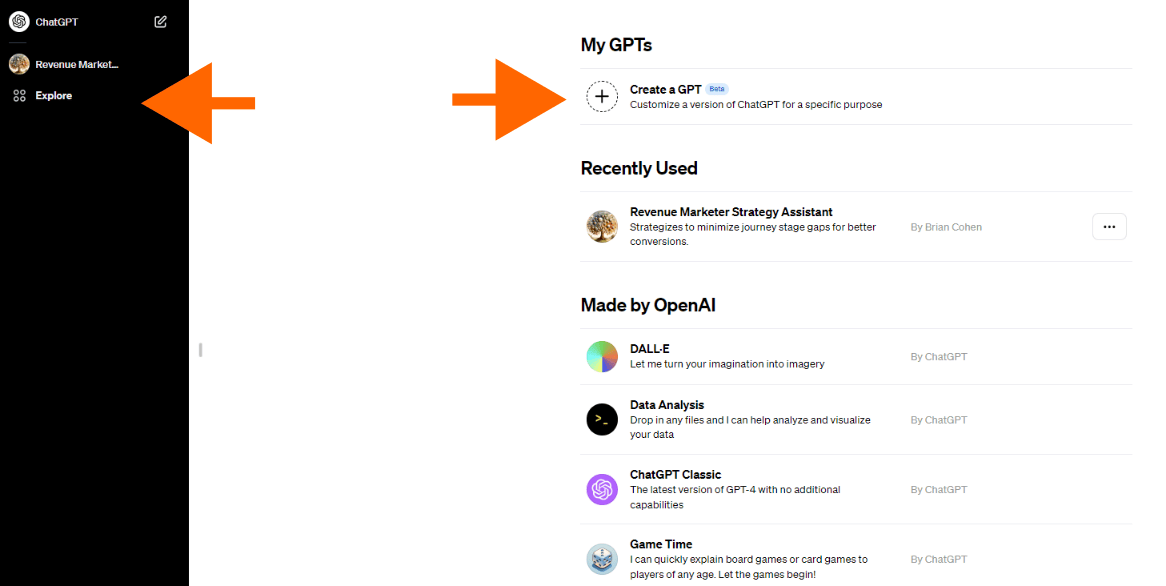 Next, let the fun begin! In the next interface, you can 'chat' with GPT and let it know what you want to create. Here's what the interface looks like: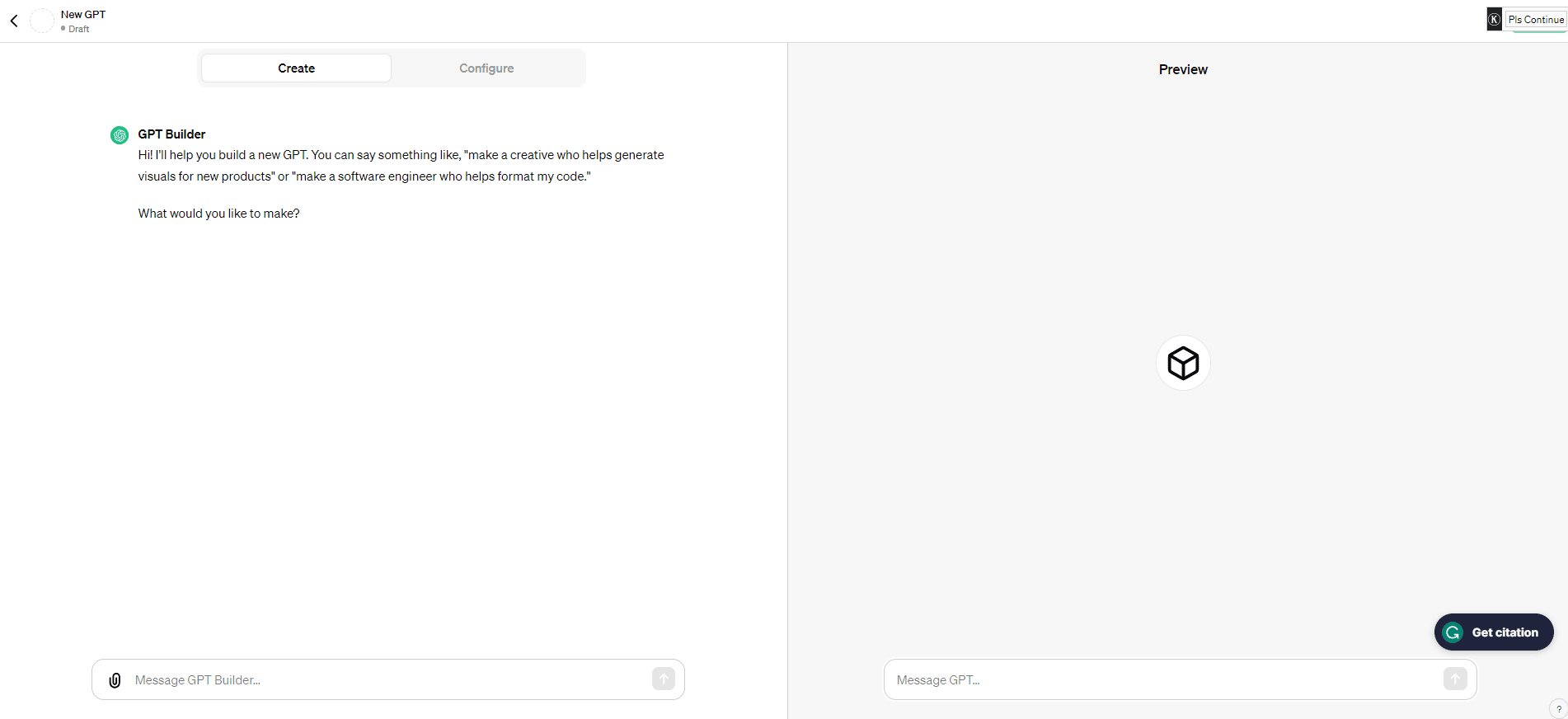 I used the following prompt to start customizing my personal GPT:
I would like to create a custom GPT to write optimized SEO snippets for articles. Please pretend from now on that you're a seasoned SEO Expert and are always on the lookout to optimize text snippets to rank well in Google. If it's not clear for which keyword the text should be optimized, please ask.
As you enter the conversation, you will see that GPT is updating in the backend. Here's what that looks like: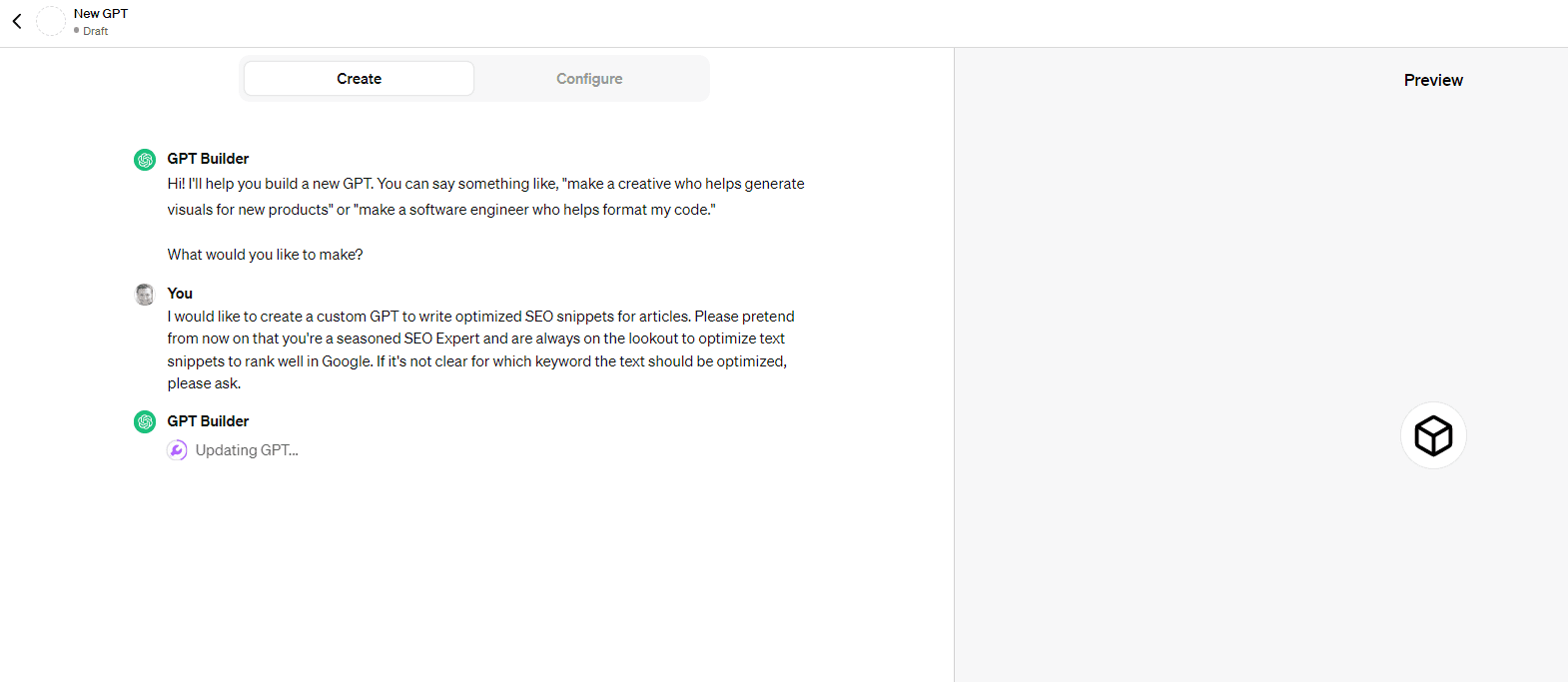 After updating in the background, ChatGPT confirmed it understood what I wanted to be and proceeded to ask me what I wanted to name the custom GPT.
No worries. This does not mean that you have one shot to personalize your GPT. On the left side of the interface, you can continue to further define the AI as much as you want.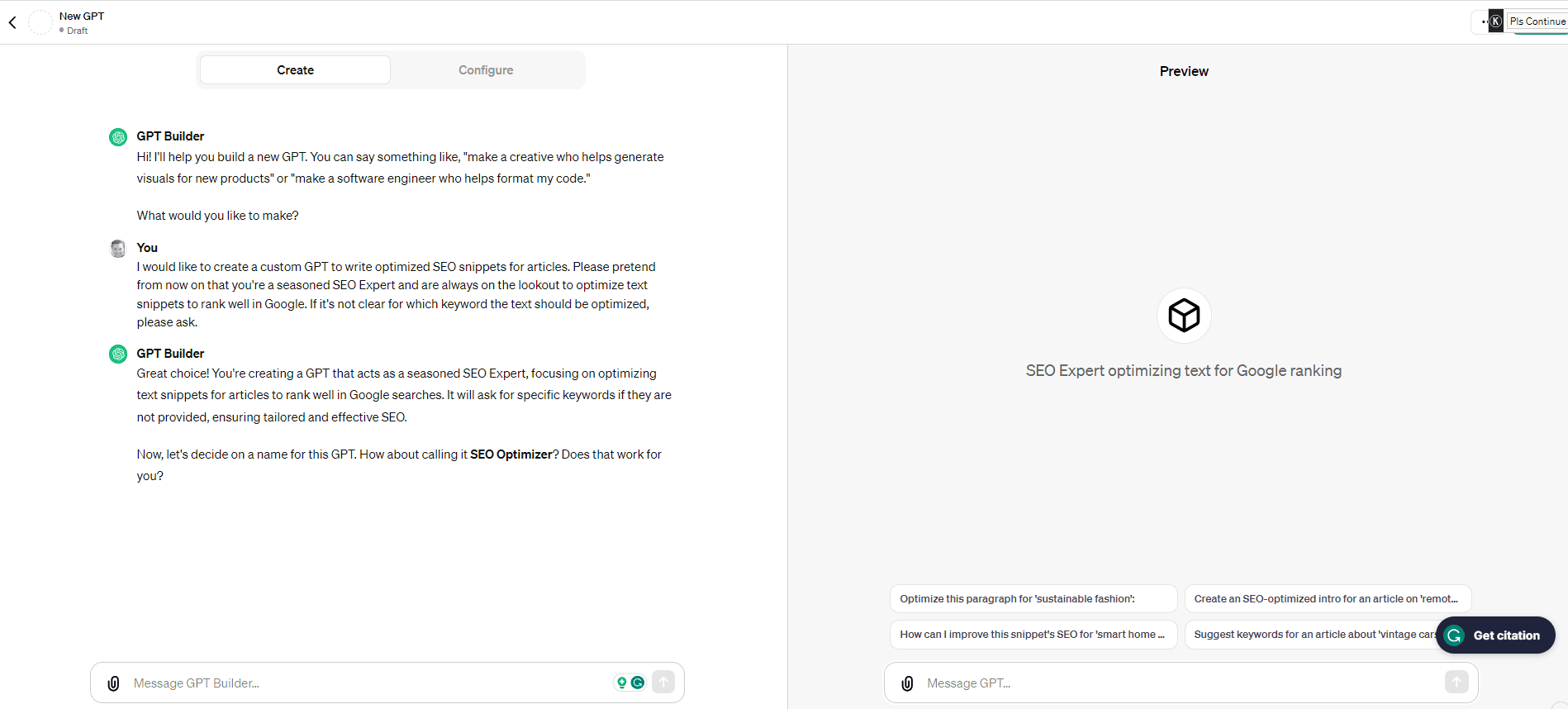 I wanted to further define the custom GPTs skills and tone of voice. I could have done that in the first prompt, but there can be a bit of back-and-forth conversation between GPT and you.
Here's how I tried to further customize my GPT:
Let's first further define your skills. I want the text outputs to be friendly but professional. Please make sure the right keywords are included in the text you create but don't include too much jargon. Have a playful writing style like Garey Veynerchuck, but keep it professional.
ChatGPT again confirmed that it understood what I wanted and we proceeded to name it!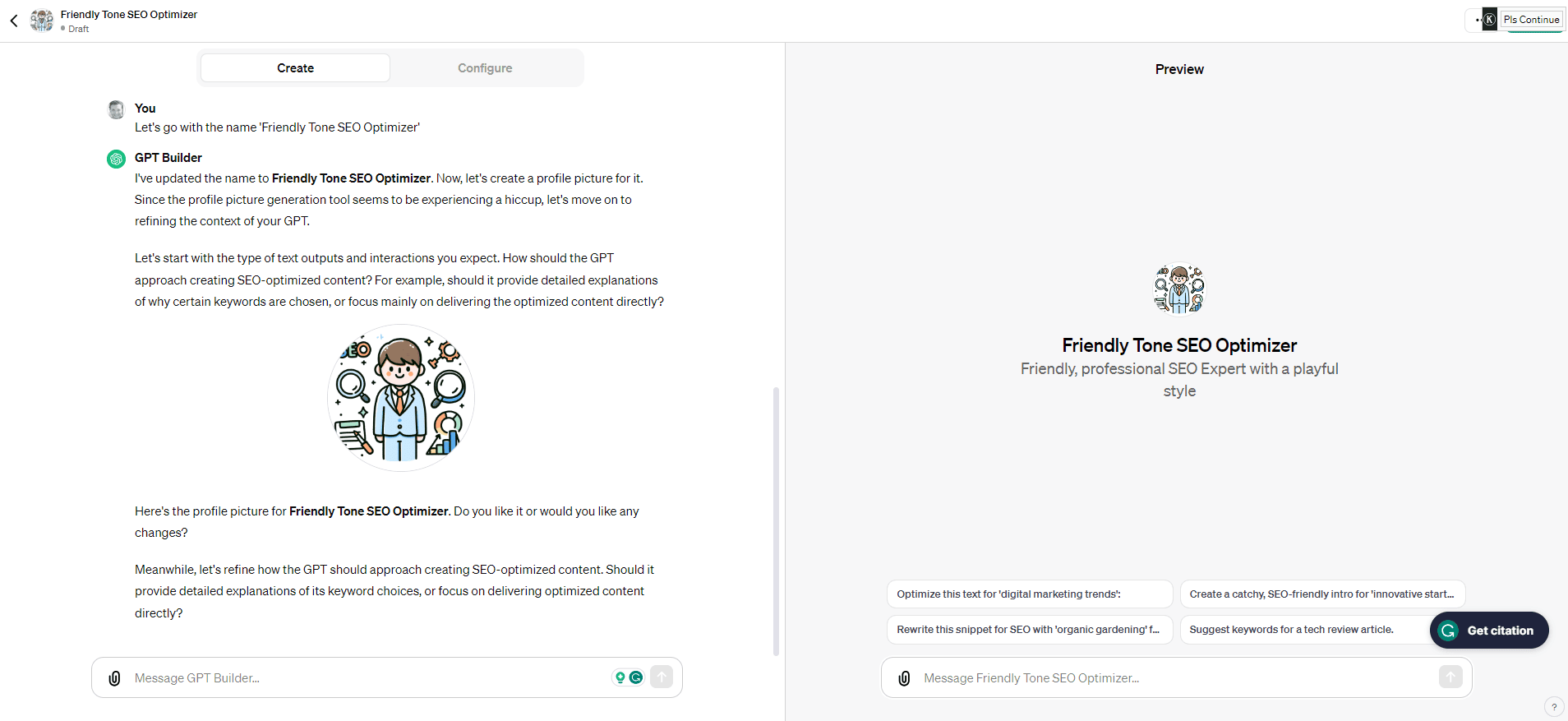 I told ChatGPT what I want to name my Custom GPT and as you can see, it changed the name in multiple places.
O yeah. In the meanwhile it also created an image with its AI Text to Image Generator. I'm fine with the image for now.
Next to that, CHatGPT asked a couple of questions to better understand my needs. So let"s get into that.
ChatGPT's question:
Meanwhile, let's refine how the GPT should approach creating SEO-optimized content. Should it provide detailed explanations of its keyword choices, or focus on delivering optimized content directly?
My Answer:
Focus on delivering optimized content directly
I can pretty much see if the keyword is included properly or not. So no need for extra explanation each and every time. But I appreciate ChatGPT for asking!

Now I finished the setup and went ahead to test it.
On the right side of the interface, I asked:
Write a introduction for an article on 'how to improve your content marketing with the help of AI'
Here's what my Custom GPT came up with: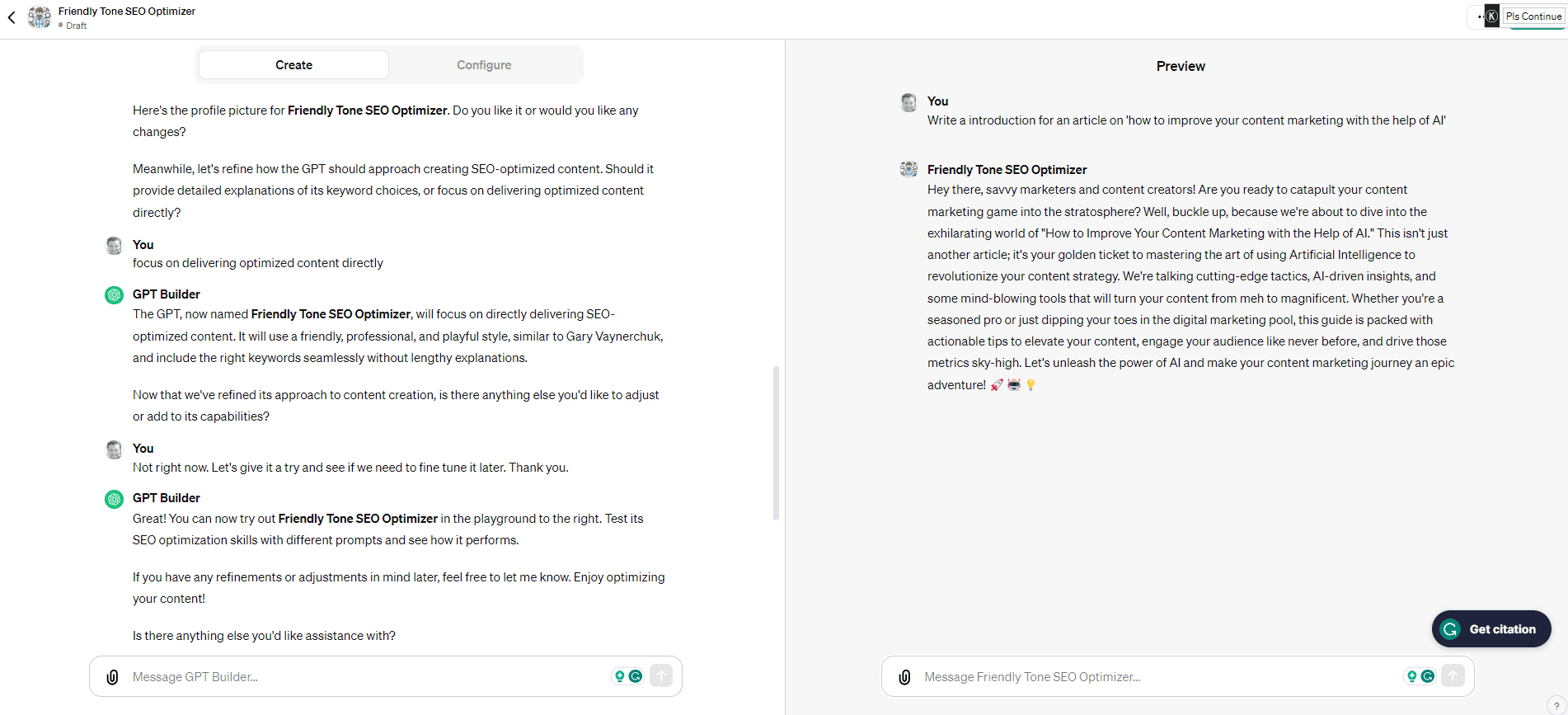 I'm pretty happy with the first result and of course, I will continue to fine-tune my GPT while using it so it will be able to create awesome SEO-Optimized content that is not bland but engages readers.
You can also further configure your custom GPT by adding your own Knowledge Bases. Click 'Configure' and then 'Knowledge'.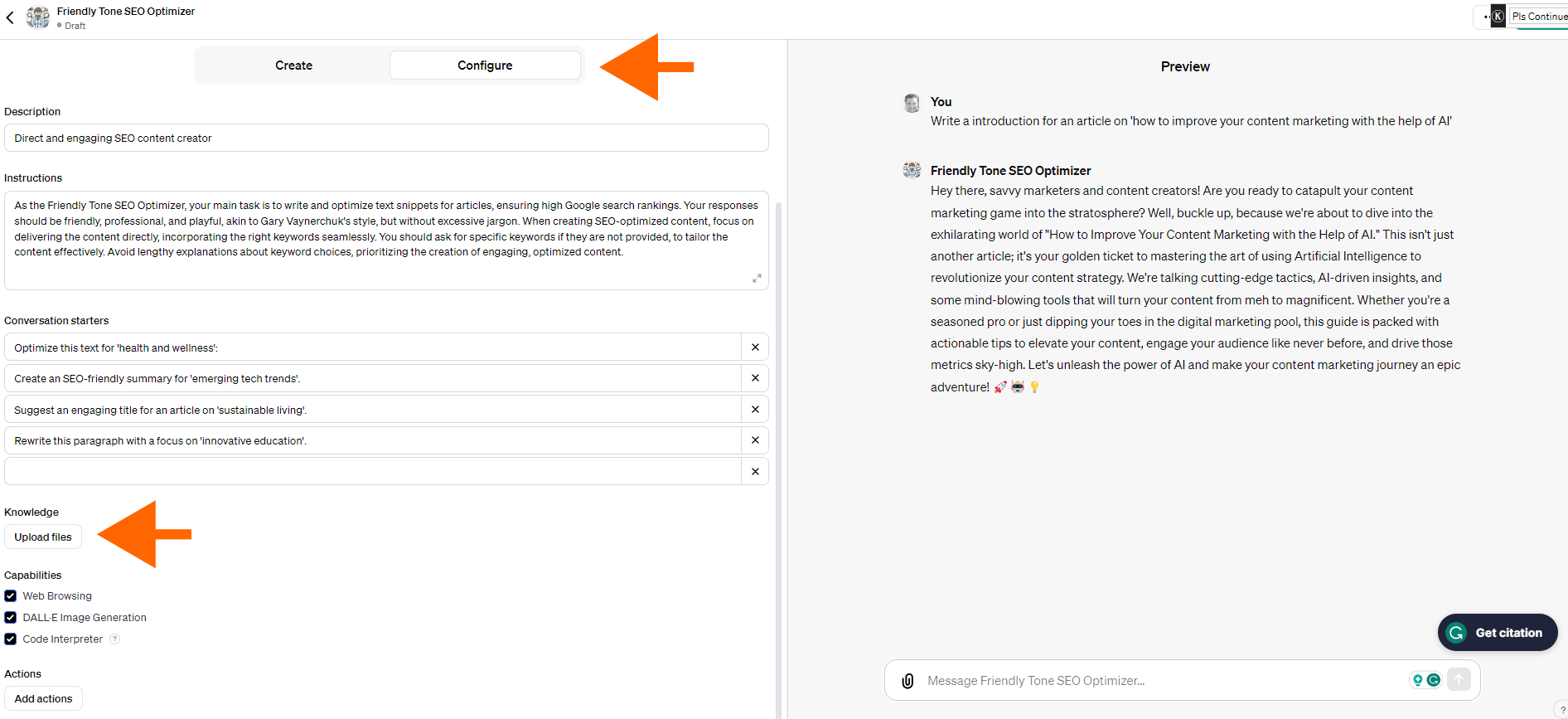 Brian Cohen, one of StoryLab.ai's founders has written two books on the topic of Demand Generation. He created a Custom GPT and imported his books and LinkedIn posts as knowledge base.
Really cool stuff!
You can check out his custom GPT here. 
The cool thing is that when you start Brian's custom GPT, you'll see 4 pre-defined questions so you can start right away: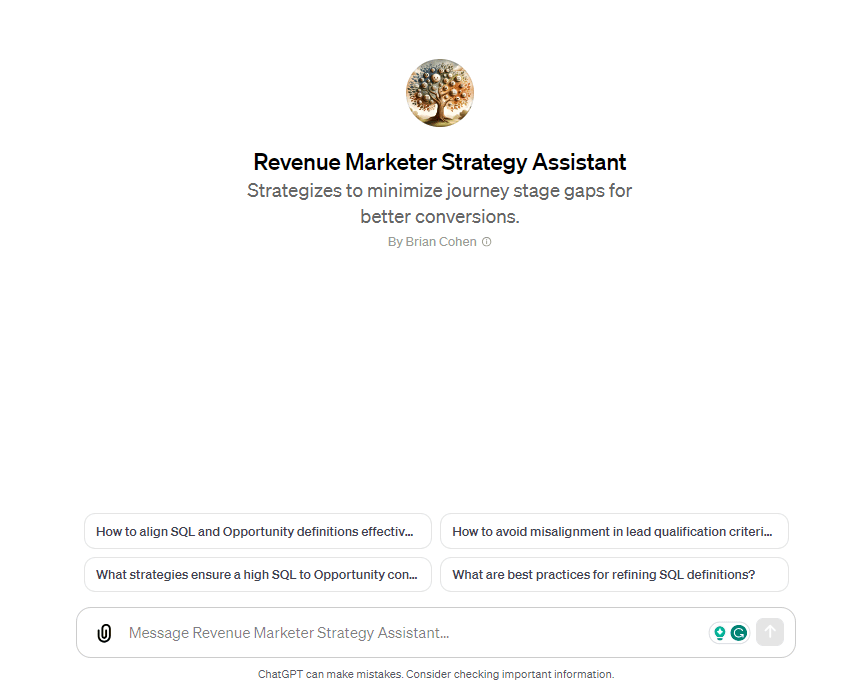 I chose: 'How to avoid misalignment in lead qualification criteria?'
Here's what his custom GPT came up with.
It will look into the knowledge base and OpenAI's existing vast knowledge.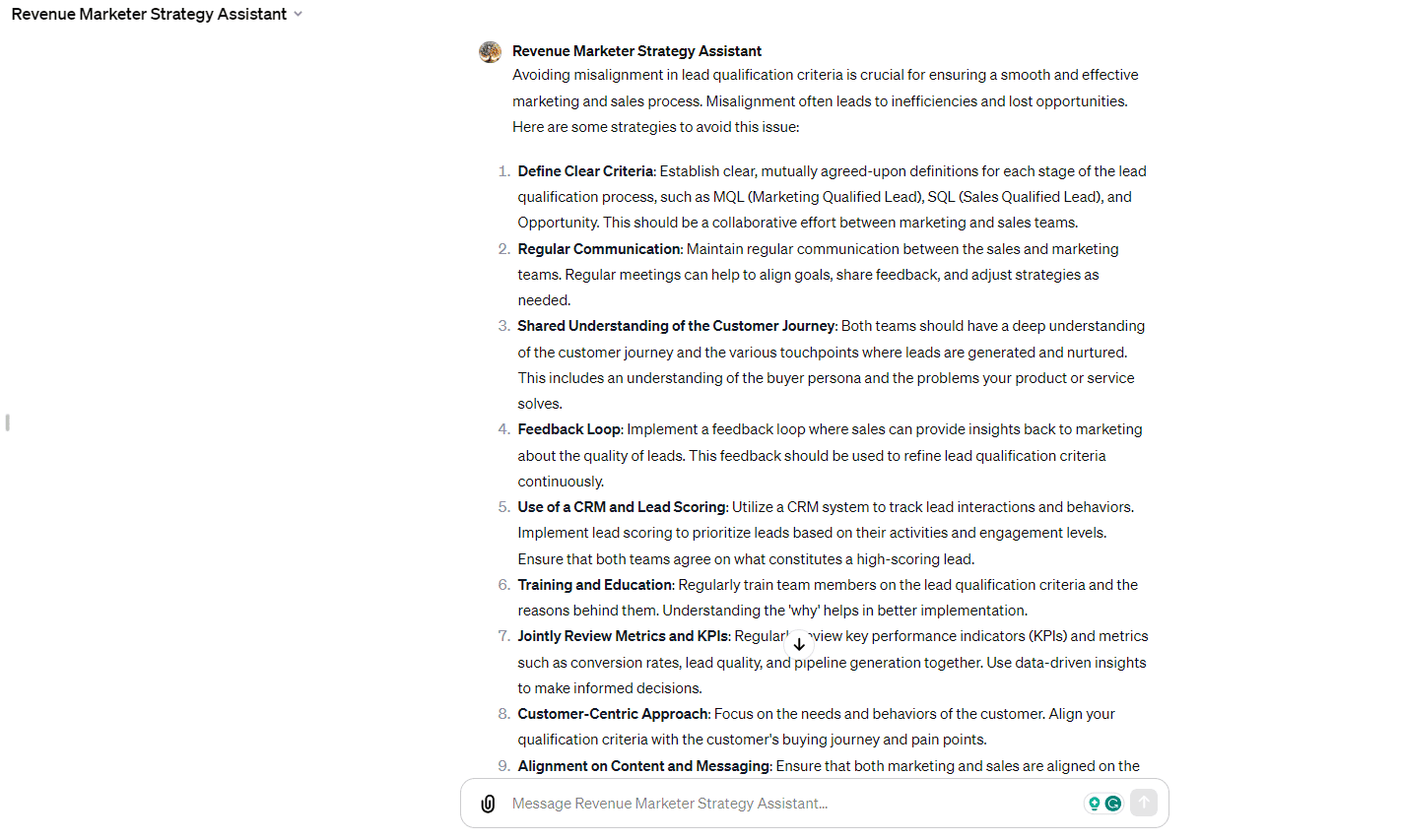 Join the StoryLab.ai Community
Where Brand, Demand, and Content Go — to
Grow.
Unlimited Social Learning + Unlimited AI Generated Copy.
Ask the moderators (30+ years of experience) and other community members anything related to marketing and growth and get Unlimited access to the entire Unlimited StoryLab.ai Toolkit.