Top (AI) LinkedIn Marketing Tools to Grow in 2023
Get more audience insights and create more LinkedIn content with the help of AI
LinkedIn is a great Social Media Platform where you can connect with like-minded people, share your knowledge, grow a following, generate demand and leads, learn, and so much more.
The thing is.
You don't want to do everything manually. There are a bunch of cool AI LinkedIn Marketing Tools and Non-AI LI Tools that can help you achieve your goals much faster.
In the article, we're going to explore a couple of these LinkedIn tools, but we're not just going to list them. We're going to try to bundle them per desired outcome.
Related articles you might also want to read:
AI Tools to create more and better LinkedIn content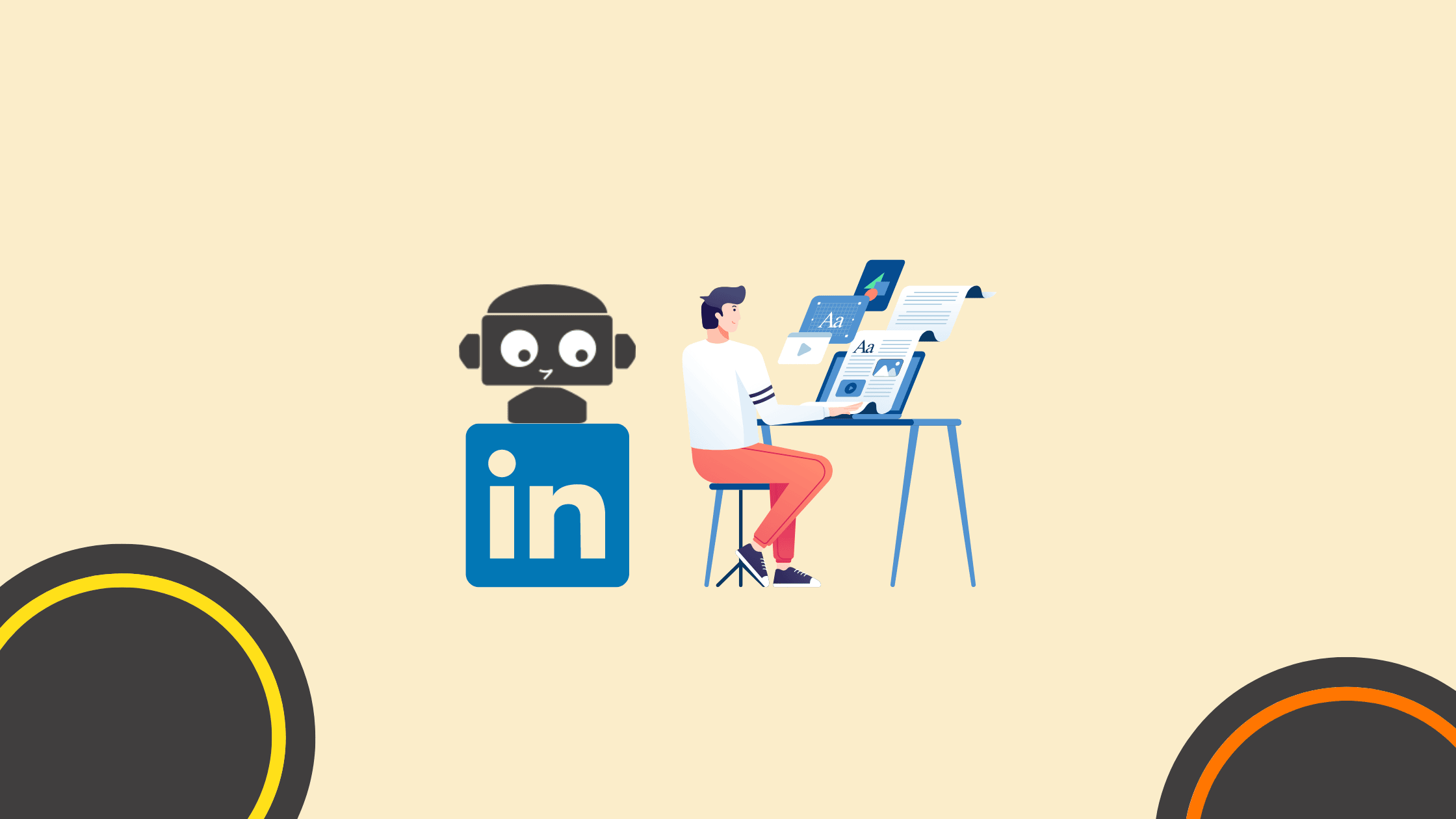 First up on our list, are AI Marketing Copy Generators. More specifically, Social Media Caption Generators.
What we've seen over the course of years is that many people on LinkedIn would love to post more content on LinkedIn, but they either:
Are not confident enough;
Don't have enough ideas.
Our AI-Powered LinkedIn Caption Generator helps you come up with cool ideas and can even generate LinkedIn post inspirations for you.
Let's run the AI Tool and see how it works. For this example, we're looking to create a LinkedIn post about 'How to get more LinkedIn followers'
Here's what we got on the first run: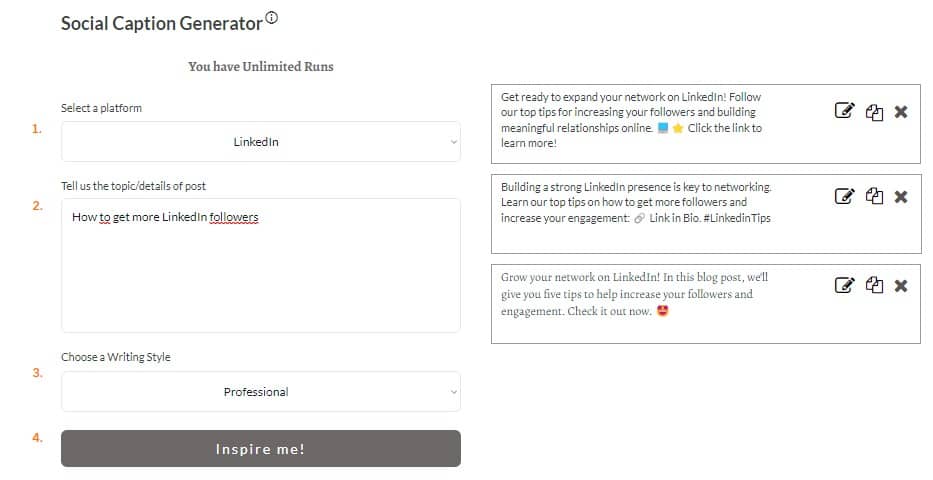 LinkedIn post examples the AI Tool generated for us:
Get ready to expand your network on LinkedIn! Follow our top tips for increasing your followers and building meaningful relationships online. 💻⭐️ Click the link to learn more!
Building a strong LinkedIn presence is key to networking. Learn our top tips on how to get more followers and increase your engagement: 🔗 Link in Bio. #LinkedinTips
Grow your network on LinkedIn! In this blog post, we'll give you five tips to help increase your followers and engagement. Check it out now. 🤩
Cool inspiration, but we decided to run the AI Tool again and a couple of seconds later, we got the following outputs:
Struggling to get more followers on LinkedIn? 🤔 Try these 5 simple tips and watch your follower count grow! ✌️ #LinkedInGrowth #NetworkingTips
Need more followers on LinkedIn? Here's your guide to building an engaged network: ✅ Share interesting content, ✅ Comment and like posts, and ✅ Reach out to influencers in your industry. Follow this advice – and you'll be well on the way to growing your connections!
Stop scrolling and start connecting! Here are 5 simple tips on how to get more LinkedIn followers: 1️⃣ Post relevant content; 2️⃣ Utilize hashtags; 3️⃣ Engage with your audience; 4️⃣ Use stories & insights; 5️⃣ Leverage influencers. Gain the exposure your profile needs 🚀
Pretty cool, right?
Let's take one of the examples that the AI Tool has generated and create a nice visual to go along with it.
Design Tool to Create Beautiful LinkedIn Posts
For creating cool LinkedIn post designs, we use Canva Pro. This tool helps us to create beautiful LI designs, fast!
You can use one of their LinkedIn design templates if you have not set up your Brand Style Guidelines yet or if you want to get a kickstart. Here's what that looks like: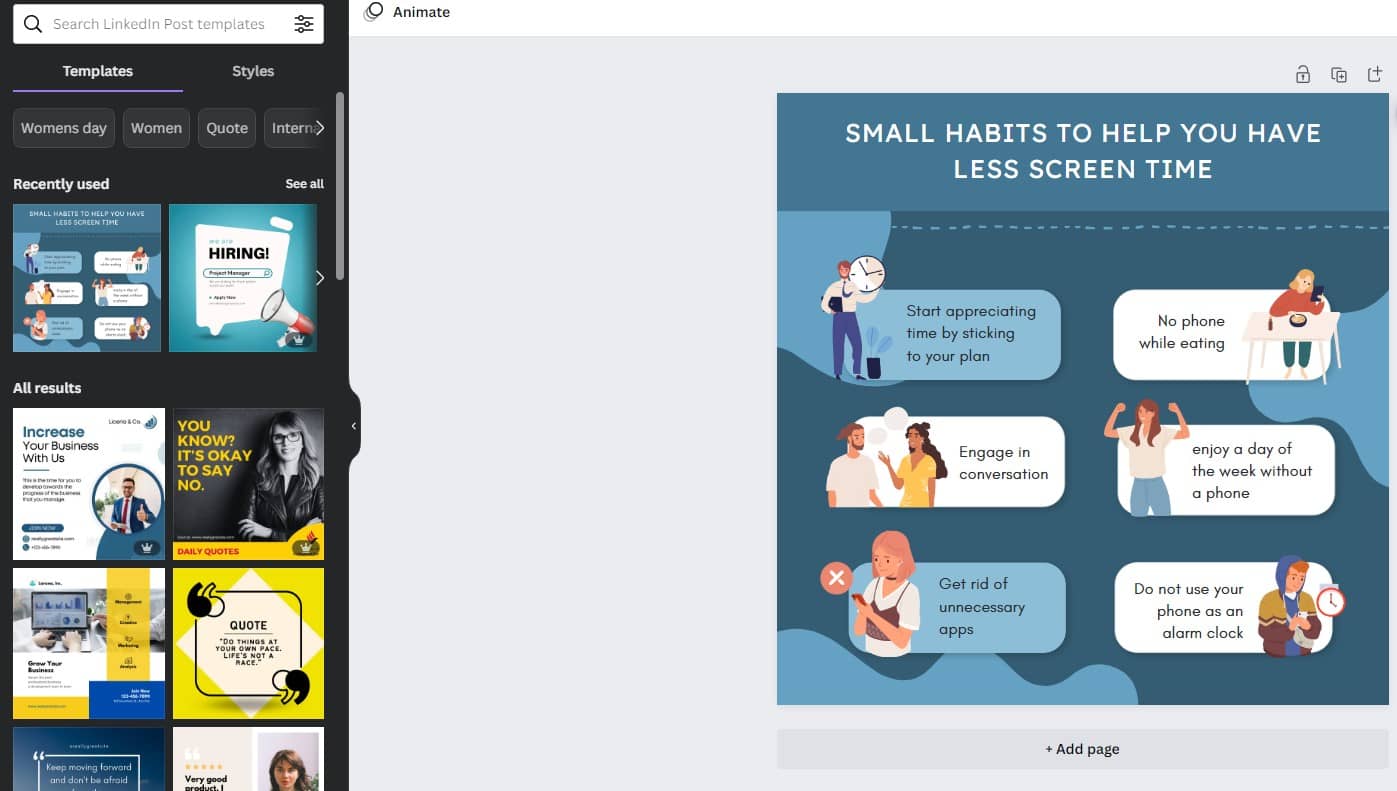 You can choose from hundreds of professional LinkedIn post templates. Not just images, but also carousels, videos, etc.
AI LinkedIn Design Tool
Canva also offers a 'text to image' feature which uses the power of AI to generate an image based on text. You can tri it out and see how that works for you. You can find it under their 'apps' section.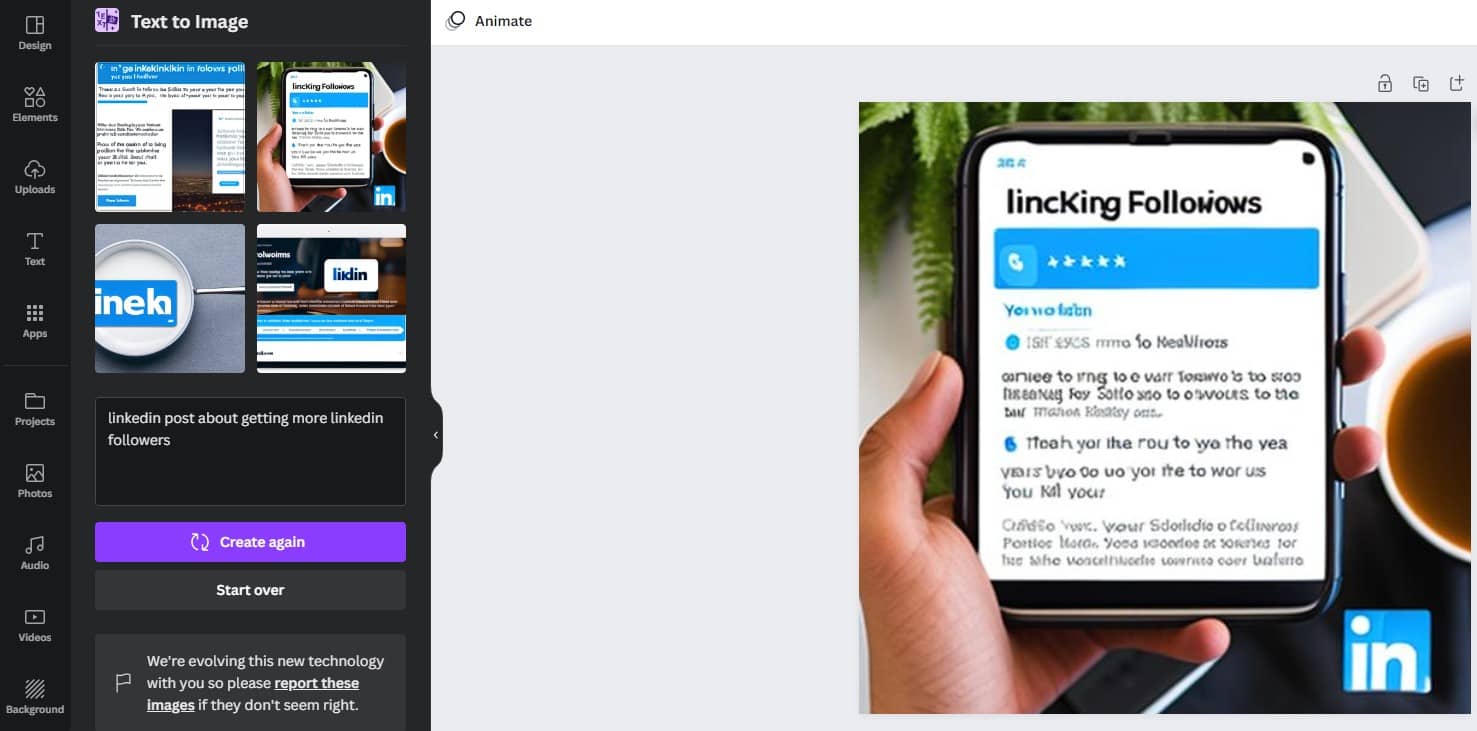 Grammar check tool before posting on LinkedIn
Now before we post on LinkedIn, we want to make sure we didn't make any grammar mistakes. In order to check that we turn to Grammarly's Tool.
Here's what that looks like.

LinkedIn Audience Research Tool
After you've created a couple of LinkedIn posts and things are running smoothly, it's time to learn more about your audience.
SparkTorro shows the websites your customers visit, social accounts they follow, hashtags they use, and more — so you can do marketing that works.
You can get started with SparkTorro for free and get additional insights to help you improve your LinkedIn Marketing Strategy.

LinkedIn Tool to help you target the right buyers
One of LinkedIn's powers is that you can target your audience very precisely. You've created LinkedIn content, you gathered insights, now it's time to increase your reach with LinkedIn's very own tool, the LinkedIn Sales Navigator.
Find the right people and companies with a search experience that delivers the most relevant prospects. Let LinkedIn Sales Navigator be your guide.
Quickly discover the right people and prospecting leads at your target accounts with suggestions customized for you.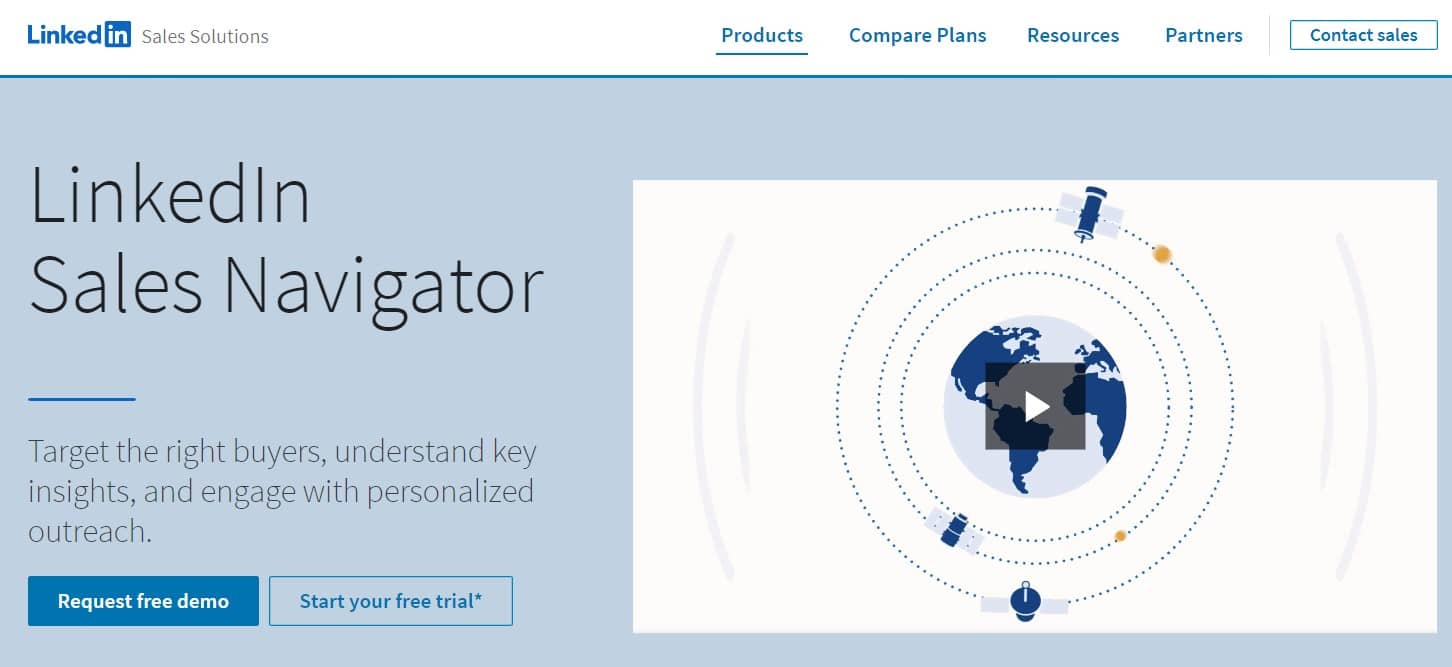 Wrapping up
If you're trying to grow your audience on LinkedIn, Generate more demand or leads, or just trying to learn, having the best (AI) tools at your disposal will help you reach your goals faster. Many tools on our list allow you to get started for free and see how they can help you. Be sure to check them out.
Related articles
Author bio: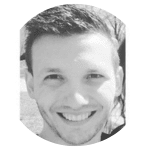 Raul Tiru: Raul loves to build companies and help startups and scale-ups grow. Raul started his first website when he was 17 years old, has held several growth marketing positions in fast-growing companies, and has helped companies via his Freelance Marketing services. You can find Raul on his community GlobalOwls where he helps Nonprofits and Startups to do better marketing.
Join the StoryLab.ai Community
Where Brand, Demand, and Content Go — to
Grow.
Unlimited Social Learning + Unlimited AI Generated Copy.
Ask the moderators (30+ years of experience) and other community members anything related to marketing and growth and get Unlimited access to the entire Unlimited StoryLab.ai Toolkit.