Improve your eCommerce Content Marketing Strategy
And improve your conversion rates and lifetime value
Ecommerce marketers invest a lot of effort in building strategies, promoting a website, and creating a user-friendly experience. And content marketing helps them achieve the desired result long before potential buyers decide to buy a product.
Content marketing is a tool to attract, engage, and retain customers. It involves creating, distributing, and promoting content such as blog articles, social media posts, and email newsletters.
This article will show seven content marketing strategies for eCommerce and how online stores use them to engage, sell, and satisfy their target audience.
Chapters
7 Tips to Improve your eCommerce Content Marketing Strategy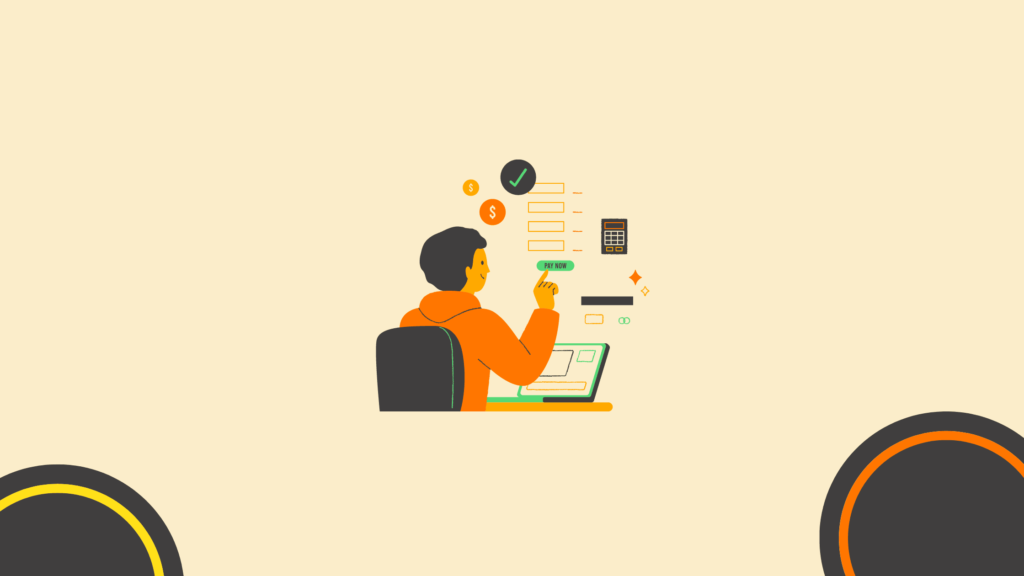 1. Identify Your Target Market and Research Your Competition
First, you need to determine whom you will address in your marketing activities. The target audience of the product allows you to focus on a specific group of consumers, which is one of the conversion rate optimization best practices. You create the perfect product that you sell in the right place with the right strategy. That is, to a group of people who need your product and are interested in its benefits.
To determine the target audience, marketers conduct specific research. Based on the results of this analysis, they distinguish customer segments. These segments include people with similar traits and characteristics.
You define the criteria for uniting people into the target audience yourself:
geographic

: for example, residents of a particular region make up the target audience;

socio-demographic

: let's say, men aged 20-30 with an average income, youth;

psychographic

: those who work to express and affirm their identity in society;

behavioral

: people who buy the product once.
The core of the target audience is the most active and vital consumers. They generate the largest share of profits and sales, use the product the most, and have the highest need for the product.
You can analyze your competitors and take some insights from their campaigns:
in which networks they publish;

which posts get user feedback;

what content prevails;

the frequency of the posts.
Having studied your competitors, you can understand in what direction to develop your own strategies.
2. Draft a Plan for Distribution: What, When, and Where to Publish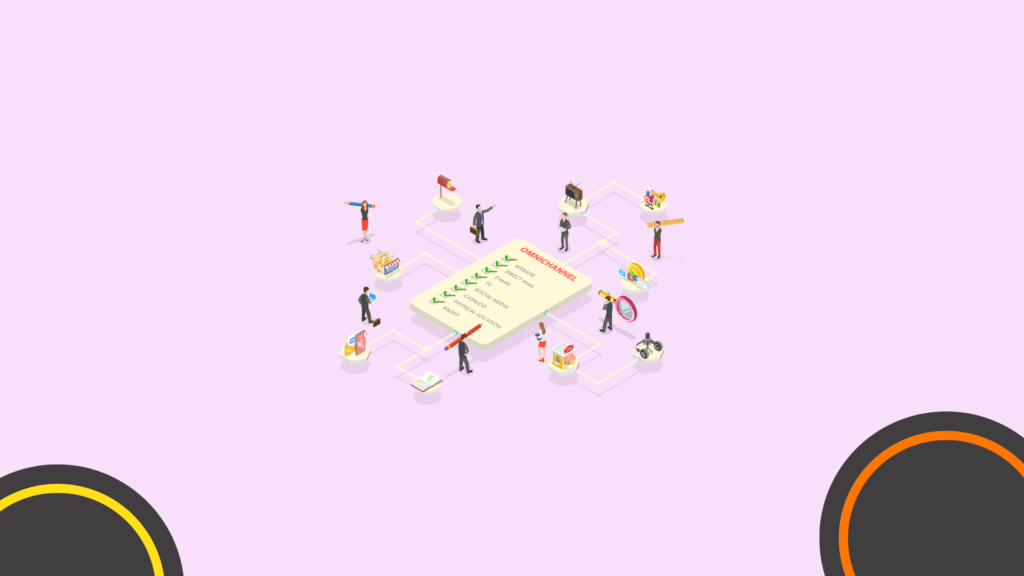 After studying your target audience and competitors, you need to decide on your plan, where you are going to contact it. Decide in what format, where, and how often to publish your content. The content format can be varied:
articles;

reviews;

news;

instructions;

interviews;

video recordings and live streams.
You also need to find publishing platforms. It can be:
your own website;

a company's account on social networks;

thematic forums;

a YouTube channel;

news sites;

media of famous bloggers.
Determine which channel is the most popular among your target audience and publish content when it is most active.
Note, however, that you can use the same content multiple times, i.e., repurpose it. The audience often forgets or misses some information. So, if you've already posted something before, look for ways to repurpose your content.
For example, you talked about a new product in a recent blog article, and now you want to shoot a video on YouTube. Try mentioning it again in this video if appropriate. You can also distribute blog posts, curated content, or product reviews via email newsletters.
It is what Magic Spoon does in its email. They sent in a selection of reviews from various bloggers who tried the new product and shared their impressions. As a result, the recipient sees social proof and is more likely to purchase.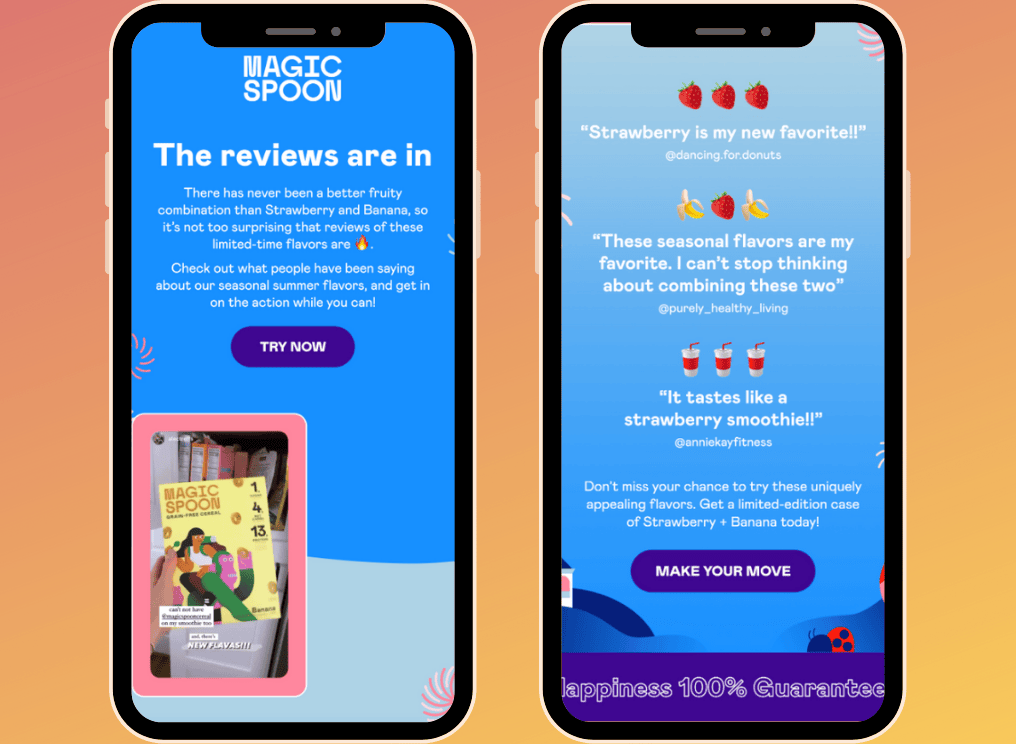 Screenshot taken from the newsletter from Magic Spoon official website
3. How eCommerce can benefit from Social Media Marketing
Use social media to share content. Besides sharing, you can build brand awareness, grow a loyal follower base, and attract new customers. Social media marketing (SMM) works equally well for small companies and large businesses, whether B2C or B2B.
Social media are no longer photo and messaging platforms. Facebook, Twitter, Instagram, Pinterest, and YouTube help brands to get closer to the customers. And if you neglect social networks, sooner or later, you can waste your audience's loyalty and, at the same time, lose to competitors.
Over the past few years, SMM marketing has become a very effective tool for many businesses. The number of users of various social networks is growing. But at the same time, competition for attention has increased.
Define your strategy and what you will share with your followers.
It can be promotional content with 

shoppable tags

 so your clients can go directly to the product page.

Share 

behind-the-scene

 sneak peeks.

Provide 

value to your subscribers and teach

 them some valuable tips. 
You can see everything listed above on the official Victoria's Secret Instagram account and in the screenshot below.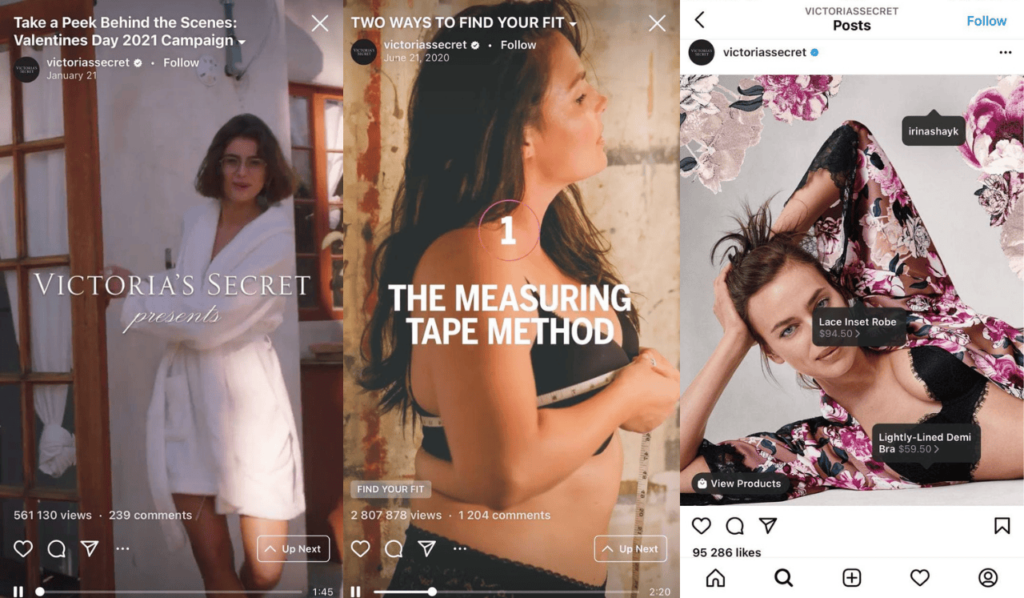 4. Share Content via Blogs
Not all online stores have appreciated the benefits of a blog, but there are many of them. For example, a blog helps in search engine promotion. Insert keywords into the texts, make internal linking with other blog articles or product pages, write meta tags. All this will help the page and the site as a whole to rise in the search results.
A blog gives people helpful information. You can't tell everything in the product description. There is a little more than a description, characteristics, and the cost that you can share. If you sell baby products, for example, teach how to use them correctly, compare several products, make a personal rating.
You might think that your customers can obtain all this elsewhere since the information on the Internet is so abundant. However, a blog makes it easier for shoppers to purchase.
For example, a person examines the product card and sees a link to a thematic article in the blog. Or vice versa: he reads a blog and sees a link to a product. He doesn't need to go to another site for additional information. Thus, he only has to place an order.
A blog is not only to inform but also to sell. Provide links to product pages and specific categories that you want to sell first.
If you allow commenting on blog posts, you can communicate with your audience online. It is an excellent opportunity to get closer to your clients. You answer questions, give useful advice, and possibly receive critical feedback. Another way to get comments is to duplicate the article on social media.
Here is an example of the ABLE blog, where they share their insights, news, and values.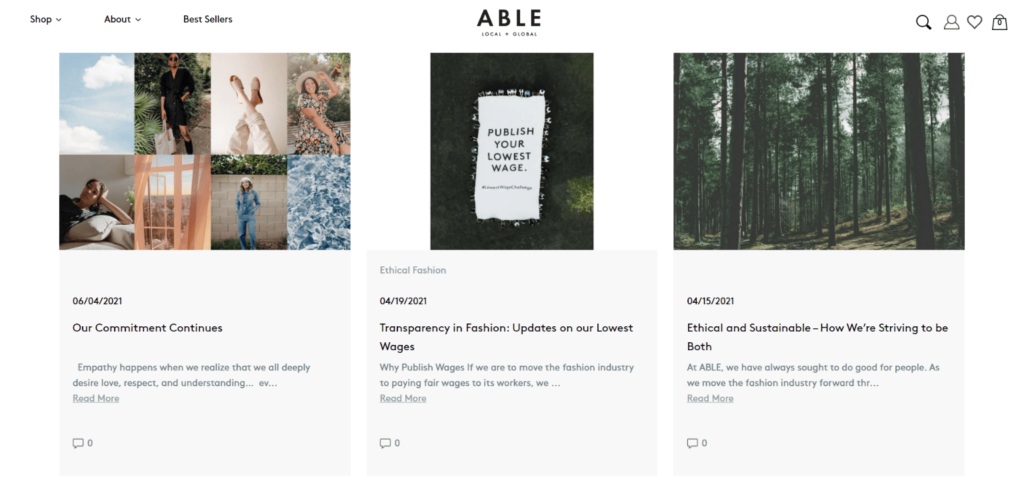 Screenshot taken on the official ABLE website
5. Employ Influencers
The following way to create and promote content is influencer marketing. Influencers who are considered experts in their field have an army of faithful followers. Your task is to turn this target audience into loyal customers of your own.
Influencers have authority and a high degree of subscriber trust. Therefore, their information resonates better than traditional forms of advertising and marketing campaigns. What benefits can a company derive from collaborating with influencers?
Nativeness

. Advertising harmoniously fits into the profile's content, thanks to which it doesn't look obtrusive and doesn't cause a negative reaction.

Targeting

. A successful choice of an influencer guarantees the delivery of information, direct contact with the audience, close or exactly matching with the brand values.

The attraction of 

organic traffic

. Targeted leads see the advertising content on social media and go to the site. Thus, they become interested potential customers, almost ready to purchase.

Fast and informative 

feedback from the audience

. By working with an opinion leader, you can quickly get valuable data about the target audience, their general reaction, and specific reviews about a product or service.

An additional 

source of content

. Influencers generate unique content that you can post to your account.
Influencers in eCommerce generally appear on social media while sharing their experience with the brand. You can see below one of the examples of how Instagram blogger Abigail Odm appeared on the Hunkemöller newsfeed.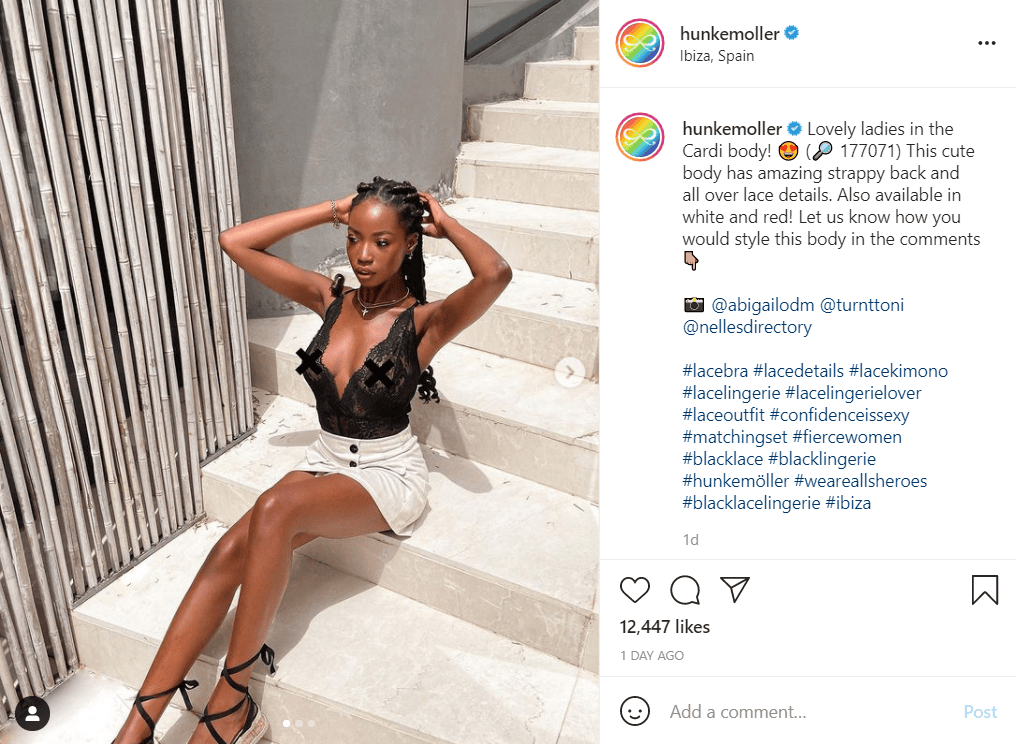 Screenshot taken on the official Hunkemöller Instagram account
6. Email Marketing to Boost Your Relationships with Customers
Email marketing remains one of the most powerful sales tools for both B2B and B2C eCommerce platforms. This type of marketing is often used by brands to connect with their customers, as it is also one of the most cost-effective strategies. B2B and B2C brands can employ a variety of email marketing techniques to build email lists.
You can reach leads and capture emails by spotlighting interesting case studies and keeping website visitors informed about your product. Invest in quality content that's worth loading.
A good strategy is to generate educational content. This way, you offer value for your customers up-front. Customer education is an excellent opportunity to position a brand and build relationships based on values ​​and trust.
In the screenshot of Wynd's email, we see how they provide infographics with statistics about the impact of the environment on our mood. They provide links to articles and studies, and below, we observe a list of their air-purifying gadgets.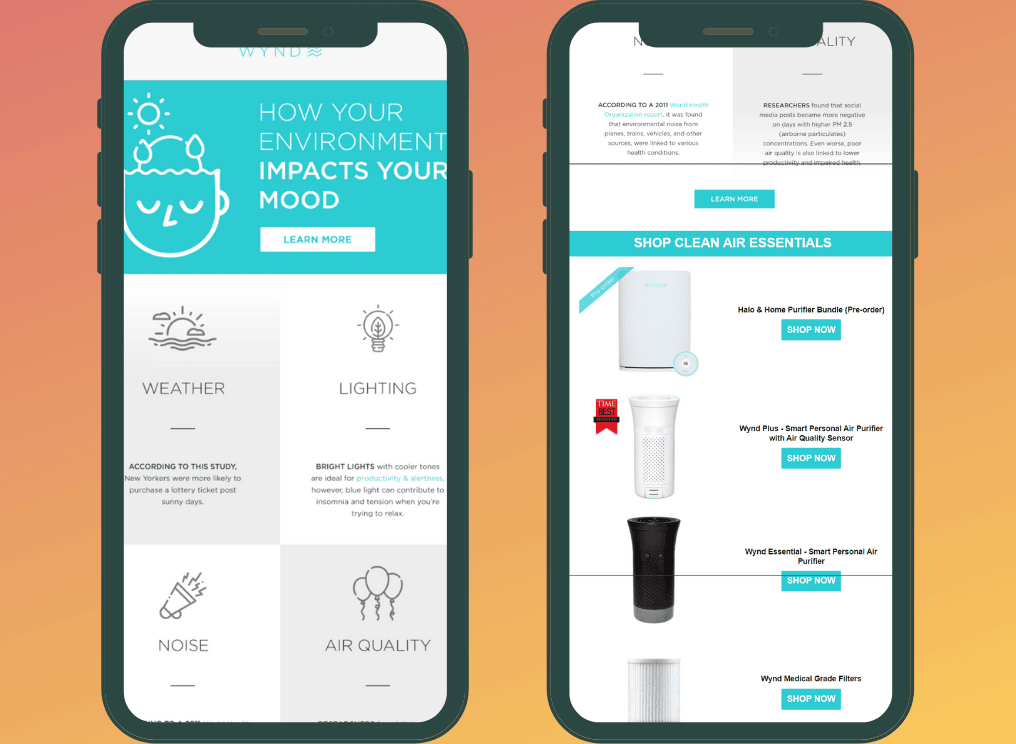 Screenshot taken from the newsletter from Wynd official website
7. Ask for User Generated Content
User-generated content means any photo, video, text that customers create and share with the brand. It includes such forms as:
reviews and ratings;

polls in which users vote;

quizzes and contests;

forums on sites;

comments on news and articles.
Marketers and store owners employ user-generated content as one of their top sources of feedback. Real user ratings can play a decisive role in the selection of products and services.
Almost every major online store has a review form under the product description. Consumers leave their opinion there about what they like or dislike. If the review is positive, sales representatives can offer a similar or complementary product in the future. If the customer is dissatisfied, they solve the problem.
Some businesses use a reward system to collect information because not all users tend to rate after purchase. For example, a customer might receive discounts or accumulate bonuses for future purchases in exchange for a review.
In addition to being valuable data for the development of your company, it is also social proof. Reviews increase consumer confidence and fuel interest in your online store.
Companies often ask to share user-generated content on social media using a particular hashtag to make it easier to find. Some brands post it to their official accounts and tag the user. There, customers communicate, share opinions, participate in surveys, etc. In addition, users leave comments, where brand representatives can also interact with the audience.
This is what the Girlfriend brand's UGC section looks like. It is located on the main page and titled "Looks better on you". Visitors can click on the photo, and the pop-up appears, showing the people's feedback.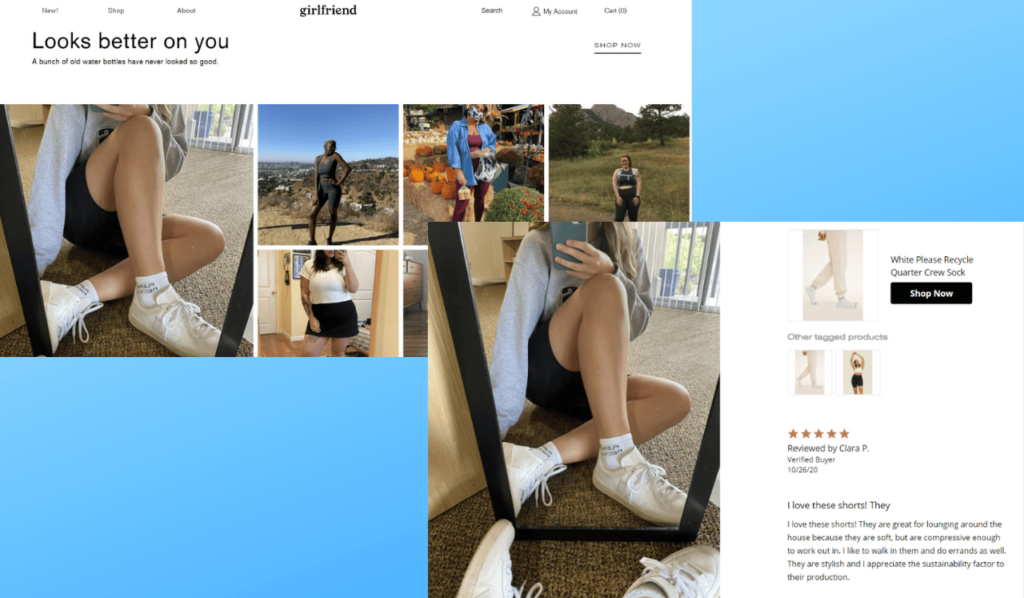 Major Takeaways
You can create content on various platforms using the most effective methods you could take from your competitors. However, the competition for user attention is getting harder, and some strategies no longer work.
Create 

quality content

 that can solve the problems of your potential buyers.

Avoid over-promotional language and posts.

Don't brag about how good your brand is. Instead, tell how effective it will 

make your customers' lives easier

.

Newsjack social trends

 and make use of 

storytelling

 promoting your values.
And then your eCommerce content marketing strategies will succeed.
About the Author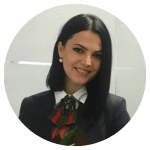 Kate Parish
Kate Parish, chief marketing officer at Onilab, Magento development agency. Kate helps businesses grow by developing practical and measurable digital marketing strategies. She shares her expertise in SEO, branding, link-building, and digital marketing tools for attracting, nurturing, and converting the target audience into loyal customers.
Join the StoryLab.ai Community
Where Brand, Demand, and Content Go — to
Grow.
Unlimited Social Learning + Unlimited AI Generated Copy.
Ask the moderators (30+ years of experience) and other community members anything related to marketing and growth and get Unlimited access to the entire Unlimited StoryLab.ai Toolkit.