How To Write The Best PPC Ads Copy [Best Practices]
Increase your PPC ROI with better ad copy
Creating PPC ad copy is fun!
You get to crawl into the brain of your target audience and think about their problems and pains and most importantly, how you can help solve them.
1. Write PPC ad copy with your audience in mind
So let's start with that.
Writing great PPC ads revolves all around understanding your audience and writing ad copy for them.
Way too often PPC marketers or copywriters think about their product or service first and why it's o so great instead of thinking about their target group and what problems they are trying to solves or what kind of 'Jobs they have to get done'.
Have you talked to the actual people? Have you sent out questionnaires? Do you have data to base your assumptions on?
If you don't have a great understanding of your audience yet, check out our Content Marketing Strategy framework. These 8 questions guides you through understanding your audience's needs better.
2. Match searcher's keywords in your ad copy and landing page
To make the searcher's experience as smooth as possible, make it clear that what they search for matches the search result (your ad) and after they click your ad, comfort them that they landed at the right place by adding the keyword on the landing page.
Check out our red apple example.
Person searches for red apple;
Sees the words red apple in your ad;
Sees the words red apple on the landing page.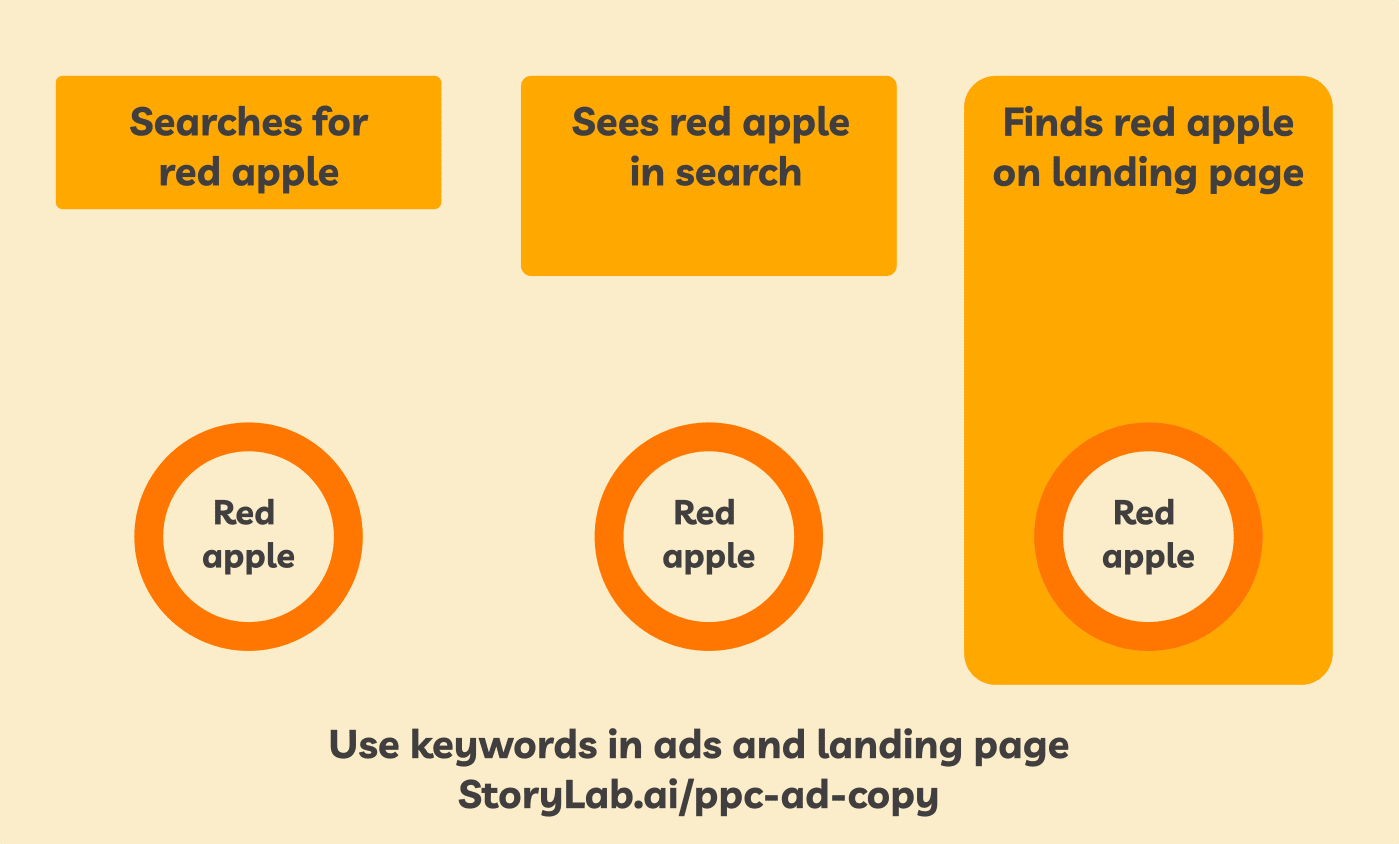 Of course, don't just stuff your ad copy with keywords. You still need to tell a story. But the exact keywords help people understand that they are actually getting that red apple instead of a pear.
Oh yeah. Google also rewards you with better quality scores when the searcher's keywords match the ad copy and landing page copy.
3. Always add a Call to Action (CTA)
This PPC copywriting tip goes into getting people to click on your ad.
In the previous tip you showed them that you have something they want. They can scan the search results and see that there are a couple of people that actually have what she wants, so what makes you so special? Why should she click your ad?
The better you understand your audience, the easier it is to figure out what they really want. So be sure not to skip tip number 1 😉
Let's say your call to action is:
'Buy now. up to 50% off'
Be sure you don't just include it in your ad copy but also on your landing page.
If you promise people up to 50% off in your ad, you need to match that expectation with your landing page copy.
4. What makes you unique?
I understand that you don't have a lot of space in your PPC ads but whenever possible, add a bit of storytelling in your ad. Let people know what makes you unique and why they should choose you.
There's nothing worse than searching for something and seeing only boring descriptive ads without any value added.
5. Use power words
Sometimes short words can help a lot to stand out. They're called power words. We've written an article about how to use power words ethically.
Check it out if you haven't yet.
6. Use PPC Ad Copy Generators and experiment with different ad copy
The truth is; you don't know how well your ad copy is going to perform. You can follow all best practices, but at the end of the day, the searcher decides what they love and the best way to find out is to experiment with different ad copies.
Here's where we come in.
Writing multiple variations for your PPC ad copy can be very mentally exhausting.
There are just so many copy variations you can come up with before hitting a creativity wall.
To help marketers like you out, we created StoryLab.ai.
Simply enter your existing ad copy in our Google Ad Headline Generator or our Google Ad Description Generator and let our AI inspire you with different copy variations.
Then, re-write the bits and pieces and set up your ad experiments.
Here's our it looks like!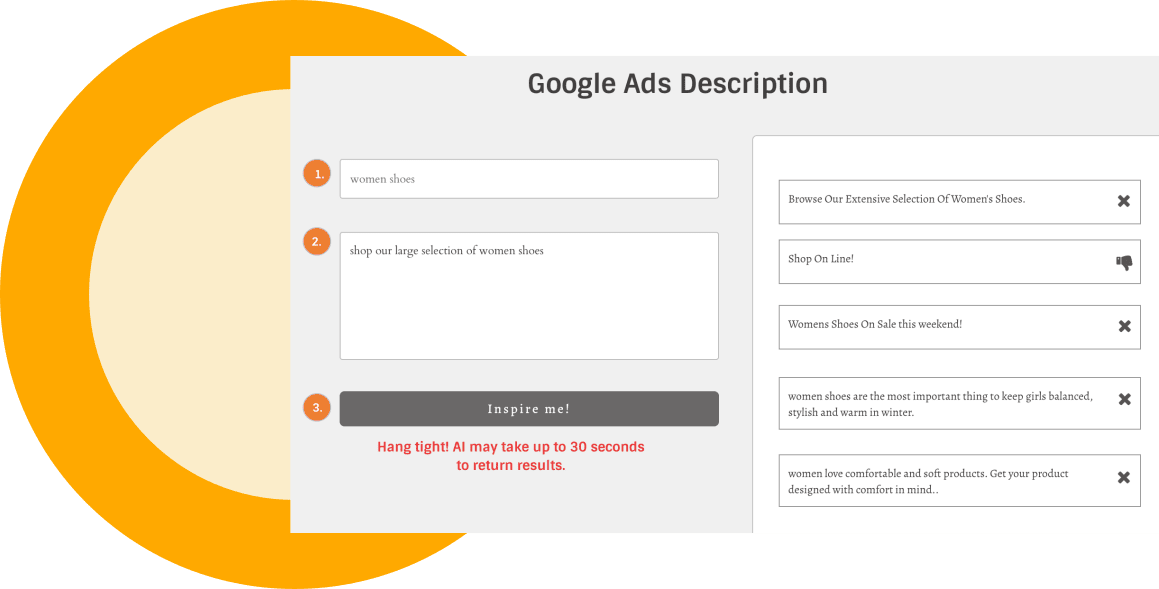 Your ad copy is written by AI. So all copy is unique and by running the tool a couple of times. Sometimes even once. You get a ton of new ideas for your ad copy experiments. Often times, you can even use the copy as is with a small tweak.
Which brings me to the last tip.
7. Short ad copy checklist before publishing your ad
Before hitting the publish button, always check if your ad copy is actually valuable by answering these simple questions:
Is the ad copy clear?
Is it something I would click on?
Does it offer value or is it just descriptive?
Does this ad make sense or is it just a bunch of keywords?
Is there a clear CTA?
Does the landing page answer the promise set in the ad copy?
Does the landing page match the keyword used in the ad copy?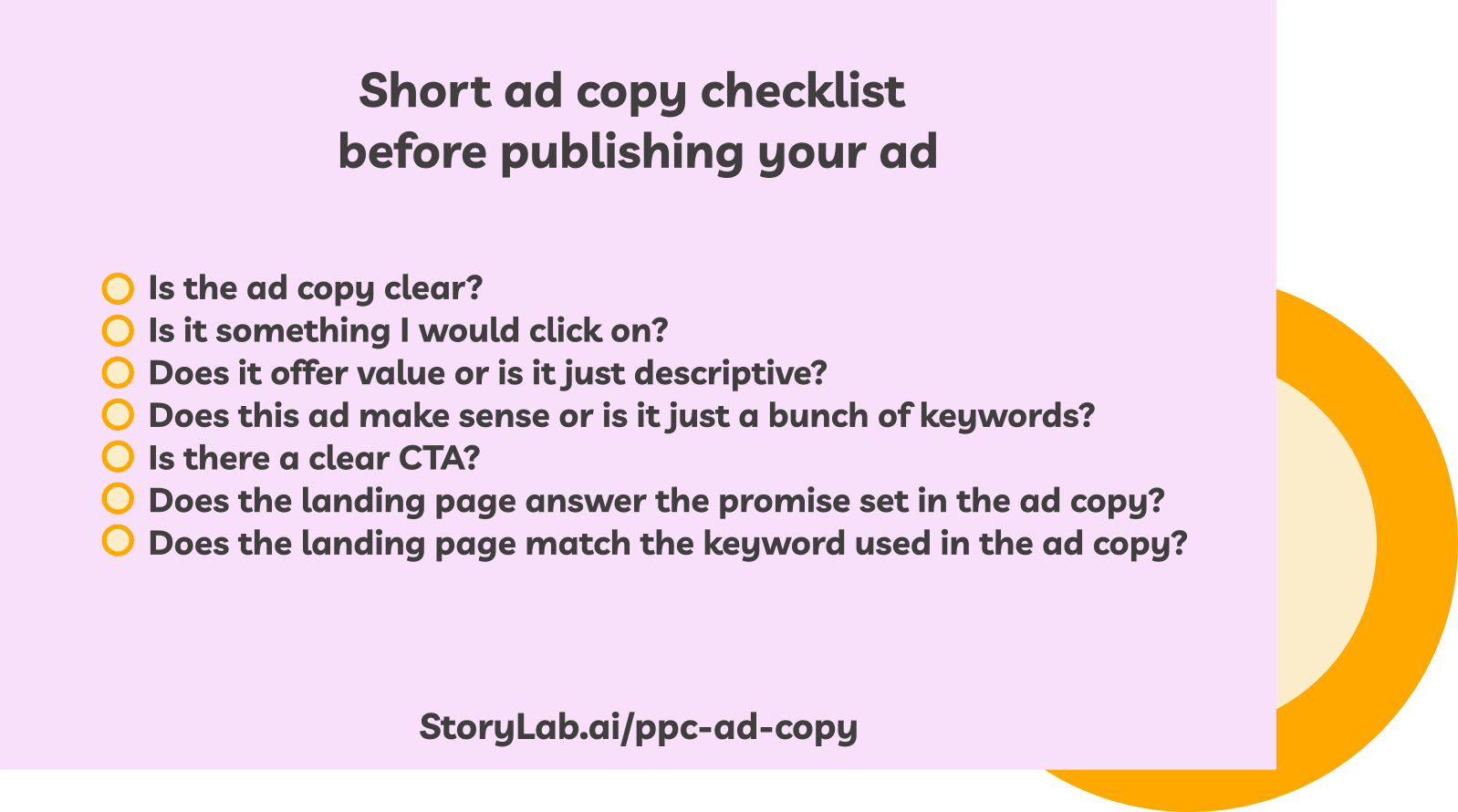 Make use of our other AI Marketing Copy Generators for free
Just wanted to let you know that next to our PPC Ad Copy Generators, we also have other Copywriting Generators that can help you improve your marketing copy and we also wanted to let you know that we have a Growth Storytelling Framework which you can access for free without an email signup.
Facebook Ad Copy Generator
Let's also take a moment and zoom into our Facebook Ad Copy Generator. If you're working on Google, Bing and other PPC ads, you might also work on Facebook ads. We just wanted to let you know that we also have a dedicated tool to help you in this area. Check out our Facebook Ad Copy Generator.
Happy writing!
Author bio: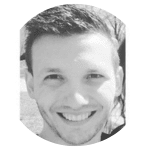 Raul Tiru: Raul loves to build companies and help startups and scale-ups grow. Raul started his first website when he was 17 years old, has held several growth marketing positions in fast-growing companies, and has helped companies via his Freelance Marketing services. You can find Raul on his community GlobalOwls where he helps Nonprofits and Startups to do better marketing.
Join the StoryLab.ai Community
Where Brand, Demand, and Content Go — to
Grow.
Unlimited Social Learning + Unlimited AI Generated Copy.
Ask the moderators (30+ years of experience) and other community members anything related to marketing and growth and get Unlimited access to the entire Unlimited StoryLab.ai Toolkit.