B2B Buying – How do you Not like to get Marketed to by Software Vendors
Brian Cohen and Nelson Gilliat sat down to discuss the B2B Buying Process and how B2B Marketing Leaders like to buy from Software Vendors.
In this short video, our co-founder and CEO, Brian Cohen talks about how he does NOT like to get approached by Software Vendors. Be sure to watch till the end and subscribe to our YouTube channel.
Author bio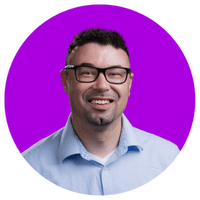 Brian has 15+ years as a marketing strategist and visionary leader with a track record of transforming the marketing function and propelling it to new heights for several SaaS companies as an advisor, consultant, and employee. He has spearheaded highly successful campaigns that captivated target audiences, optimizing the marketing funnel to maximize conversion rates, and accelerate sales cycles.
Brian Cohen is also the Co-Founder and CEO at StoryLab.ai. You can find more info about Brian on LinkedIn.
Video transcript (auto-generated)
Nelson:
Let's take the negative. How do you not like to be marketed to and become aware of software vendors for the first time? What causes you to turn off and tune out and… you just mentioned I think before a little bit about receiving spam. Maybe you can talk about how you feel on the receiving end of let's say telemarketing or email spam, and Linkedin spam. You know, where someone is sending you an unconsented marketing solicitation to your private inbox either with a product pitch or a request to speak to sales.
Brian:
All of those are super intrusive to me and so I dislike them. There are other folks that I know that enjoy listening to pitches and will engage but for me,  it's a total turn-off.  Now I will say that with one caveat. If you can really catch me, and provide value in a cold email, I might respond. But very very rarely do I. It might be two a year where I'm like; 'okay that makes sense' and I have a need right now. If it's something that I'm not gonna have a need for a year, then then you're definitely not getting my attention.
Nelson:
You're hoping to happen to strike gold with someone who's already interested and your outreach is you know, so researched and personalized and it's almost like; 'but was it really necessary? because they might have just come in anyways'. They know where to speak to sales to find it when they're ready.
You said it's so rare for you to actually take a demo or let alone buy. I mean if you think about the past vendors that you've bought recently maybe the past handful, how many of them actually started or were influenced by spam from a telemarketing call email spam, or LinkedIn spam versus marketing doing their efforts on you or marketing's indirect efforts to peers?
Brian:
Yeah, I can tell you it's been exactly 1 how many have left to a deal in the last five years it's been won. And the number of deals that I've done are probably
close to 100 different contracts that I've negotiated over the years one got far enough that there was a fit, right place, right time. You caught my attention and we proceeded so no, not something that I value from my perspective.
Join the StoryLab.ai Community
Where Brand, Demand, and Content Go — to
Grow.
Unlimited Social Learning + Unlimited AI Generated Copy.
Ask the moderators (30+ years of experience) and other community members anything related to marketing and growth and get Unlimited access to the entire Unlimited StoryLab.ai Toolkit.