B2B Buying – What should Software Vendors Include on their Website
Brian Cohen and Nelson Gilliat sat down to discuss the B2B Buying Process and how B2B Marketing Leaders like to buy from Software Vendors.
In this short video, our co-founder and CEO, Brian Cohen explains what he likes to see on the website of Software Vendors in order to make an informed decision before jumping on a sales chat. Be sure to watch till the end and subscribe to our YouTube channel.
Author bio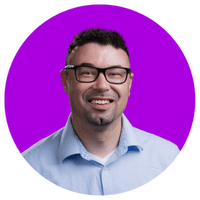 I build businesses, brands and people by creating unique experiences that make a positive impact. I take prospects from thinking "what is this?" to saying "I need this!"
Brian Cohen is also the Co-Founder and CEO at StoryLab.ai. You can find more info about Brian on LinkedIn.
Video transcript (auto-generated)
Nelson: 
So on the website. In addition to also G2 review. So on the website,  what information do you like to see? You know pricing, do you like to see demo recordings do you like to see features and benefits, use cases? Maybe you can talk us through some of the things that really put vendors above and beyond for you that you really like to see and expect to see and sometimes if it's not there it's like, you know that's a real drawback and if it was there that'd be a big advantage for them.
Brian:
For sure. Well, I don't think many of us aren't there yet but I think pricing transparency and just putting it there I think is super valuable. I would like to know, I'm not necessarily trying to make my buying decision off of price. I'm looking for Value. I'm looking to make sure there's a fit that you're going to solve. That you can solve my problem so I'm looking more at 'solutions' not necessarily the technical aspect because I have folks on my team that can dig into the weeds and really understand the technical stuff. But from a solution standpoint can you solve this problem for me?
Nelson:
About that, how do you go about that?
Brian:
So pretty simple. I'm looking at use cases. I'm looking at the solutions pages and really focusing my time and energy on those to try to absorb the information you're telling them. I think it's a good takeaway for marketers because oftentimes maybe the ultimate decision maker. Yeah, they're the budget holder as well and so they want to first be able to quickly get a sense of 'is this within the budget and is it worth it?' And maybe delegate the research phase and the scoping out to other folks.
Knowing that okay we can probably make this work and it's probably worth it but we need to check the boxes and let other team members help with that and get some experience evaluating vendors and thinking about use cases and thinking about ROI which is eventually what they want to do.
As a market leader eventually they want to become the budget holders and be able to sign off on things like that.