B2B Buying – How do you Like to Learn about Software Vendors
Brian Cohen and Nelson Gilliat sat down to discuss the B2B Buying Process and how B2B Marketing Leaders like to buy from Software Vendors.
In this short video, our co-founder and CEO, Brian Cohen explains how he likes to Learn about Software Vendors. How much of that journey he likes to do on his own, what he looks for and when he wants to jump on sales chats. Be sure to watch till the end and subscribe to our YouTube channel.
Author bio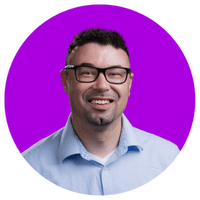 Brian has 15+ years as a marketing strategist and visionary leader with a track record of transforming the marketing function and propelling it to new heights for several SaaS companies as an advisor, consultant, and employee. He has spearheaded highly successful campaigns that captivated target audiences, optimizing the marketing funnel to maximize conversion rates, and accelerate sales cycles.
Brian Cohen is also the Co-Founder and CEO at StoryLab.ai. You can find more info about Brian on LinkedIn.
Video transcript (auto-generated)
Nelson:
Now, once you become aware of vendors. How do you then learn about them? Where do you go for information? What type of information are you seeking for you in order to learn, try, and buy from vendors? So for example; maybe you go to the website and the information on the website could be pricing or product features or you're able to get a free trial or you see social proof and use cases so maybe you can walk us through what you look for.
Brian:
Yeah and for me, I'm one of those buyers that definitely loves to do that 80% or 90% of my research on my own. I definitely don't like being
cold emailed and really dislike the cold messages on LinkedIn. I almost feel like you're invading my personal space.
I like to go to the website, I also use G2 and Captera to look, not necessarily to disqualify someone, but just to understand what those pros and
cons look like based on their ratings.
Because someone can have a slightly poor rating but all right if you look at the cons those won't necessarily relate to my needs so I kind of grab and I can write those things off and then I continue to learn on my own and then and then I look to when I  feel like I'm ready. When I feel like there's a fit then I like to
jump into a buying cycle and kind of get the ball rolling to prove the case from the company's side.
Nelson:
So you go to the website and then you know if and when you need sales to help you'll hit him up?
Join the StoryLab.ai Community
Where Brand, Demand, and Content Go — to
Grow.
Unlimited Social Learning + Unlimited AI Generated Copy.
Ask the moderators (30+ years of experience) and other community members anything related to marketing and growth and get Unlimited access to the entire Unlimited StoryLab.ai Toolkit.